Vietnam's vibrant landscape makes it both a thrilling travel destination and a soothing mecca of natural beauty. Its exotic tropics and evergreen forests are the backdrop to a rich, complex culture with outstanding cuisine and extensive history. These characteristics make Vietnam a traveler's dream, especially for those looking for health boosts. The country is known for its wellness spots, from restorative wilderness retreats to relaxing beachside resorts.
Please continue reading to learn more about our five most highly-recommended wellness spots in Vietnam.
Pongour Waterfall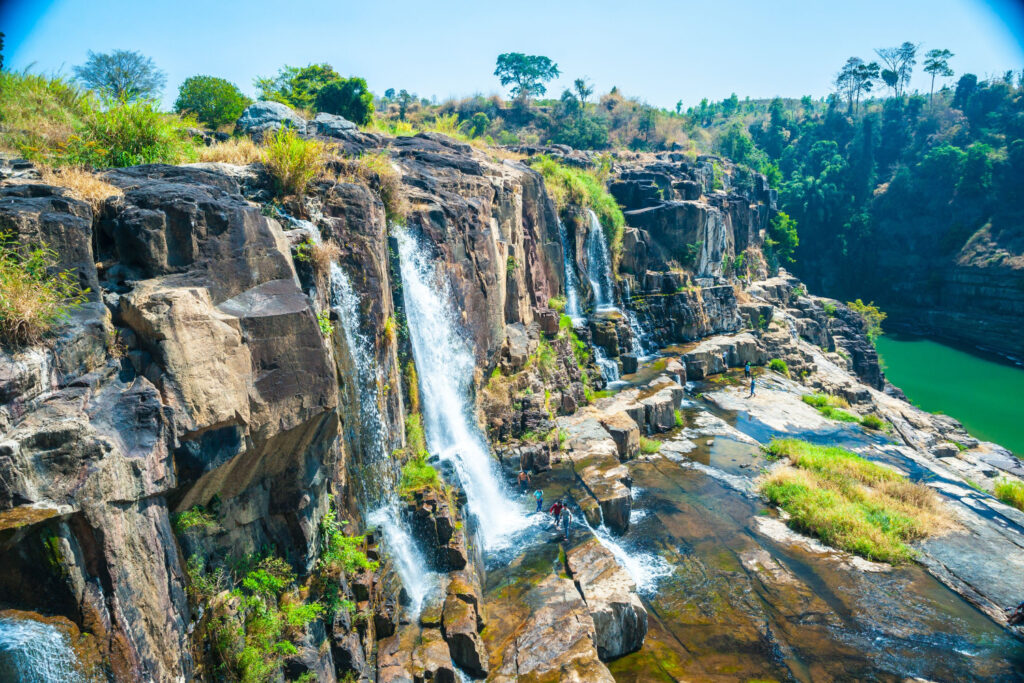 Pongour Waterfall | Visit Southeast Asia
A romantic landscaped waterfall in central Lam Dong province, Pongour Waterfall is tucked into miles of unspoiled forest. It is a popular destination for tourists and locals who flock to the waterfall to enjoy its peaceful beauty. The waterfall is set in a rocky amphitheater-like valley with a height of 40 meters and is accessible via a dirt path or a steep stone staircase. These routes wind through landscaped gardens that exhibit some of Lam Dong's premier flora.
Pongour Waterfall is about an hour and a half drive from Dalat, the nearest big city, but it is well worth the drive. There are also many nearby natural attractions, including the peaceful Dai Ninh Lake, the lesser-known Jraiblian Waterfall, and the charming Tran Le Gia Trang village. These destinations all exemplify the lush, dreamy beauty of the province.
Pongour is an excellent wellness spot in Vietnam for its soothing beauty and verdant greenery. This calm waterfall allows visitors to connect closely with nature, and its poetic streams leave all who see it feeling at peace.
Bac Son Valley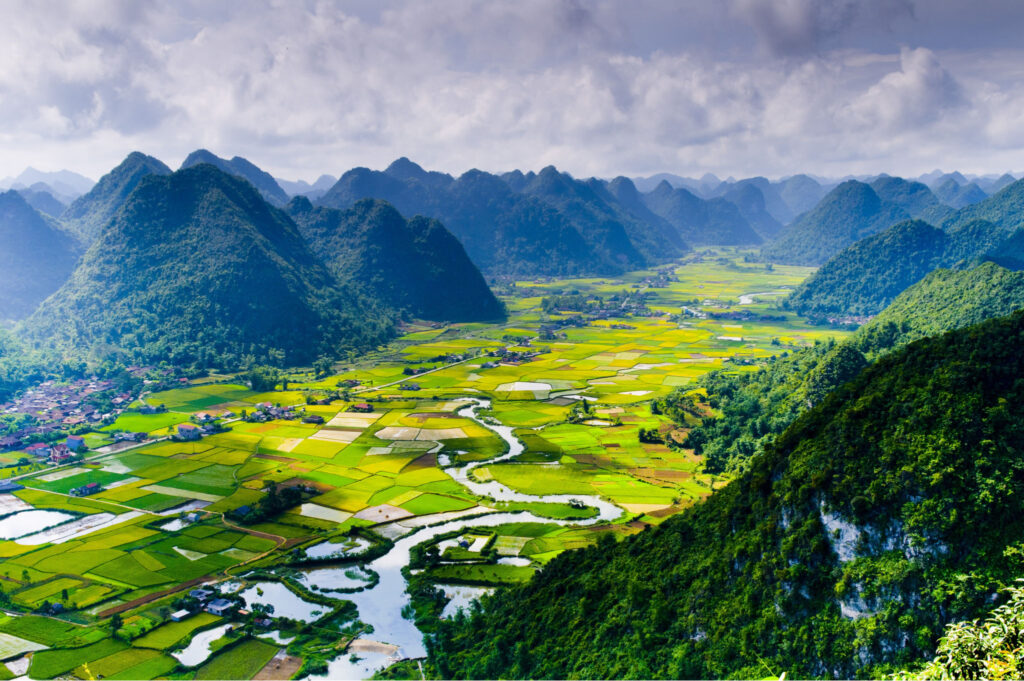 Bac Son Valley | Visit Southeast Asia
Bac Son is a scenic rural escape in Northeastern Vietnam, known for its soaring mountains and traditional paddy fields. Visitors to Bac Son get to experience Vietnam's extraordinary rural heritage and ancestral culture. The valley is surrounded by gorgeous limestone mountains ranging from 500 meters to 1200 meters in height; visitors can enjoy panoramic views of the valley's fertile landscape during the climb up. Bac Son's main crop is rice, which is planted twice a year.
This enchanting natural destination is perfect for adventurers. Located about 160 kilometers from Hanoi, the capital of Vietnam, Bac Son is an ideal destination for a weekend trip. Many tour groups offer overnight homestay experiences that include tours of the local area, which is one of the best ways to explore the valley. The Tay people inhabit Bac Son in stilt houses, a unique arrangement visitors can experience through homestays.
Living a rustic life is one of the best ways to get in touch with nature. Rural living has been known to benefit wellness and mental health due to the peace and greenery of the countryside. Spending a few days in Bac Son Valley is an absolutely rejuvenating wellness experience, with the added benefit of cultural immersion, which is why it has made our list of best wellness spots in Vietnam.
InterContinental Danang Sun Peninsula Resort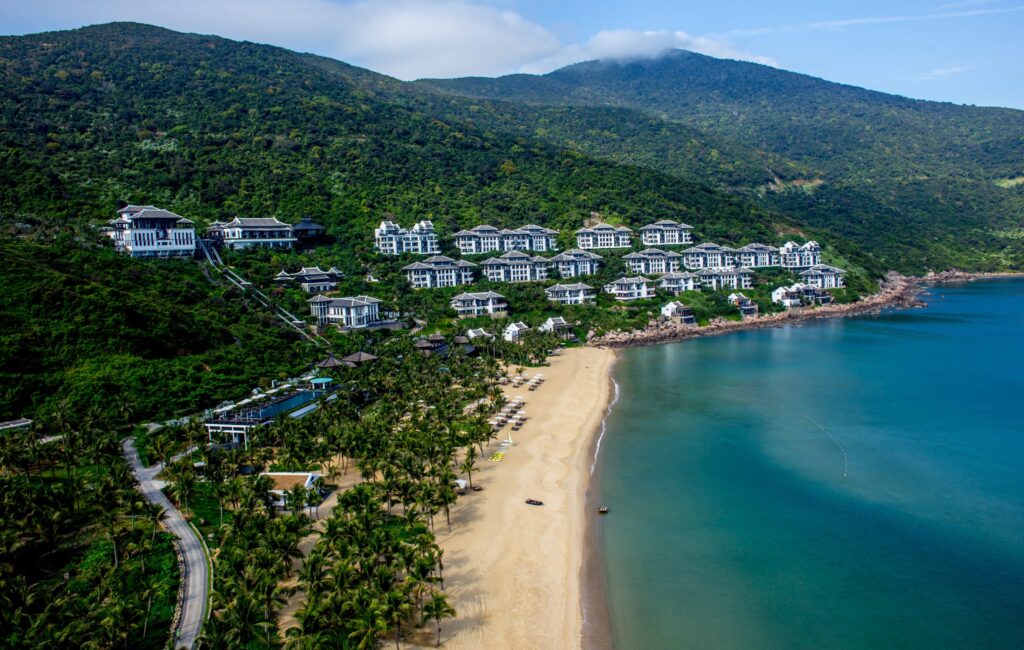 InterContinental Danang Sun Peninsula Resort | Visit Southeast Asia
If you are looking for a low-effort wellness experience, a blissful seaside resort is the way to go. The InterContinental Resort on Danang Sun Peninsula is located on its own private bay, surrounded by pristine beaches and spectacular wilderness. The resort's architecture is whimsical and inspired by French and Vietnamese design; the rooms capitalize upon the beautiful outdoors with a hybrid indoor-outdoor design.
Highlights of the InterContinental in Danang are an exquisite restaurant, La Maison 1888, which a three-Michelin-starred chef leads, and the available wellness experiences, such as the Lagoon Spa. The secluded spa is a retreat within a retreat, with luxurious treatments grounded in local traditions and healing rituals. The spa's dreamlike environment benefits from its location — it is situated above a beautiful lagoon.
The Intercontinental's grounds are also highly suited to relaxation — with a 700-meter private beach and extensive gardens, as well as the surrounding 6,200-acre Son Tra Nature Reserve; this resort seamlessly combines nature-driven wellness with spa healing practices. The staggeringly beautiful natural landscape of Danang, as well as the incredible hospitality of the resort, will make for an unforgettable wellness experience. It's no surprise this resort is one of the top wellness spots in Vietnam.
Phu Quoc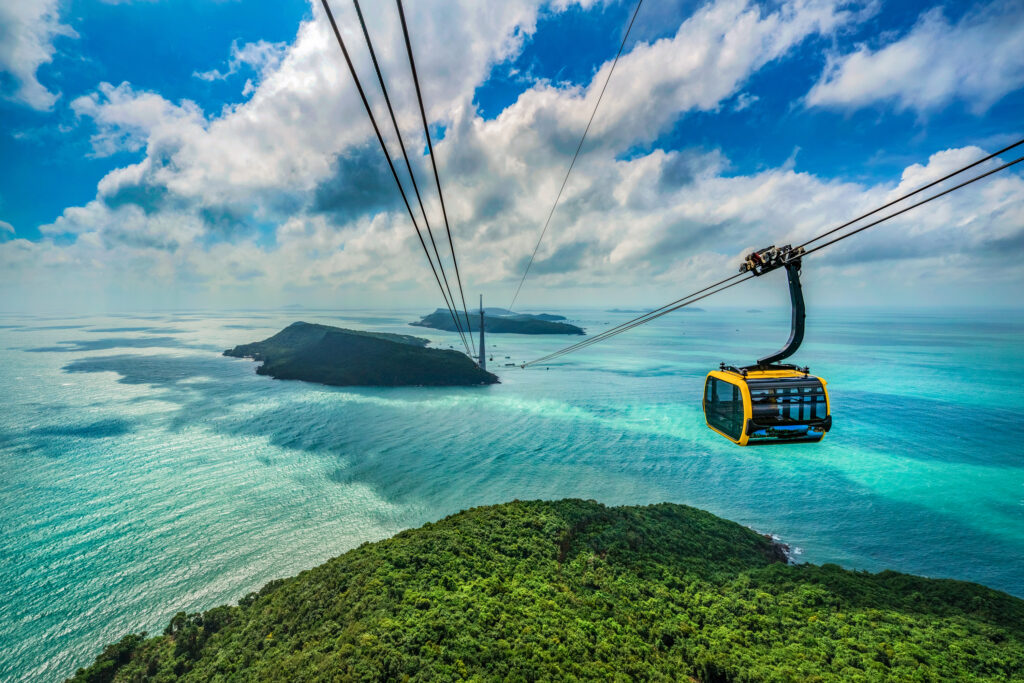 Phu Quoc | Visit Southeast Asia
The largest island in Vietnam, Phu Quoc is known for its pearly white sand beaches and extensive cultural heritage. It has 150 meters of coastline, from secluded leafy beaches to sunny watersport locales; it is also home to a rich tropical forest and mountain range. This island lies south of the Cambodian coast, with temperatures ranging from balmy to almost scorching. It is the perfect destination for relaxing in the sand and sun.
Phu Quoc is also known for its recent conservation efforts; the island has a national park and a marine protected area, a habitat for sea turtles, dolphins, and dugongs, among other aquatic creatures. Other popular destinations on the island — aside from the beaches — are Duong Dong, Phu Quoc's main town, Ho Quoc Pagoda, a small structure with sweeping views of the island, and Dinh Cau Temple.
Visit Phu Quoc for the unmatched, picturesque beaches, and stay for its rich cultural experiences. A few days soaking up the sun on Phu Quoc will do wonders for your physical and mental well-being. This luscious island escape is the perfect wellness spot for those who need a break from it all.
Tam Coc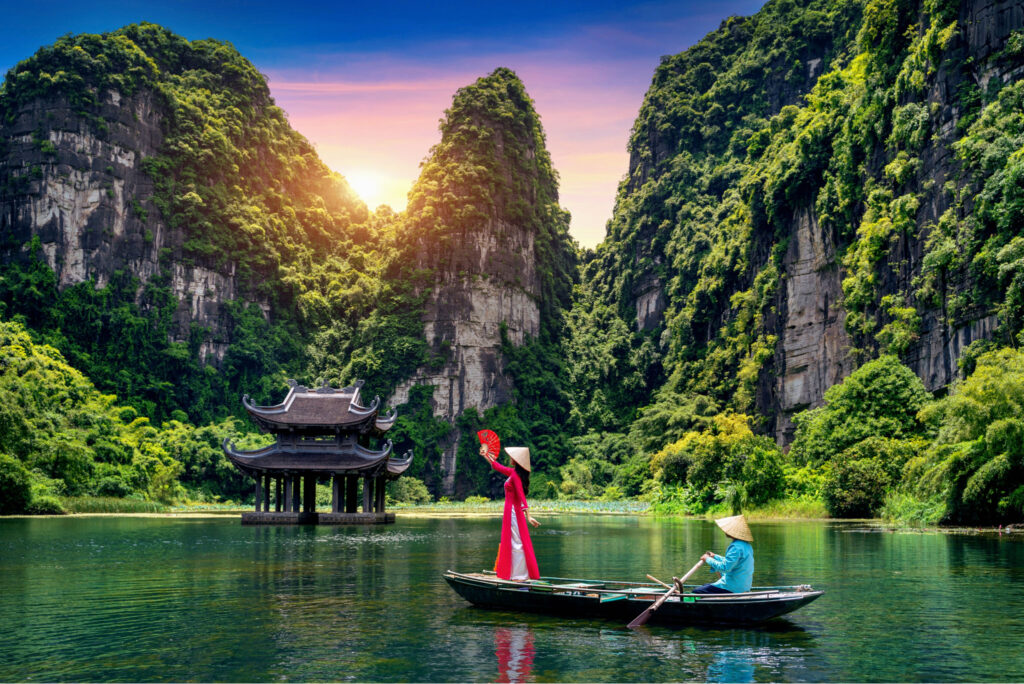 Tam Coc | Visit Southeast Asia
The stunning destination of Tam Coc — literally "three grottoes" — can be found in Vietnam's Ninh Binh province. It is an incredible series of inland flooded caves along the Ngo Dong River, also known for its rice paddies and impressive limestone cliffs. The area is unforgettable, and a boat ride through Tam Coc is an experience that visitors can only find in Vietnam.
The best way to experience Tam Coc is via a two-hour boat ride through the cave system, cruising along the Ngo Dong. Attractions in the area include Bich Dong Pagoda, a fascinating structure built into the side of a cliff. The best places to stay nearby are the Tam Coc Garden Resort, which is tucked into the lush nature of the area, Tam Coc Rice Fields Resort, where visitors have their own villas, or Tam Coc Bungalow, a truly unique wilderness experience.
No matter where you choose to stay, the boat ride through Tam Coc will be an irreplaceable wellness experience. The entire area is a lovely respite, full of gorgeous views and flourishing nature – Tam Coc should undoubtedly be on your list of best wellness spots in Vietnam.
Contact Us
Email us at aseantourismonline@gmail.com