The gorgeous, verdant Singapore is an island nation in Southeast Asia, located off the tip of the Malay Peninsula. This multicultural oasis is known for its world-class architecture, manicured public spaces, and delicious food, making it the perfect destination for any traveler. Singapore is a veritable melting pot, made up of settlers from its millennium-old kingdom of Singapura, British colonists, Chinese immigrants, Malaysian residents, and ex-pats worldwide. 
Singapore has hundreds of attractions to offer, from its outstanding natural destinations to its man-made wonders, such as the unparalleled Changi Airport. Continue reading to discover five of Singapore's most incredible natural wonders.
MacRitchie Reservoir
Singapore's oldest reservoir is known as MacRitchie Reservoir, and it was completed in 1868 to keep up with the growing country's demand for fresh water. Given its wealth of nature-related attractions, it is a prime destination for nature lovers. The reservoir's surrounding forest is protected, and boardwalks and trails traverse it. This reservoir-cum-park is famous for its Treetop Walk, a 250-meter aerial bridge suspended above the foliage, where visitors can spot macaque monkeys, lemurs, flying squirrels, and more.
MacRitchie offers 11 kilometers of trail through its surrounding park and along the reservoir and a Paddle Lodge where visitors can rent kayaks and canoes. Other fun activities visitors can take advantage of at the stunning MacRitchie Reservoir are freshwater fishing — this reservoir is one of the only public places where fishing is allowed in Singapore — as well as the forest's bamboo grove and the unique Zig Zag Bridge.
Regardless of which outdoor activities strike your fancy, MacRitchie Reservoir is the place to go.

Gardens by the Bay
One of the most iconic attractions in Singapore, Gardens by the Bay, is a park and nature conservatory located on the bank of the Marina Reservoir. It comprises three distinct gardens, which collectively span 250 acres. Gardens by the Bay is a calm respite from the bustle of Singapore; within its bounds, visitors can explore tropical landscapes, orchid conservatories, the Flower Dome — famous for being the largest greenhouse in the world — and much more. The Flower Dome is home to plants from across the globe, from the African savannah to the Mediterranean coastline, allowing for never-ending blooms.
In addition to the Gardens' spectacular conservatories, visitors can also see the Supertree Grove (visible in the center-right of the photo above), which comprises 18 tree-like vertical gardens. These 25 to 50-meter-tall structures house exotic plants and open-air observation decks and harness solar energy. These engineering marvels are a must-see when visiting Gardens by the Bay. Here, an aerial walkway, suspended 22 meters above the ground, offers panoramic views of the Singapore skyline and the lush gardens below.
This horticultural marvel even inspired the planet of Xandar in Marvel's Guardians of the Galaxy — so its landscape is, quite literally, out of this world.
Pulau Ubin
Pulau Ubin, literally translated to "granite island," is an offshoot of land located northeast of Singapore proper. This calm sanctuary once supported the country's construction industry with its numerous granite quarries, which have now been turned into historical sites. Pulau Ubin is a pristine reminder of Singapore's past, from its fish villages to its singular cultural heritage. The island is even home to Singapore's last-remaining traditional village or kampong. In addition to its cultural prominence, Pulau Ubin has a spectacular natural landscape comprising mangroves, lagoons, coastal forests, and rocky beaches.
At only about 10 square miles in area, Pulau Ubin is a great place for a short day trip. It can be reached by a 15-minute ferry ride from Singapore's Changi Point Terminal. Once on the island, visitors can take in the preserved biodiversity, its mountainous bike paths, wildlife-filled swamps and forests, and pretty beaches.
Pulau Ubin is a portal back to pre-industrial Singapore, perfect for history buffs and nature enthusiasts alike.
Bukit Timah Nature Reserve
Located on a hill at the geographic heart of Singapore, Bukit Timah Nature Reserve is a pristine rainforest with an awe-inspiring range of flora and fauna. The 1.67-square-kilometer nature reserve was established in 1883 but was used for timber until the Singapore Botanic Gardens retained the area under their protection in 1937. The peak of the hill sits at 163 meters above ground, making summiting it a relatively easy hike. The nature reserve's thousands of wildlife species include freshwater crabs, snakes, macaques, pangolins, flying squirrels, and hundreds of tropical bird species.
Visitors can trek the park's boardwalks and paths at Bukit Timah Nature Reserve and go rock climbing, mountain biking, and bird-watching. Visitors can also learn more about the diverse flora and fauna of the area at the visitor center's galleries.
Soak in Singapore's incredible biodiversity during a visit to Bukit Timah Nature Reserve.
Sungei Buloh Wetland Reserve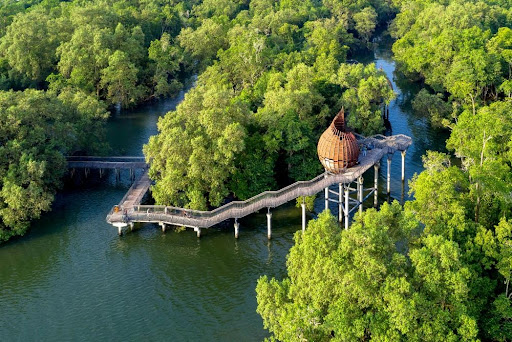 The wetlands of Sungei Buloh are a dream come true for keen nature lovers. At this sprawling 87-hectare ecological site, you can catch migratory birds escaping the cold on their way to the warmer climes of Australia–with some having come as far away as Siberia. Elsewhere, crabs, mudskippers and mud lobsters can be found in their natural habitats, and viewed from a distance at observation posts that dot the park.
The Sungei Buloh Wetland Reserve is a world-class eco-tourism experience first discovered in 1986 by a group of birdwatchers from the Malayan Nature Society. Three years later, the site was designated as a nature park by the government in 1989, and officially opened in 1993. To properly experience the wetlands, you can take the free guided tours, while activities like art classes and a prawn farming demonstration will keep you busy the whole day.
If you want to take a break from the concrete jungle of the city, head to this ecological gem in the north-east of Singapore for a breath of fresh air.
Learn more about Southeast Asia's top sights here.