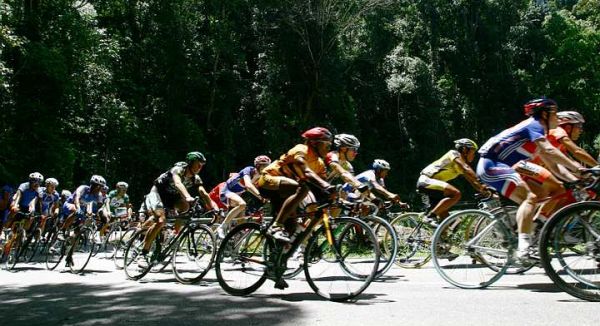 Listlessly half-jogging around the last of the endless bends, winded, wheezing and feeling Thailand's sweltering heat, the finish line finally appeared 500 meters away, thronged by anxious supporters waiting to share in the achievement of their loved ones. There was no choice but to start running properly. Five eternal minutes later, the sea breeze blowing my hair into an impression of high speed, I crossed the finish line of my first triathlon.
Southeast Asia was a bit leisurely about catching the fitness bug, but has been making up for lost time. If you work in a rice field or a factory, the last thing you want to do at the end of the day is work up a good sweat. Besides, you are already pretty fit. But as Thailand's economy and middle class have grown, so have many waistlines, as a result, fitness training has begun to take root, with gyms and athletic events cropping up all over the country.
A group of friends were talking down at the pub one evening about a new triathlon a few months away in the resort town of Pranburi just south of Hua Hin on Thailand's well-touristed East coast. In a mad moment of intoxicated braggadocio, five middle-aged men suddenly announced they were in for the mini-triathlon: an 800-meter open water swim, 20km of cycling, and a 5km run – mini-triathlon for the fit, dumb idea for the pub crowd.
Training for a Thailand triathlon would require a bit of research. There were countless websites brimming with advice, and settling on a three-month training schedule – relatively grueling at eight sessions per week –and got stuck in. Three important points became clear: 1. Bangkok traffic is not the perfect place for cycle training or running, 2. Thailand's tropical sun beats your head like an anvil. 3. Bangkok swimming pools are full of screaming kids who swim side to side, not length-ways. Training was going to have its challenges.
I started training later at night to avoid the heat and traffic but even at night, Bangkok temperatures sit around 30 degrees (like a summer day in Georgia) so even for sessions of only 15-20 km, it was essential to stay hydrated both before the session and right after. Fortunately, Thailand's ubiquitous 7-11's all carry Gatorade, and Bangkok pharmacies sell powered electrolyte until 10pm.
Though exercise is growing in popularity, many local people still think you're crazy. This makes for a firm athlete's brotherhood, as the occasional fellow cyclists and runners I would see, out and about, always gave the respectful and knowing nod, sometimes even silently joining forces for a few kilometers.
The big day arrived too soon. Some fine physical specimens from Thailand and the rest of the world gathered at the Pranburi shoreline shortly after sunrise for the moment of truth. Normally, a powdery tropical beach is cause for relaxation, but not today. The starting gun went off and we stormed into the ordinarily calm Gulf of Thailand, which that day was seething and roiling like a Wagnerian opera. It became glaringly obvious that this was no longer the neighborhood swimming pool – there wasn't a recreational swimmer in sight.
After struggling against the waves and current for nearly half an hour, I emerged exhausted and bow-legged, staggered to my bike and wobbled off against the wind, scarcely noticing the lovely scenery – the sea on one side, palm and banana studded fields on the other.
If you've never tried this, it honestly isn't so bad. About forty minutes in, you lose all sense of time. You keep your head down and keep pushing, totally in the moment, the sole objective being to cross the finish line – which exists at some point, seemingly an eternity away. But the local supporters were delightful. Smiles and cheers greeted us at every transition and as we ran through small villages of clustered wooden houses, we often received a round of applause from hordes of children as if it was Christmas and we were in red suits delivering presents.
The finish line arrived just as the morning heat began to build. After a ten-minute complimentary leg massage, one of Thailand's specialties, we gathered for a feast and as it was only 9:15am, the grand breakfast buffet at the hosting Evason resort would be open for another two hours. We gorged ourselves – we'd earned it. Everything tasted that much sweeter and more flavorful, in the wake of our accomplishment – especially the beer. Beer has a funny way of making history repeat itself, as we made a pact to return for the race again next year.
Bangkok-based Cameron Cooper has spent two decades traveling Asia, seeking oddities, adventure, and the meaning of life, while contributing to The Melbourne Age, Discovery Channel Magazine, and worked as an editor at Thailand's Nation newspaper.