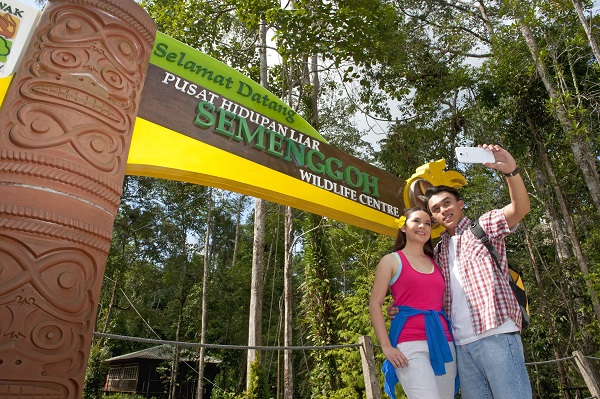 Gap year travelers are notoriously parsimonious, and Southeast Asia is a favorite gap year destination for precisely that reason: low cost.
"You don't have to save a huge amount of money to be able to afford a trip through Southeast Asia," explained travel blogger Tara Povey in one of our past pieces. "Some parts are more expensive than others, but in general it's relatively cheap."
The low prices of food, transportation and accommodation all add up to a reasonable daily cost: Marek of IndieTraveller estimates that tourists in Southeast Asia can expect to spend about US$35 a day per person – climbing up to only US$50 a day for two people.
So, where can you go to stretch your 35 bucks per day the furthest: where you can afford more experiences, more miles on transportation, and more nights in the accommodation of your choice? We asked a few bloggers about their personal favorites, and they came up with twelve answers from all over Southeast Asia: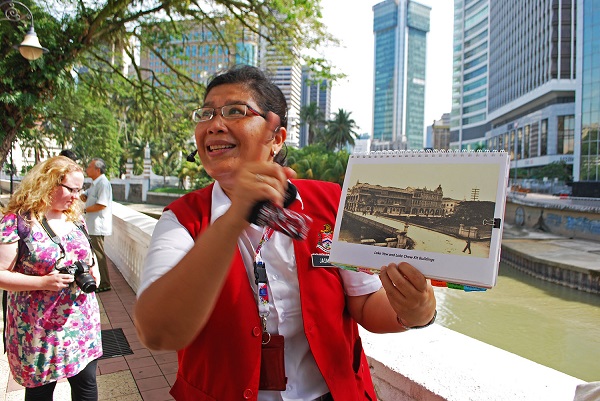 Southeast Asia's Inexpensive Capitals
Even Southeast Asia's cosmopolitan capitals – normally bottomless money-burning pits for travelers – can be light on the pocket if you know where to go.
"Kuala Lumpur in Malaysia offers so many fun things to do that are totally free," explains Hello Raya's Soraya Nicholls (Instagram|Facebook|Pinterest), who notes that even the bus service can be free of charge. "From grabbing that Insta-worthy shot with the iconic twin towers to doing walking tours in historic parts of towns to exploring cultural museums, it's amazing the free things that you can do that in this wonderful city."
Viktor Vincej of Traveling Lifestyle suggests Myanmar's capital as a major budget traveler must-see. "In Yangon I ended up living for 10USD/day but I'm sure I could squeeze it down to 8," Viktor tells us. "Hostels in Yangon are pretty cheap but be sure to book at least one week in advance. All the ancient temples, interesting culture, and the breathtaking sceneries will leave you astonished."
And then there's Hanoi in Vietnam: "I fell in love with the city, despite the bustling traffic, because it is such a budget friendly place and a lot of sites are free or just a few dollars," explains Nicole LaBarge of Travelgal Nicole. "Eat a big bowl of Pho for less than $1; [or take one of] many free walking tours that take you through the Old Quarter Hanoi exploring areas you normally wouldn't go to.
"You can also visit Turtle Lake for free or go to a water puppet show for $3," Nicole says. "Whatever you decide to do, you will be able to do it all in Hanoi on a budget."
The island-state of Singapore may make the world's lists of the most expensive cities, but tourists have plenty of opportunities to save, too. "The last time I went there, I used an EZ-Link card to travel everywhere, by bus or train," explained Mike Aquino of Southeast Asia Time Traveler (Facebook|Twitter|Instagram). "Hawker centers offer cheap and really delicious food. Finally, parks throughout Singapore are free to enjoy, and offer an unbeatable view of the city skyline."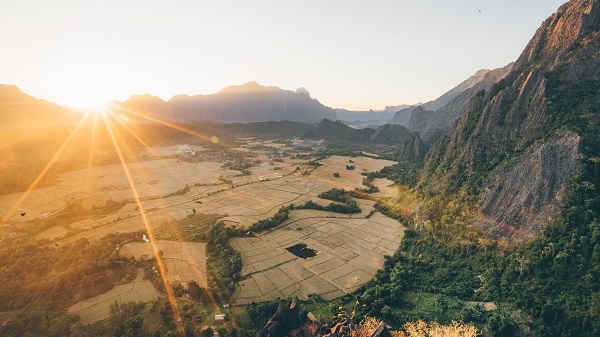 Towns & Temples on the Cheap
Beyond the major cities, you'll find smaller, more out-of-the-way towns and settlements that offer a surfeit of character with less of the cost of the capitals.
Consider Laos' Vang Vieng town, a major backpacking destination. "I stayed at a Vang Vieng hostel for $4 a night which included wifi, a dorm room, breakfast and unlimited whiskey each night," explained Journey Era's Jackson Groves. "That is about as good of a deal as you can find in Southeast Asia on the backpacking trail.
"Vang Vieng has epic limestone cliffs, blue lagoons, river tubing – several bars in Vang Vieng offer free drinks from 8 pm til 9 pm," Jackson tells us. "It's a town perfect for backpackers looking to explore but also to party at night."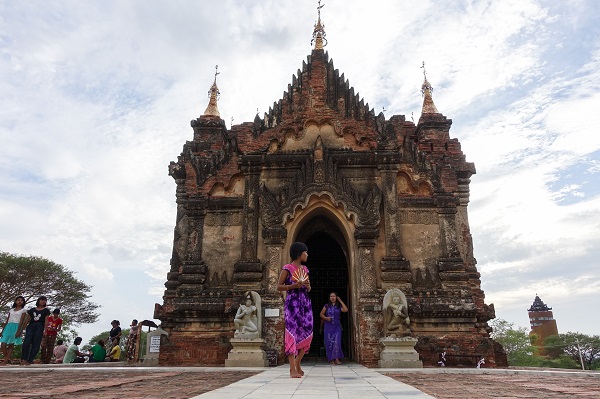 Let's not forget Bagan, Myanmar's most-visited temple town: "Many people assume that Bagan will be terribly expensive," says Traveling Honeybird's Jeanette Cheney. "Avoiding the hot air balloon ride, Bagan offers a great budget friendly, adventure experience."
Jeanette suggests travelers look into nearby Nyaung-U for their Bagan accommodations and dining. "Here you'll find a variety of accommodation, travel agents, places to eat, working ATMs and e-bike hire," Jeanette explains. "It's also the closest area to the bus stop and the very tiny airport.
"Despite being the furthest away from the more popular pagodas and temples, it's not a huge issue if you have hired an e-bike, which is really affordable at around $10US a day," she continues. "At most, it adds another 5-10 mins to your exploring, but does offer a lot of less visited places to explore along the way – allowing you to take your time exploring many of the thousand temples away from the crowds."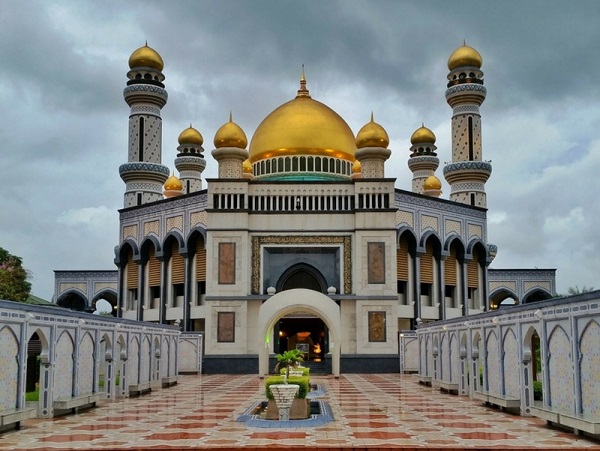 Borneo on a Tight Budget
The island of Borneo – split between Indonesia, Malaysia and Brunei – serves as Southeast Asia's last frontier, with budget-friendly activities to be found even in its biggest cities.
For Matilda of the Travel Sisters (Twitter|Instagram|Facebook), nothing beats Brunei's capital Bandar Seri Begawan as an inexpensive travel destination. "Many of the best things to see and do in Brunei are free," Matilda tells us, including views of the city's major mosques, like the Sultan Omar Ali Saifuddien Mosque ("it's beautiful to view both in the day and at night when it is all lit up") and Jame' Asri Sultan Hassanal Bolkiah ("built to commemorate the current reigning Sultan, it's the largest mosque in Brunei").
Transport within the city is surprisingly affordable, Matilda says. "Downtown Bandar Seri Begawan is small and very walkable, so you can explore most of its attractions by foot," she tells us. "You can also keep your food budget low by eating most of your meals at night markets, which are cheap and popular with locals."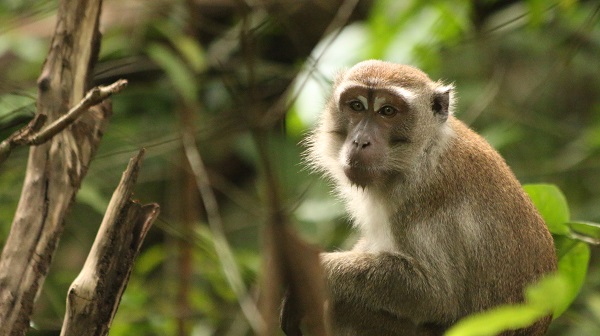 Further south, the Malaysian state of Sarawak and its biggest city Kuching offer the ultimate "budget travelers' dream," as Miss Filatelista's Lola Mendez (Facebook|Twitter|Instagram) puts it. Lola has plenty to say about Kuching's budget-friendly attractions: "From fantastic hawker food such as a delicious local rendition of Laksa from Chong Choon Café, to beautiful houses of worship that you can visit free of charge, to pristine beaches just a cheap bus ride away, and best of all – incredible wildlife spotting for a few meager bucks!" Lola tells us.
A few nearby nature reserves beyond city limits are easy to access and cost about MYR 10 (US$2.50) to enter. GRRRLTRAVELER's Christine Kaaloa (YouTube|Instagram) recommends visiting both Semenggoh Wildlife Centre and Bako National Park: "Both parks are perfect for all types of travelers from solo travelers to families," Christine tells us.
"Semenggoh Wildlife Centre is a 450-hectare reserve dedicated to orangutan rehabilitation; the program is designed to save captive orangutans and to re-familiarize them with living and surviving in the jungle," Christine explains. "They have regular viewings during feeding time (note: viewings are not 100% guaranteed and its best to call ahead to ask if it's fruiting season).
"Alternatively if you're looking for a good trek, surreal landscape and a feeling as if you jumped into The Jungle Book, an overnight stay at Bako National Park will introduce you to proboscis monkeys, wild boars and a fun night safari (Don't forget to bring your flashlights!)."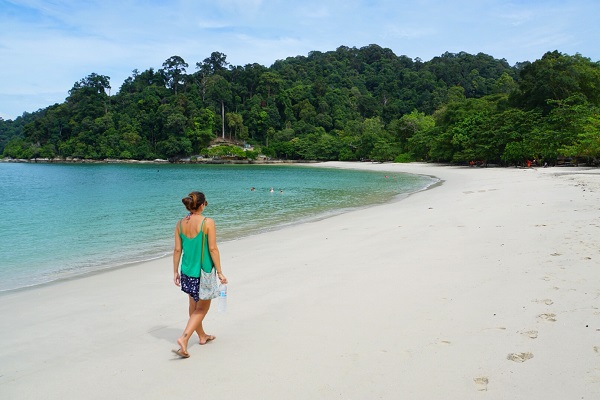 Inexpensive Island Getaways
Leave the popular (and expensive) beach and island towns of Southeast Asia to luxury travelers – you'll find plenty of cheaper shores to visit when you go a little off the beaten path.
Consider Pangkor Island on peninsular Malaysia's east coast: as a local favorite, it's a logical stop for budget travelers. "One thing we've learnt when looking for budget friendly anything is to follow the locals, they usually know the best places to save a buck or two," says Finding Beyond's Shelley McGuigan (Facebook|Twitter|Instagram). "This is definitely the case when we followed the locals to Pangkor Island."
Shelley highly recommends starting out at the main tourist center, the "rustic and laidback village of Teluk Nipah on the West coast of the island," she explains, "where you'll find the largest selection of very budget friendly accommodation."
The beaches along Teluk Nipah and the rest of the island are lined with inexpensive eateries and street food stalls; "The best beach on the island, named Coral Bay, is just a few minutes [from Teluk Nipah] on foot meaning there's no cost involved in order to enjoy the most impressive part of the island," Shelley advises.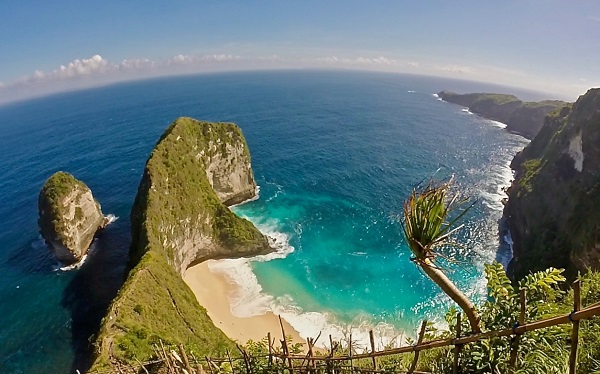 The pricey island of Bali in Indonesia has an inexpensive flip-side as well: Tom Grond of TravelTomTom recommends visiting "the little island next door", Nusa Penida. "Now, it is my secret travel tip for people that go to Bali," Tom says. "There are so many incredible places to visit in Nusa Penida that you need at least a couple days.
"Finding accommodation is super easy and for only a couple bucks you can crash at local homes," Tom explains. "Finding street food is not hard either, which makes it an incredible budget destination." After renting a motorcycle for about US$5 per day, Tom explored the rest of the island on his own.
"The incredible coastline and its high cliffs are the most beautiful thing to see, but also the amazing deserted beaches, spectacular viewpoints and great hiking opportunities can't be missed," Tom says. "On top of that you can snorkel with Manta Rays, scuba dive with the fascinating Mola Mola fish and simply enjoy spectacular sunsets and sunrises."
The beach town of Coron in the Philippines contrasts with more expensive beach destinations in the country. "Normally, when I travel solo, I prepare to shell out more compared to when travelling with someone else, especially if there is island hopping involved," says TaraLetsAnywhere's Katherine Cortes. "This wasn't the case in Coron.
"The rates for boats, tours and accommodations are all reasonable, and there are cheap eateries where you can taste local food," Katherine says. "Coron has beautiful green and blue lagoons, beaches, snorkeling spots and even natural hot springs. There are so many islands to explore, and you can either laze around in one beach for the whole day or join a tour."
Koh Rong Samloem, Cambodia. Image courtesy of Christabel Lobo.
Finally, the Cambodia island of Koh Rong Samloem offers an inexpensive opportunity to disconnect. Turn off your smartphone and engage with the strange wildlife instead, says Where's Bel's Christabel Lobo (Facebook|Twitter|Instagram):
"The highlight of my island adventure would have to be my midnight swims with bioluminescent plankton – after the hostel bar closed for the night, the staff would turn off all the lights and everyone would head from the bar into the water to see the plankton.
"We also spent plenty of time lounging in hammocks in the water, spent an afternoon fishing and snorkeling in a traditional Cambodian boat, and when we were up for a little bit of adventure, hiked through the jungle to the other side of the island and watched the sunset from Sunset Beach," Christabel tells us.