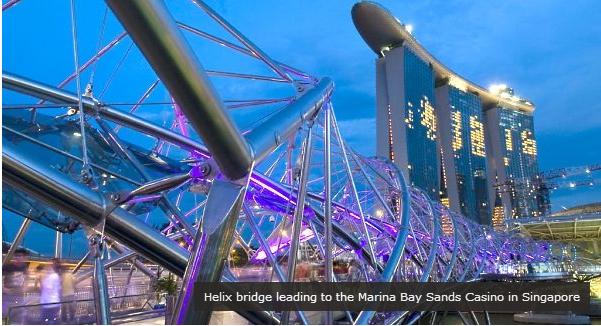 Casinos dot Southeast Asia from small border gaming halls to Vegas-like casinos. Many cater to Chinese, Thai and Vietnamese players, who cannot legally gamble at home, but westerners are welcome to try their luck.
Along with familiar games played in the West, the region presents some alien ones you may want to try. How about picking numbers or combinations on a three-dice roll in Sic Bo, or getting two cards and an optional third to nail nine, 19 or 29 in Po Daeng?
The eight-deck Casino War pits player against dealer…highest card wins. Blackjack-like Pontoon, uses a 48-card deck sans 10s, and Pula at Puti players funnel balls to a 100-square, red-and-white checkerboard.
Complex Pai-gow deals seven poker hands to a single player from one deck plus a joker, and Three Pictures players want "Three Knights" (picture cards), but a "Double Knights Nine" might capture the highest hand.
So where to play? Cambodia has casinos in Bavet at the Vietnam crossing near Ho Chi Minh City, and features Full House Hotel & Casino's 40 tables and 30 slots and the recently opened Casino Royale. Kampong Thom just outside Phnom Penh presents Grand Dragon Casino's 42 tables and 55 slots, and the capital's slot clubs join the 500-room Naga World's 176 tables.
Sihanoukville's popular Holiday Palace Hotel & Casino offers common western games, the Fortuna Casino & Hotel rises five stories at Golden Lions Circle, and Kampong Som City Casino & Hotel deals Baccarat.
Small casinos sit just outside Thailand in Poipet, a four-hour drive from Bangkok, and Koh Kong International Resort's tables are actually in Thailand's Trat province, 200 meters from the border.
In Laos, Savannakhet's sparkling Savan Vegas Hotel & Casino offers 380 slots and English-speaking croupiers operating Baccarat, Super Six, Blackjack, Poker, Roulette, Sic-Bo and Pok Daeng at 80 tables.
The lakeside Dansavanh Nam Ngum Resort near Vientiane offers a modest gaming center, and both Lao venues sit near ecotourism attractions. Casinos are also being constructed to bookend the recently opened Route 3 connecting Thailand to China.
Even Myanmar hosts border casinos from the Andaman Club Casino across from southern Thailand's Ranong to the Golden Triangle Paradise Resort on the Mekong River.
Malaysia's well-known, classy Casino de Genting, a short drive from Kuala Lumpur, presents a whopping 430 tables offering every game in the book plus some 5,000 slots in five themed sections. Nearby is the upscale invitation-only Maxim's Club, and there's talk of reopening Sarawak's mothballed Samal Casino Resort.
Government-run Philippine Amusement and Gaming Corporation operates 14 "Casino Filipinos" nationwide and shares others with the Jimei Group, Fiesta Casinos and Resorts World. Manila houses Hyatt Hotel & Casino's three floors of non-stop gaming, the Jimei International V.I.P. Casino at The Heritage, and Resorts World's Newport City Casino.
The Waterfront Cebu City Hotel, Grand Regal Hotel in Davao City and the Mactan at Lapu-Lapu City's Waterfront Airport Hotel present additional Casino Filipinos, which also operates in Angeles, Ermita, Parañaque City, Laoag, Mimosa, Olongapo and Tagaytay.
In Rizal, Fiesta Casino runs Thunderbird Resorts with 29 tables and 380 slots and La Union with 26 tables and 258 slots. Outside Manila, the Jimei Group manages a pair of Waterfront Hotels & Casinos in Cebu.
That brings us to Singapore's five-star mega-integrated resorts/casinos set to compete with Macau's Cotai Strip. Resorts World at Sentosa is still under construction, and casino king Sheldon Adelson is bringing "The Las Vegas Lesson" to Marina Bay Sands with a pair of casinos. Originally scheduled to open in early 2010, the three-tower structure was just topped of in January that year, making that date far from a sure bet.
Vientiane-based Bernie Rosenbloom writes for TTG Asia, PATA Compass, and EcotourismLaos.com; and he co-authored The Responsible Tourism Guide to Cambodia, Laos and Vietnam.