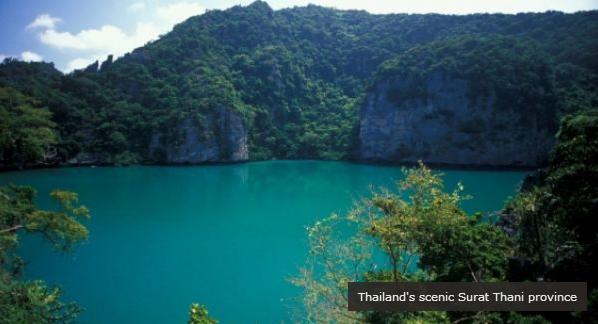 Although there are a glut of trails that run over Koh Samui's nature friendly southern coastline, this route along the coast of Surat Thani makes for a more varied pedaling experience and makes for a perfect ride to the South and its surrounding islands.
Start from the district town of Lang Suan, which sits on Route 41 from Bangkok and is probably best reached by boarding, along with your bike, one of the trains that runs here directly from Chumphon and Bangkok. Most trains have a cargo carriage on which to lump bike and gear before leaving Bangkok's Thonburi Station.
The Chumphon- Lang Suan journey is an attraction in itself. The 20 Baht ticket price is made all the more remarkable upon arrival at Lang Suan's postcard-perfect wooden station, an institution that retains a 19th Century flamboyance that is amplified when confronted with its conductors, who continue to punchcard the passage of trains with aplomb.
Start the trail after a trackside coffee and, passing the red tunnel bridge, exit the city on Route 4002 to Baan Pak Nam before taking a right onto route 4019, towards the fishing pier. The real sightseeing begins here, as the road takes you over 15 km of coastline, whose rocky hill-cropped palm plantations look out onto the sea and nearby Koh Samui. The road then leads through to the rustic fishing village of Chamuk Prong, where you might want to stop for a quick drink or bite to eat.
When you get onto the 4019, head first to Wat Kok Kao, a secluded temple 13 km in. Atop the hill there sits a kitschy concrete reproduction of a ship once used by the monarchy to survey the coastal islands. Just next to this, you can follow the small asphalted road whose happy ending is a small and peaceful village dotted with rattan and bamboo pavilions, whose view over the Phalual Islands is popular amongst local teenagers in search of a little intimacy. Remember though that displays of public affection are taboo in Thailand.
Courageous bikers should then consider going on to Km 17 of the trail and turn left down the dirt track, a few hundred meters of which will see you hit on an ancient wooden bridge, and on the other side of that, a bustling shrimp farm. Before turning back to Ban Pak Nam, try striking up a chat with the fishermen here as they return from the multicolored trawlers of a trade that is receiving the butt of the blame for Thailand's dwindling volume of marine life that is measured, ironically, by these fishing boats' very catch.
This article can be found in the guide book "Travel Green Thailand"
Richard Werly is the European bureau chief, based in Brussels, for the Swiss daily « le Temps » (www.letemps.ch). A former correspondent in Bangkok he has kept in regular touch with Southeast Asia since the early 90's, reporting on numerous events in the region, such as the 2004 Tsunami. He is the producer and editor of "Travel Green Thailand".