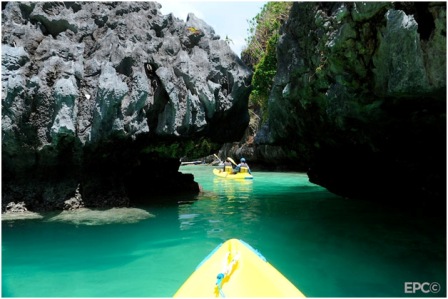 Image courtesy of the Philippines Department of Tourism
Certified beach and nature lovers will find El Nido about 220 kilometres northeast of Puerto Princesa, the capital of Palawan Island in the Philippines. Here, the pristine blue waters of Bacuit Bay teem with marine life, and magnificent limestone outcroppings inspire awe.
El Nido covers an area of 465.1 square kilometres, with 45 islands brimming with caves and lagoons; the surrounding waters present endless opportunities for adventure. Kayaking offers the best chance for you to get up close to the islands and enjoy the views from El Nido's open waters.
Plenty of tour operators based in El Nido can help plan the kayak trip you have in mind. You can undertake a relaxed day trip around the islands of Miniloc, Simisu, Lagen, Inabuyutan, Matinloc, and Vigan (more commonly known as Snake Island), with enough time for a snorkelling session in the lagoons and a sumptuous lunch.
Leave your kayak on the shore to explore each island's inner secrets. At Pinasil Island, you'll find the spectacular Cathedral Caves, where local busyador harvest swallow's nests for a living. Walk through a rock crevice on Matinloc Island to rediscover the Secret Beach, a limestone sinkhole whose beauty inspired Alex Garland to write The Beach.
But if you simply want to take in the sun, you can opt to cap your kayak adventure with a beach picnic at the 7 Commands Point, where you might see hawksbill turtles, whale sharks, rays, dolphins and dugong making their way past.
Elsewhere on the Web: Read the Philippines Department of Tourism's overview page on El Nido and Taytay.