Welcome to Wellness in ASEAN, where we explore the most excellent sources of relaxation and self-care that southeast Asia has to offer. For many, rejuvenation or only "getting away from it all" are big reasons why they travel to this part of the world. With an abundance of spas, resorts, retreats, and tranquil locations to choose from, it's merely the perfect destination for your wellness getaway.
Today, we're putting a spotlight on the Philippines and Singapore. Whether you're seeking an island-hopping adventure or a spa experience that's in the lap of luxury, you'll undoubtedly find a wide array of holistic options between these two nations.
Philippines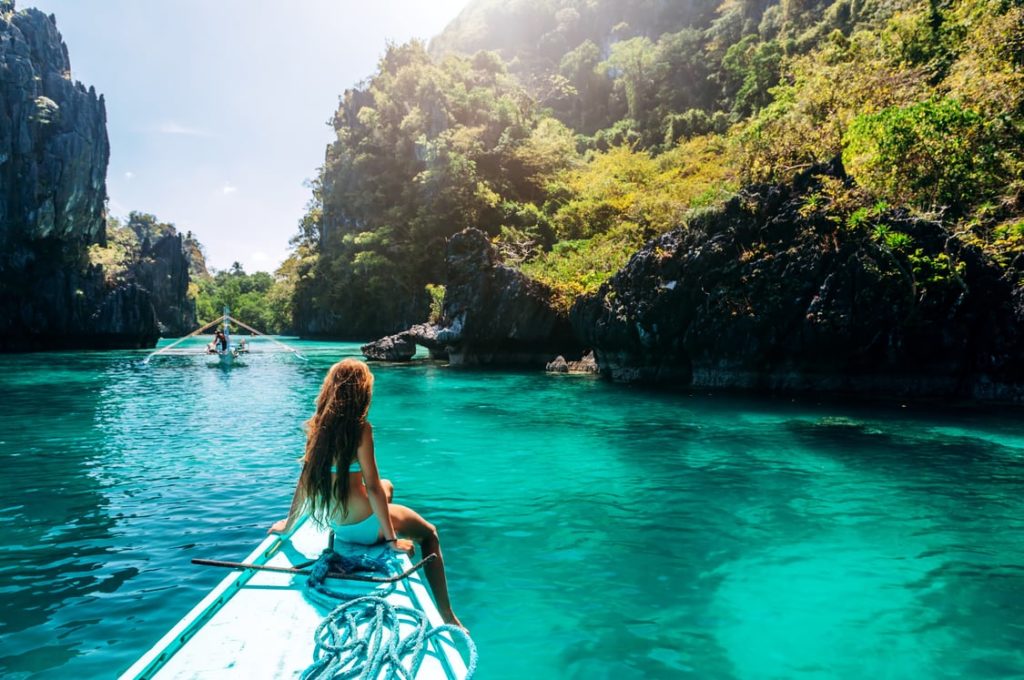 There's something for everyone in the Philippines. After all, this archipelago boasts a rich culture with a blend of influences from Spain, America, and its indigenous roots. Travelers also have more than 7,000 islands to choose from as soon as they arrive. The layout on the white sand beaches of Palawan. Pamper yourself in the luxurious spas of Manila. Be at one with nature in the rice paddies of the provinces. The choice is yours!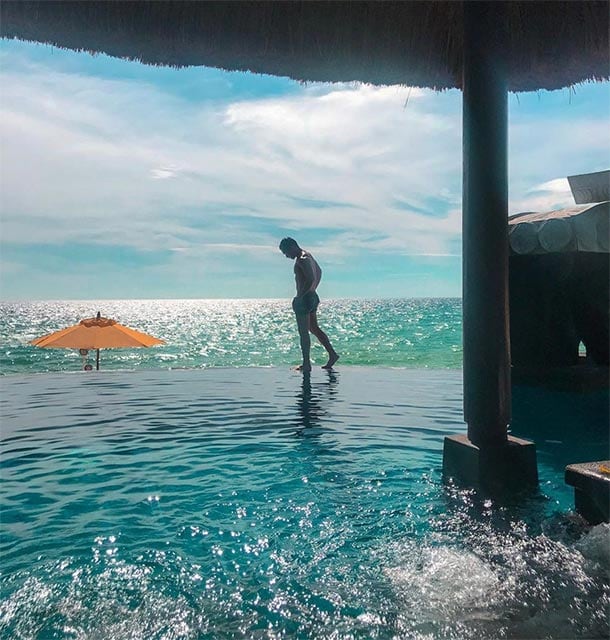 Shangri-La Resort and Spa in Boracay
A small island in the heart of the Philippines, Boracay is renowned for its picturesque beaches and beautiful resorts. That's because the warm and hospitable locals take great care of both travelers and the island itself. To maintain the beauty of their beloved paradise, a brief rehabilitation period was put in place to restore its white-sand beaches and preserve its natural landscape. Now newly open to the public, Boracay is back, better than ever, and ready to invite travelers like you with open arms.
Along the northern coastline of the island, you'll be greeted by the tropical oasis that is Shangri-La's Boracay Resort and Spa. An ode to both Shangri-La opulence and Filipino culture, these luxe accommodations have a blend of both contemporary and native styles. While basking in these pristine surroundings, you can treat yourself to an unforgettable experience at its spa CHI. Nourish your mind, body, and soul with body wraps, cleansing facials, and even a signature Philippine Hilot Massage.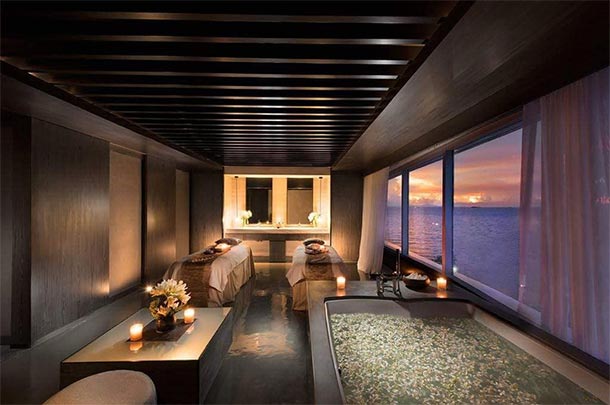 The Spa at Conrad Manila
Known as the capital of the Philippines, Manila is no stranger to the hustle and bustle that comes hand-in-hand with any metropolis. However, it is also known as the "Pearl of the Orient" and for a good reason too. Amidst the popular megamalls and trendy nightlife, travelers will discover the wealth of beauty and culture that lies within Manila. From the historic Fort Santiago to the awe-inspiring San Agustin Church, this busy city finds a way to carve out moments of serenity for its many visitors.
Not far from Manila's many attractions, you can spot the Conrad with its architectural sophistication on the edge of Manila Bay. Rest assured; this five-star complex is beautiful from the inside out. Its luxurious spa is the perfect place to unwind, whether after a day of roaming or a night of karaoke. With six individual treatment rooms, soaking tubs, a private sauna, and steam room, this sleek hideaway comes fully equipped with invigorating treatments that'll pamper you from head to toe.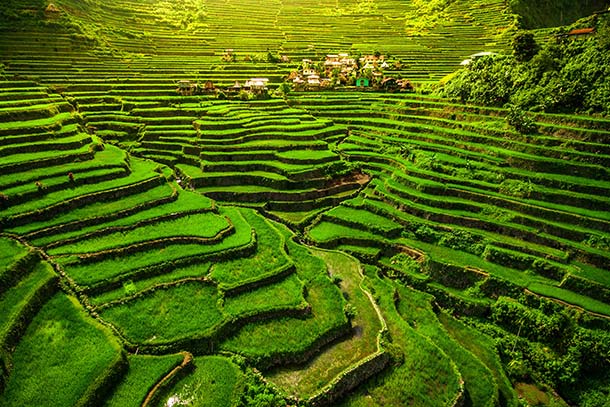 Banaue Rice Terraces
From Manila, you can venture north on the island of Luzon to witness the breathtaking Banaue Rice Terraces. It's an out-of-this-world attraction that may stop you right in your tracks. An intricate agricultural feat, this lush landscape is considered the "Eighth Wonder of the World" by many. Both wondrous and mysterious, the terraces' exact date of origin remains unknown, but they're believed to be at least 2,000 years old.
Hike to the top (about 4,900 feet up) for both an incredible view and an unbeatable holistic experience. Not only will you get to observe the marvels of nature, but you'll also get to see the local farmers who continue planting rice and vegetables on the terraces to this very day. Be sure to make the most of your trip to this region by visiting Banaue Village or hiking to neighboring terraces, such as Batad Rice Terraces, Mayoyao Rice Terraces, Hapao Rice Terraces, and Kiangan Rice Terraces.
*
Now that we've explored the Philippines let's head west to Singapore. Just a quick flight across the South China Sea, this destination can easily be added to your Philippine travels or suffice as its own unique experience.
Singapore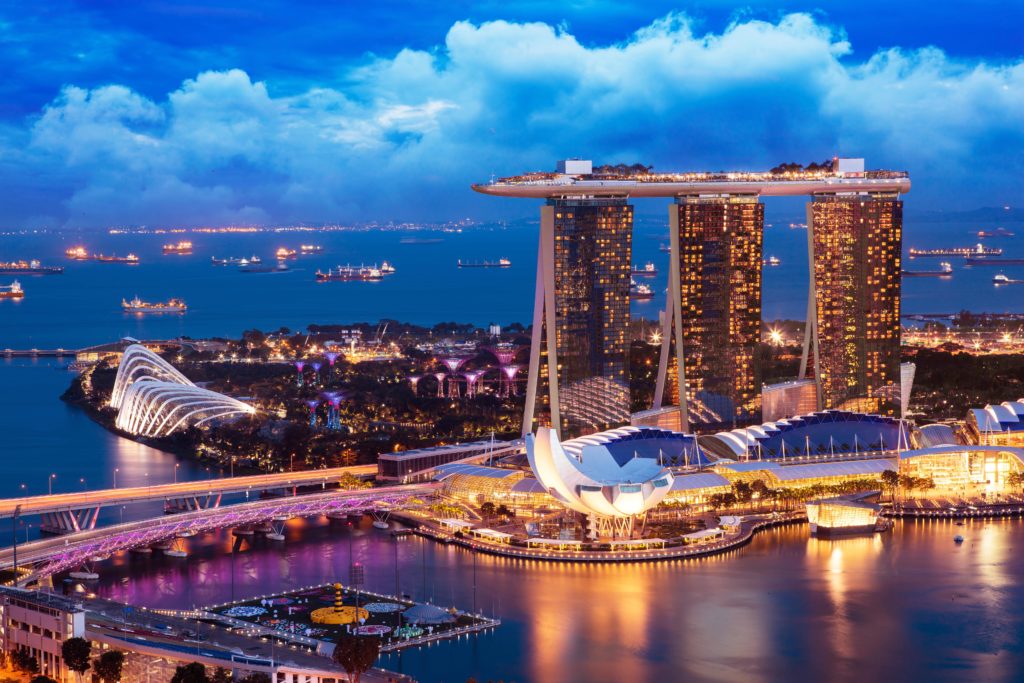 You may know Singapore for its grandiose architectural feats at the Marina Bay precinct. Or, the nation's sustainability efforts as seen in the solar-powered supertrees of Gardens by the Bay. However, this cosmopolitan city-state is surprisingly perfect for those pursuing a tranquil atmosphere and a slower pace. Singapore also boasts a beautiful multicultural blend of Chinese, Malay, and Indian influences — all of which are infused in its outstanding culture, cuisine, and wellness techniques.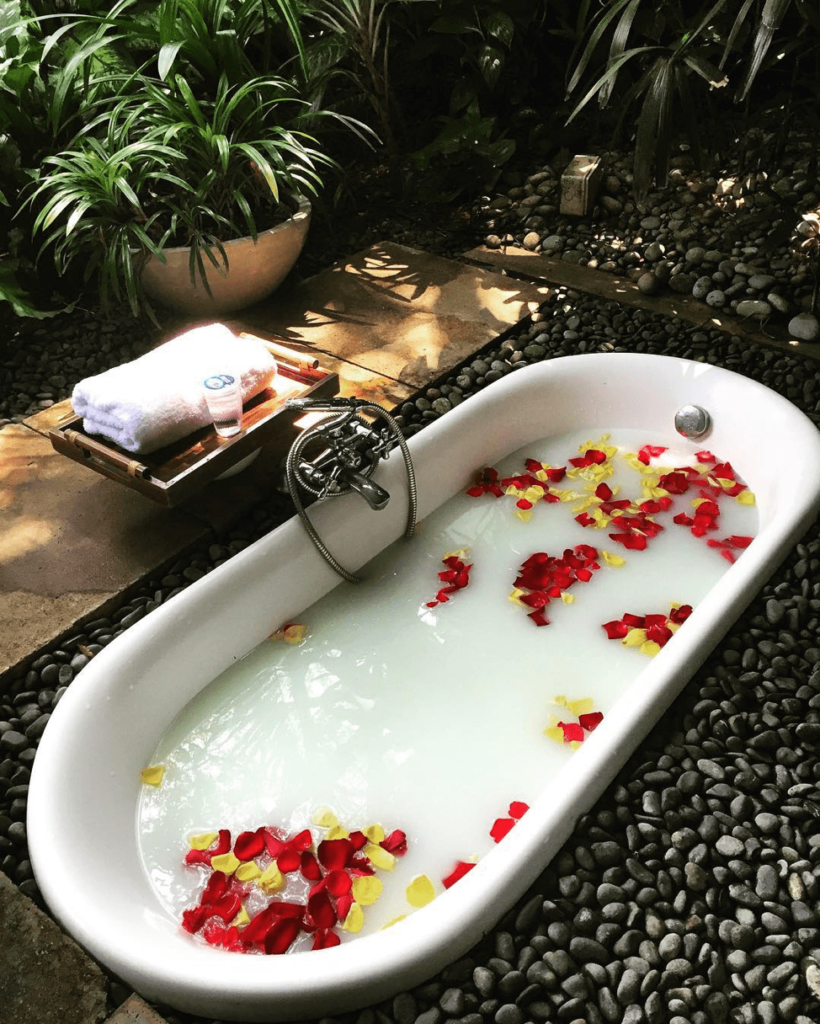 Aramsa – The Garden Spa
Tucked away in the lush greenery of Bishan-Ang Mo Kio Park, you'll uncover a tropical oasis unlike any other. Aramsa is a luxurious spa encompassed in harmonious garden design and unbeatable ambiance. Choose from one of seventeen unique treatment rooms where you'll have your private garden courtyard and outdoor shower or bath. Here, you can enjoy a holistic self-care treat that's all yours.
Aramsa comes with a wide array of rejuvenation and vitality practices for guests to choose from. Pamper yourself with massages techniques that include Swedish, Shiatsu, or the Aramsa Touch — a signature style combining both eastern and western practices. Detoxify your body and revitalize your energy with Qi Balancing Therapy. Center yourself with Vinyasa, Hatha, or Yin yoga sessions in the garden. When you're ready, be sure to conclude this wellness retreat with a walk through the open fields and tranquil waterways of Bishan-Ang Mo Kio Park — one of Singapore's largest urban parks.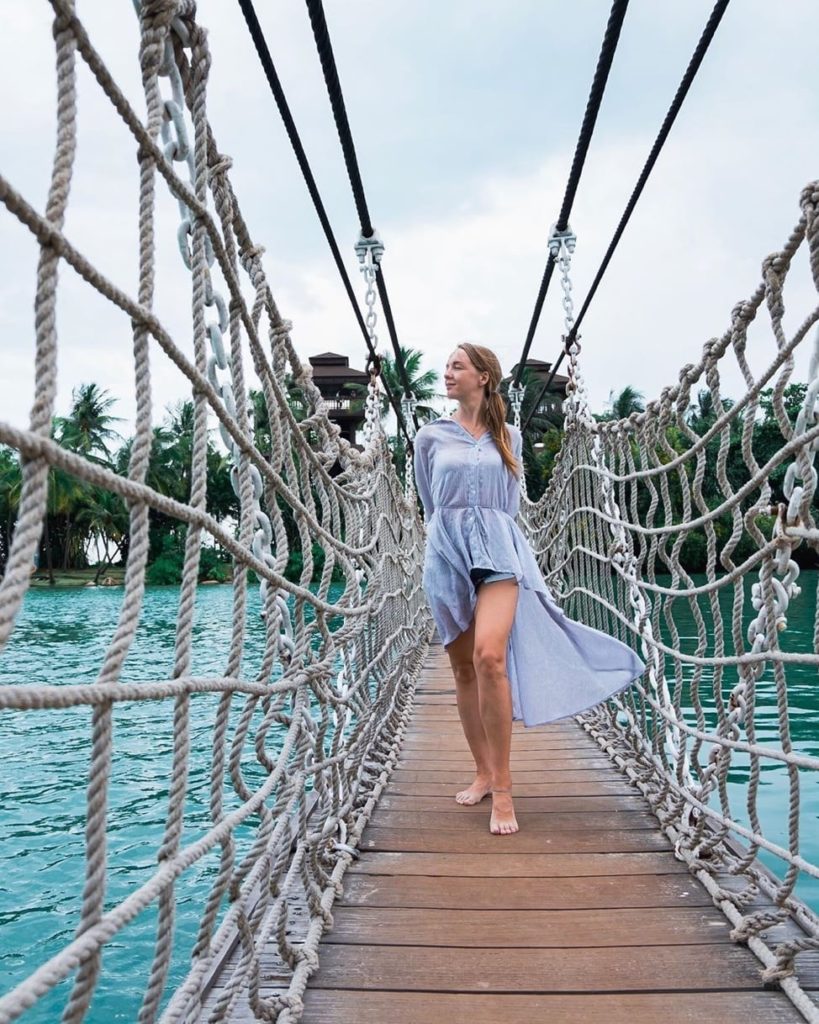 Palawan Beach in Sentosa Island
Hop on the Sentosa Island Monorail Express from VivoCity and escape to Sentosa Island, Singapore's premier island resort. Celebrated for its theme parks and family fun, you should carve out time for its must-see spots like Dolphin Island, Adventure Cover Waterpark, and S.E.A. Aquarium. However, as you wind down from these exciting attractions, you can achieve calm and stillness in any of the island's numerous award-winning spas, including Spa Luna, Away Spa, and So SPA.
Along the southern coast of Sentosa, you'll find the soothing waters and crisp white sand of Palawan Beach. Not to be confused with the island of Palawan in the Philippines, this Singaporean beach is a stellar destination for relaxation under the sun. Especially since it's the southernmost point of continental Asia and Asia's closest point to the Equator! Walk across the beach's rope bridge for breathtaking views of tropical shores and even the stunning local peacocks that meander about.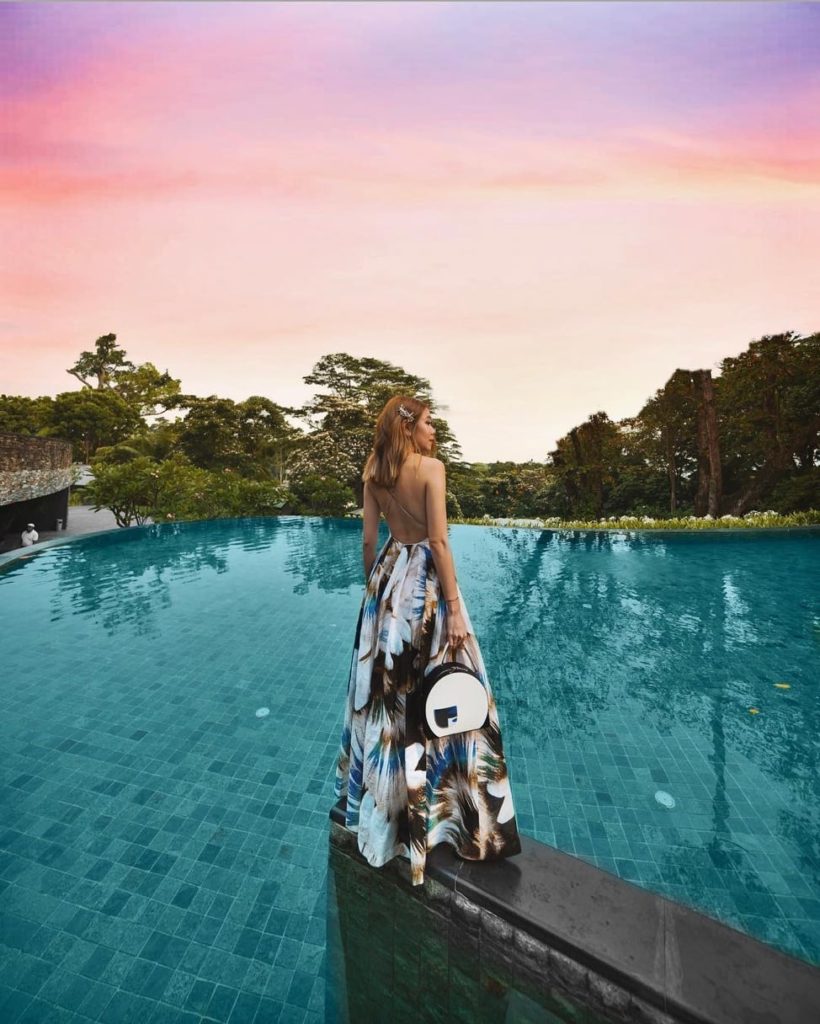 Capella Singapore
Just beyond the shores of Sentosa Island, you'll discover the oasis that is Capella Singapore. As mentioned earlier, the island is home to several unbeatable luxury spas. Not only is Capella one of them, but it's also a five-star hotel complex complete with opulent suites and exclusive villas. Rest your weary self in the extravagant accommodation offerings rich in cultural heritage. Capella's design is rooted in the complex's two original Tanah Merah colonial bungalows, which incorporate traditional Malay architecture dating back to the 1880s.
Auriga is the hotel's elegant and revitalizing spa that speaks to the senses through renewal, healing, and meditation. Its holistic experience includes signature massage treatments, such as New Moon, Waning Moon, and Full Moon, that are inspired by nature and infused with all-organic products. You can even press the reset button with the Auriga Detox Day. This four-hour session eliminates toxins, gets rid of dead skin cells, and nourishes you with a meal at The Knolls, Capella's Mediterranean restaurant.
*
Your moment of relaxation awaits! With a variety of rejuvenating destinations to choose from, Southeast Asia is filled with soothing getaways where you can center yourself. Whether you prefer the tropical islands of the Philippines or the lush mainland of Singapore, you're bound to find the wellness experience that's right for you.