The Land of Smiles has long been considered an outdoor paradise for travelers. From mountain trekking in the North to the sun & surf in the South, from an impressive diversity of picturesque national parks to endless opportunities for extreme sports such as rafting and kayaking, and with an amazing array of natural and cultural heritage sites like wildlife preserves and ancient ruins scattered throughout the country's varied geography, visitors are never short of things to do in the open-air.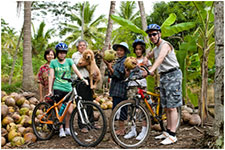 And what better way to take in Thailand's diversity of traditional villages, winding mountain passes, thriving local markets, lush jungle paths, and hilly coastal roads than by bicycle?
Cycling in Thailand is an amazing adventure, and as it grows in popularity, more and more options become available. Whether you are looking for a high-energy tour, a more easy-going and leisurely pedal, or perhaps a combination of the two, you'll have a chance to see the real Thailand and have a totally rewarding experience.
Tour operators all over the country are offering a variety of entertaining bike expeditions. Spice Roads Cycle Tours, a certified tour operator who implores us all to "See Asia by Bicycle," provides interesting trips for all levels of cyclist.
The River of Kings Ride is a 2-week excursion which takes cyclists from Chiang Mai through the Chao Phraya river valley where Thai civilization started, and visits the ancient cities of Lampang, Ayutthaya, Sukhothai, and Khampeng Phet, sticking to lightly-traveled back roads to keep you off the touristy track. Other possible journeys include their relaxed 11-day coastal tour, a more strenuous 11-day trek on the Tribal Trails of the North, and a quick 3-day ride through the beautiful landscape of waterfalls, caves, and peaceful riverside communities in Kanchanaburi.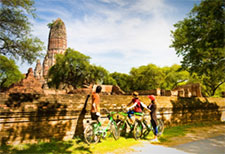 For some seriously challenging cycling, Crouching Tiger Cycling Tours has a 6- or 10- day Thai Highland excursion which takes you to the highest and most daring peaks in Thailand over spectacular winding roads, providing difficult but gratifying climbs and exhilarating descents. They also offer a 10-day Golden Triangle Experience, a varied road tour of Chiang Rai province which affords riders a chance to take in the beautiful scenery and cultural richness of Northern Thailand while enjoying some thrilling cycling over breathtaking mountain passes, in and around traditional hill-tribe villages, and through gorgeous national parks and rain forest terrain.
If you'd prefer a more localized tour while in the saddle – as opposed to longer treks covering hundreds or even thousands of kilometers – then perhaps Krabi is the place for you. Located in the southern Andaman region of Thailand, the province is known for its stunningly beautiful landscape of coves, mangroves, limestone cliffs, and jungle-covered islands and Amazing Bike Tours can lead you around this immaculate geography. Their Krabi Explorer tour takes you through low-key back roads and quiet rubber plantations, passing through small villages and by local temples along the way, giving riders a chance to soak in a bit of Southern culture. Riders also visit spectacular Emerald Lake for a morning swim in its crystal clear waters, and enjoy stop-offs at some of the areas numerous hot springs.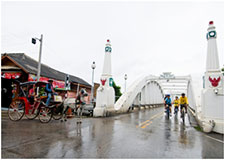 And what about in the big city? Is it even possible? It sure is, and for travelers crunched for time, a one-day Bangkok tour is the perfect option. Several companies will take you throughout the City of Angles for a look at it secret historic heart and the suburban oases that exist outside of downtown's snarled traffic jams and busy streets and sidewalks. Get a glimpse of the everyday lives of local urban communities, and experience a more tranquil side of bustling Bangkok and the Chao Praya. Urban Adventures is a good bet to handle your cruise through the back streets of Bangkok.
So if being out-of-doors is your idea of a great vacation, and if you love the feeling of the breeze in your face while experiencing beautiful scenery and interesting local culture, hop on a bike for a healthy and exciting exploration of Thailand on two wheels. You won't be disappointed.