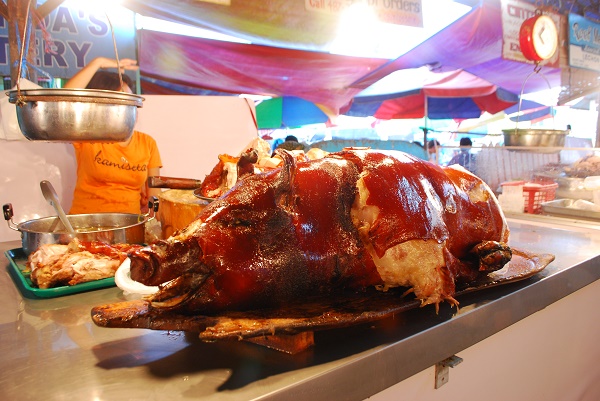 You'll have no better – or more enthusiastic – pair of food guides through Southeast Asia than Rosemary Kimani and Claire Rouger, who we last met dishing about their most surprising food discoveries as they traveled through Southeast Asia.
But the co-founders of Authentic Food Quest didn't stop there – after telling us about each country's surprises, they went on to tell us their favorite individual foods from each of the Southeast Asian countries they visited. Picking one from each was a bit of a challenge, Rosemary and Claire tell us.
"This is a really tough question to answer," they explained. "We liked so many dishes in each of the countries and narrowing down to just one is not easy.
"That said, we'll give it a stab."
Crisp Whole Roast Suckling Pig (Lechon) in the Philippines
Anthony Bourdain famously sung praises to the Philippines' lechon. Rosemary and Claire hunted down this Filipino delicacy in Rico's Lechon, a famous lechon restaurant in the city of Cebu, and wholeheartedly joined in the praise chorus.
"Rico's Lechon was our favorite for two main reasons," the food blogger partners tell us. "First, the flavorful pig. Crispy skin, non-fatty pork and Rico's unique spicy lechon. Secondly, going behind the scenes to Rico's commissary, where they roast the pigs, gave us a fuller appreciation of the entire process."
Traditional lechon is stuffed with native herbs, including leeks and lemongrass, along with aromatics and spices, then roast on a spit over hot charcoals. "Their single focus on quality and the staff's dedication to the best lechon made it our favorite Cebu lechon experience," Rosemary and Claire tell us.
Read an alternative itinerary that explores Cebu, Philippines in depth.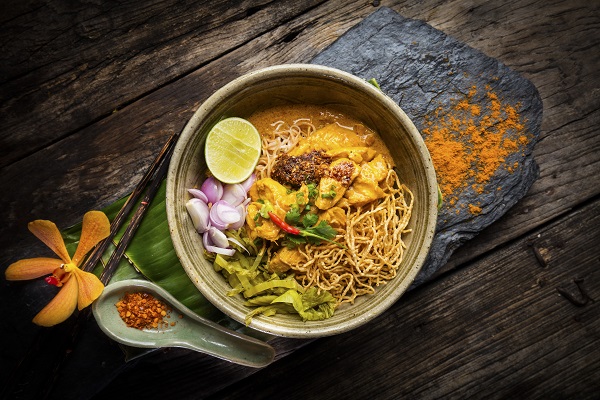 Coconut and Curry Rice Noodles (Khao Soi) in Thailand
By all accounts, khao soi is an outlier among Thai dishes – coconut cream, fermented seafood and the combination of herbs used to create this noodle dish's signature flavor don't recur often in other Thai curries. Nevertheless, it's Northern Thailand's signature noodle dish. "We could have spent all our time eating Khao Soi in Chiang Mai," say Claire and Rosemary, and we believe them.
"We loved the spicy coconut milk based flavors with the two different kinds of noodles," they explain. "We tried Khao Soi at several places and discovered that each place has its own special way of making it."
Go beyond food, and explore the fabric route around Chiang Mai in Thailand.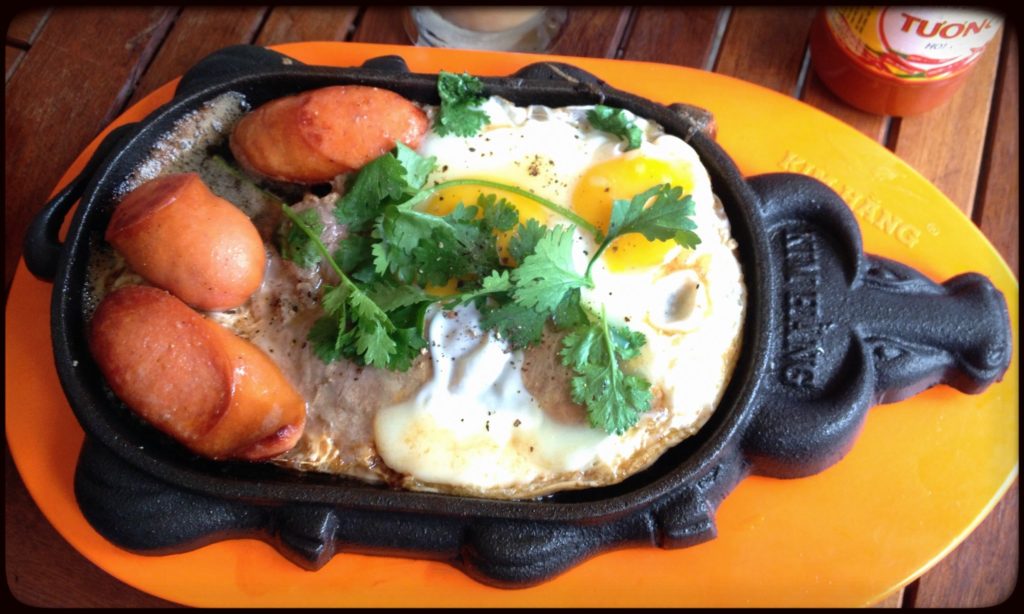 Sizzling Steak & Eggs (Bo Ne) in Vietnam
Native to Vietnam's south-central coast, this sizzling beef and egg dish now has fans all over Vietnam: a thin-sliced beef steak served on a sizzling plate with sunny-side up eggs, sauce and a salad side. The name derives from the Vietnamese words for "beef" and "avoid" – the latter referring to the need to work around the sizzling-hot plate, which might burn your fingers if you're not careful!
Rosemary and Claire came upon Bo Ne in Da Nang – "we stumbled onto this dish after seeing locals eat it several mornings in a row," they told us. "We didn't know about it and did not realize it was a local specialty."
The pair discovered the dish with no help from guides or online recommendations. "Discovering it in such a serendipitous manner made it really unique," they tell us. "Not to mention, it is delicious and very fresh."
Explore an alternative itinerary that explores Viet Nam in detail.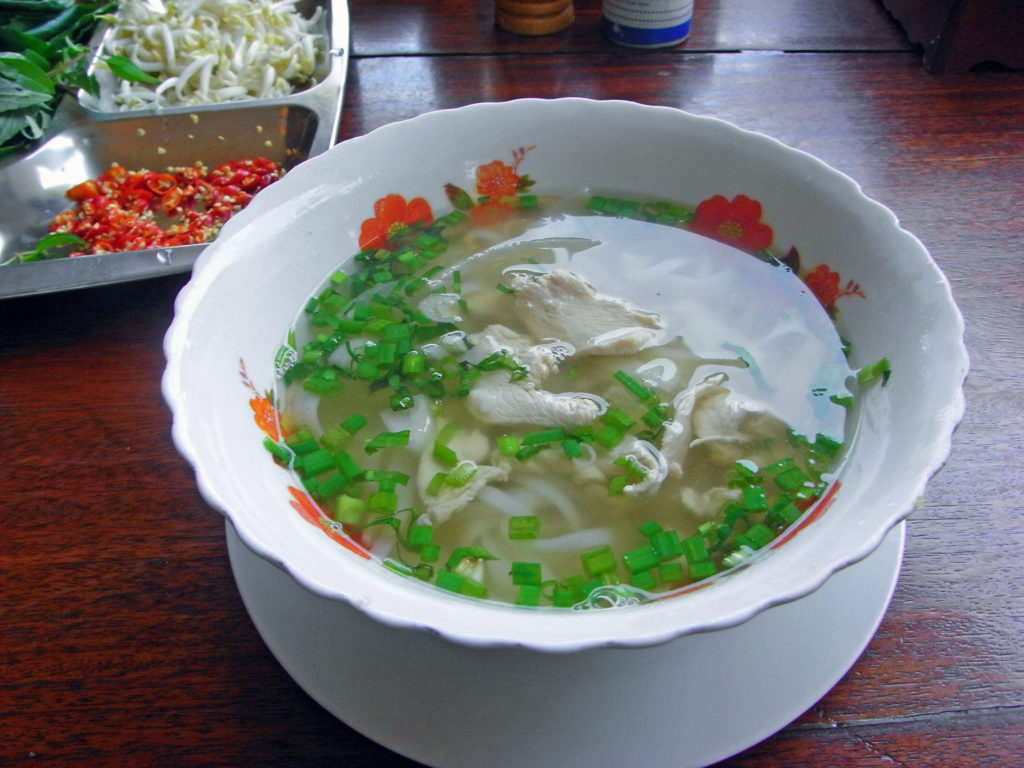 Rice Noodles (Kuy Teav) in Cambodia
Cambodia's favorite breakfast may have been inspired by the Chinese, but the Khmer have made it their own nonetheless: square-ended rice noodles drowned in a pork broth and garnished with any kind of meat available, and garnished with greens that may include bean sprouts, spring onion, and lettuce leaves.
Claire and Rosemary found kuy teav at Siem Reap, where you can find this dish at marketplaces like Psah Chas (the non-touristy side) and upscale restaurants alike.
"The depth of flavors found in this popular Cambodian breakfast dish is outstanding," the blogging duo tell us. "The rich broth and vermicelli noodles cooked with herbs and vegetables is one of the most delicious and unusual breakfast dishes we've ever eaten."
Visit Cambodia during the Angkor Sangkranta festival for a better taste of the local culture.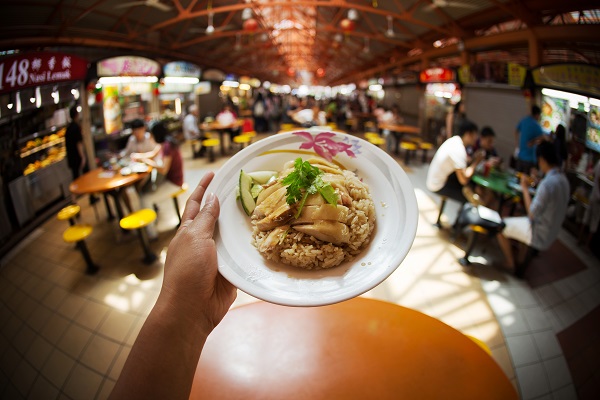 Hainanese Chicken Rice in Singapore
Befitting a nation descended from immigrants, Singapore's favorite dish has roots in mainland China – a Hainanese import that has become a much-loved favorite in hawker centers across the island nation.
Rosemary & Claire first tried chicken rice at the popular Maxwell Hawker Center near Singapore's Chinatown ethnic enclave. Tourists flock to Maxwell's Tian Tian Chicken Rice daily – the queues are long, and stocks often run out early – but for our blogging partners, the wait was worth it.
"[It's] simple, yet fragrant and cooked to perfection," the pair tell us. "For a dish this simple, that can be quite tasty, it's easy to see why it's Singapore's national dish."
Explore Chinatown and Singapore's other cultural precincts in depth.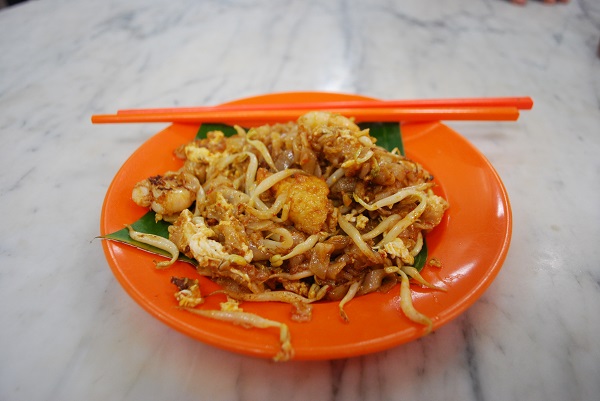 Char Koay Teow Noodles in Malaysia
This savory, seafood-rich fried noodle dish draws street-food fans from all over the world, who consider the char koay teow in Penang to be the definitive version of the dish. (Singapore also claims char koay teow for itself – cultural ownership of this noodle dish remains a tense point of contention between the two nations.)
Claire and Rosemary find the Penang char koay teow a clear winner: "The flavors in this stir-fried noodle dish, with eggs, prawns and bean sprouts blew us away," they tell us, recalling how long they had to stand in a queue to get at the stuff. "We once waited 45 minutes in line for Char Koay Teow from a street vendor who made each plate individually cooked over charcoal."
Take a closer look at Malaysia's melting pot of cultures.
* * * *
For more on Rosemary & Claire's culinary adventures, visit their website, or follow them on social media (Facebook | Twitter | Instagram), or subscribe to their newsletter. Rosemary & Claire are authors of Authentic Food Quest Argentina: A Guide To Eat Your Way Authentically Through Argentina.