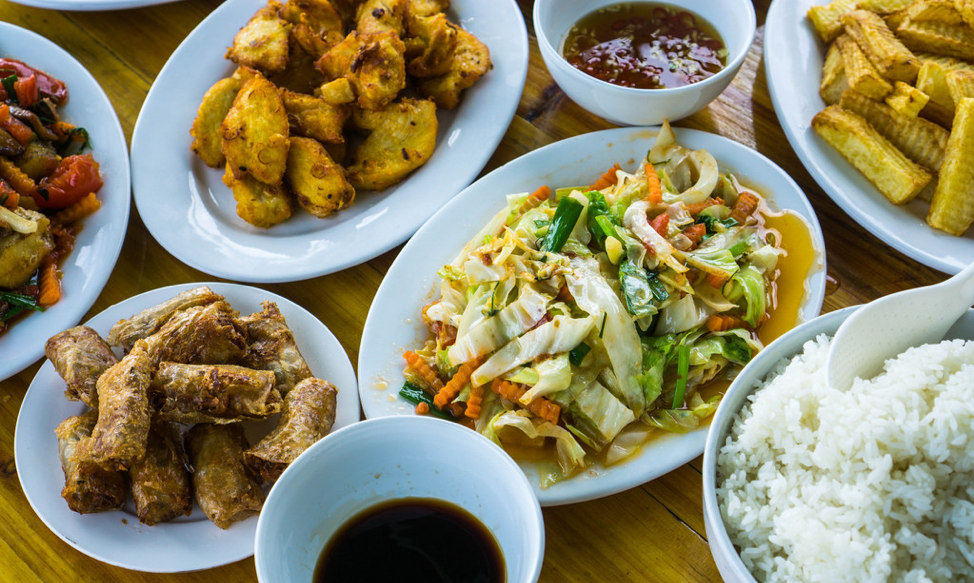 Welcome to the Taste of ASEAN. Our blog series explores all the tastiest local foods from the kitchens of Southeast Asia. So far, our food adventures have taken us to seven different countries in search of all the best dishes.
Follow us as we travel further east to discover the exciting culinary landscape of Viet Nam. We include our favorite authentic Vietnamese recipes along the way, to give you a taste of this fascinating country. A popular travel destination amongst inquisitive foodies – will Viet Nam make it onto your travel hit list?
Vietnamese Cuisine
Viet Nam borders on land with China in the north and on with Laos and Cambodia in the West. Best known for its exquisite beaches, breathtaking rivers, and high-mountain passes, Viet Nam is fast becoming a destination of choice for travelers to Southeast Asia.
One of the most compelling characteristics of Viet Nam is, of course, its food. You will find regional variations depending on which part of the country you're traveling to. You will find plenty of savory noodle-based soups and stir-fries in northern Vietnamese food.
In contrast, southern Vietnamese food features a sweeter taste and coconut-based recipes.
Like many Southeast Asian countries, food is at the heart of Vietnamese culture. While the cuisine itself is not as complex as other countries, the simplicity of Vietnamese recipes is what makes the food truly special.
For those embarking on an improvised day of sightseeing, eat wherever it looks busiest. The busier a food vendor is, the higher their food turnover. You're likely to find fresher food at these places. Coffee culture is a huge part of daily life in Viet Nam and all coffee fans must try Vietnamese coffee at least once. The silky-smooth chocolatey flavors of cà phê đá (Vietnamese iced coffee) is usually made with staple ingredient – condensed milk.
Vietnamese recipes commonly use core ingredients such as soy sauce, fish sauce, shrimp paste, fresh herbs, rice and vegetables. To experience a roundhouse of authentic flavors typically found in Vietnamese cooking, gỏi cuốn (spring rolls) is a local specialty not to be missed.
Vietnamese Restaurant – Pho Thin
No trip to Viet Nam is complete without a few days in the historic capital city of Hanoi to try the famously popular – pho (noodle soup). And, there's no better place to enjoy this delectable Vietnamese dish than from pho experts – Pho Thin (written Phở Thìn in Vietnamese). Often celebrated for serving the best pho in Hanoi, Pho Thin is a great place to introduce your taste buds to Vietnamese cuisine.
The former painter and current owner, Nguyen Trong Thin, opened Pho Thin in 1979 using his own twist on the classic pho recipe. Unlike traditional preparations, the meat is stir-fried with garlic before being added to the soup, giving a deliciously smoky and caramelized flavor.
A no-frills eatery, Pho Thin is in the historic French quarter of Hanoi on the tree-lined street – Lo Duc. A silver sign saying 'Pho Thin' rests against the front door in place of a name above the restaurant. Keep your eyes out for this humble venue – you'll be glad you made the trip.
Vietnamese Recipe: Pho Bo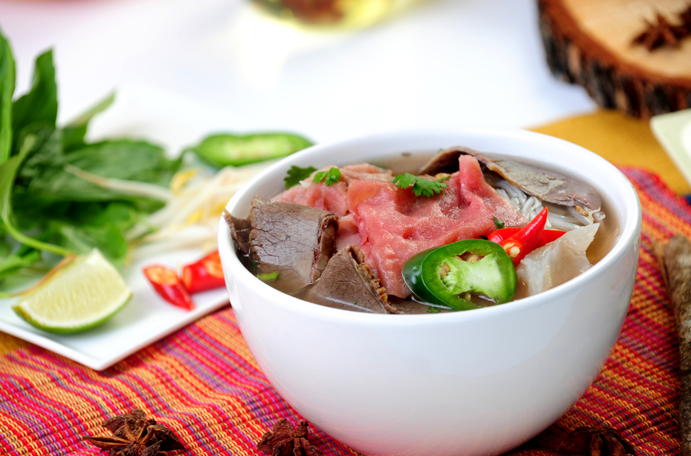 Cheap, tasty and warming – it's no surprise that pho is a national favorite. Pho bo (phở bò in Vietnamese) is pho made using beef and you can make this tasty dish at home with this beef pho recipe from Serious Eats.
This juicy beefy broth features fish sauce, lime juice and aromatic spices; star anise, cloves and cinnamon. Fragrant and intensely savory, this dish can be customized to suit your taste with the addition of fresh herbs and chilies.
Vietnamese Restaurant – Bun Cha Huong Lien
Bun Cha Huong Lien was introduced to global audiences when famously visited by former President Obama and world-renowned late chef – Anthony Bourdain in 2016, as part of Bourdain's TV show – Parts Unknown. Their notable visit to this modest eatery in Hanoi's old quarter, has drawn in crowds of locals and visitors ever since.
As indicated in the name, Bun Cha Huong Lien specializes in cooking the much-loved Vietnamese savory dish – bun cha (grilled pork and noodle). Served with crispy spring rolls and condiments, bun cha is best enjoyed with a cold beverage. For spice lovers – add a dash of the accompanying cut red chili for a tongue-tingling bun cha experience. In a city obsessed with bun cha, where better to try this Hanoi favorite than at Bun Cha Huong Lien's.
Vietnamese Recipe: Bun Cha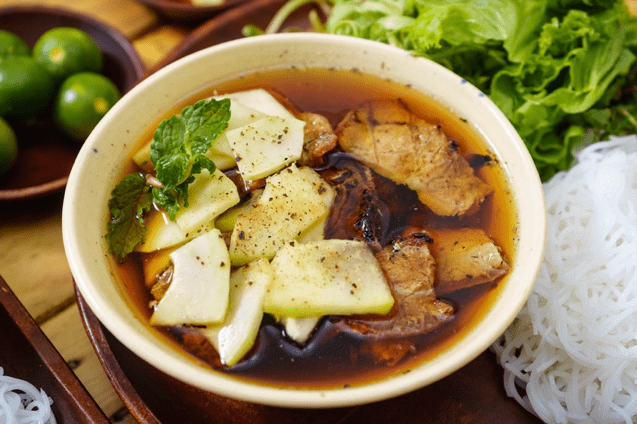 Bun cha (written bún chả in Vietnamese) consists of four main ingredients – rice vermicelli, grilled pork, fresh herbs and a sweet, spicy, sour dipping sauce. Typically served with crispy spring rolls, this dish is usually enjoyed as a lunchtime meal in Viet Nam.
If like us, you can't wait until your next trip to Viet Nam, here's a superb lighter, salad-based bun cha recipe from Eat Little Bird to try at home. Made using all the core ingredients within a traditional bun cha dish, you can enjoy the fragrant combinations of pork, coriander, mint, thai basil and the sweet and sour notes of the Vietnamese dipping sauce, nuoc cham. Serve hot and enjoy the tantalizing flavors of Viet Nam.
Vietnamese Restaurant – Banh Xeo 46A
For history-seekers who are keen to learn about the past of Viet Nam, Ho Chi Minh City (HCMC) will certainly be on your list. Commonly known as Saigon, this historic city features a thriving food stall culture that's got every type of Vietnamese food you could possibly imagine. We suggest starting your food adventures at the legendary Banh Xeo 46A to try the iconic Vietnamese dish – banh xeo (fried pancake).
Whilst you'll find different variations of banh xeo throughout Viet Nam, Banh Xeo 46A serves a larger-sized banh xeo version, in true southern Vietnamese style. Popularized by a previous Anthony Bourdain visit, Banh Xeo 46A's pancakes have also gained a following for its distinctly smoky flavor from being cooked over charcoal. Food blogger Mark Wiens, from Migrationology, provides this interesting rundown on how Banh Xeo 46A makes their signature dish.
Vietnamese Recipe: Banh Xeo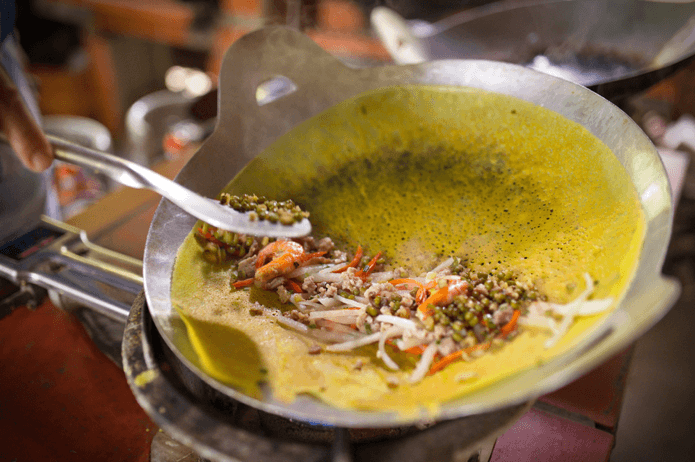 Banh xeo, meaning "sizzling pancake" in Vietnamese, is a savory pancake usually customized with vegetables, meat or seafood to suit individual tastes. As with many Vietnamese dishes, banh xeo is typically served with plenty of fresh herbs including thai basil, mint and lettuce leaves.
For a taste of the deliciously crunchy, soft and flavorsome banh xeo, try this banh xeo recipe from Bon Appétit. The striking yellow-colored pancakes are made using three simple ingredients; rice flour, turmeric and salt. Prepare the filling using shrimp, scallion (spring onion), bean sprouts and a selection of fresh herbs and green salad. Easy, quick and delicious – this dish is guaranteed to impress.
We hope you've enjoyed our food exploration of Vietnamese foods, have we tempted you to try these dishes in Viet Nam? We would love to hear from you! Join us next time as we discover local dishes from Viet Nam's neighbor – Laos, as we sample Laotian cuisine.