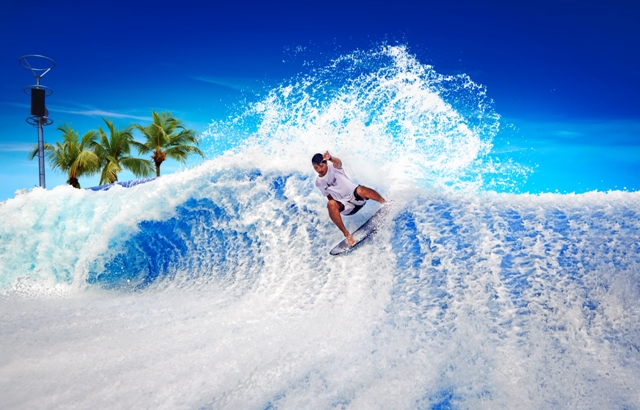 Image courtesy of Wave House Sentosa
So what if Singapore's beaches lack the optimal surfing conditions sought after by the world's big kahunas? The ever-resourceful Singapore will still rise up to the challenge and give other beaches a run for their money through sheer ingenuity and creativity.
The Wave House on Singapore's Sentosa Island is Asia's first – an artificial wave-generating environment that uses water pumps and curved pool walls to create what nature provides in abundance elsewhere. The pumps churn up to 600 cubic metres of water a minute, recreating gentle breaks (for beginners) and more challenging tubes (for enthusiasts).
The Double Flowrider caters to beginning surfers just learning the basics of balance and movement; the FlowBarrel creates a more challenging barrel wave, its currents moving at a rapid 48 kilometres an hour. The surfboards lack the fins that usually adorn sea-going surfboards, but as far as adrenaline and instinct are concerned, you will definitely not miss the excitement that accompanies the surfing experience.
The Wave House Experience also improves on nature, with no sharks, sharp rocks, and undercurrents to ruin the surfing experience elsewhere.
To complement the wave-riding experience, the Wave House also doubles as a party venue, helped along by a restaurant that serves some of the best grub in Sentosa.
Elsewhere on the Web: For more information, visit the Wave House Sentosa's official page.