Brunei's independence day falls on the 23rd of February, a day known as "Hari Nasional" or "National Day."
A British protectorate since 1888, Brunei seceded from the United Kingdom on January 1, 1984. British colonial rule turned over control of the state weeks later, marking the 23rd of February as the day that Brunei truly became its own.
Bruneians take to the festivities with fervent patriotism. Official proceedings start early in the morning in Bandar Seri Begawan, the nation's capital. A crowd at least 20,000-strong file into the padang (stadium), the very site where Brunei was declared free of colonial rule. The sultan, His Majesty Hassanal Bolkiah, marches in in full military regalia to hold court over the ceremonies.
The national anthem kicks off the event, ushering in a procession of the royal army, the royal police, students from all over the nation, and prominent private and civic organizations. The event comes to a close with a showcase of silat, an ethnic ceremonial dance and martial art.
Prayer makes up the other half of Hari Nasional. Many Bruneians, devout Muslims, come to the mosques to pray and listen to sermons and scripture readings.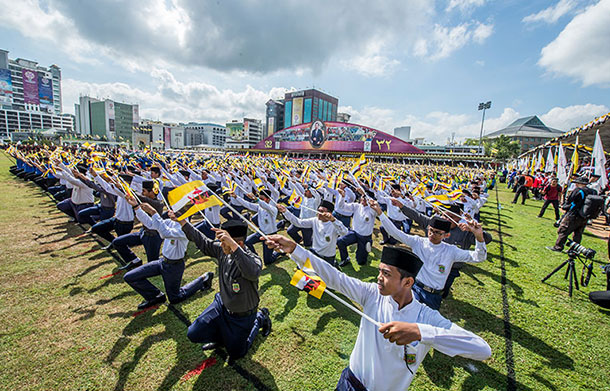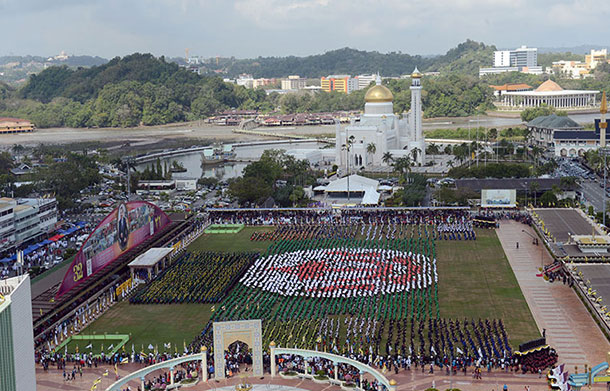 You Might Also Like…
For a comparable patriotic festival elsewhere in Southeast Asia, visit Malaysia for National Day. For other festivals in the month of February, visit the Philippines' Panagbenga and Laos' Boun Vat Phou Champasak.