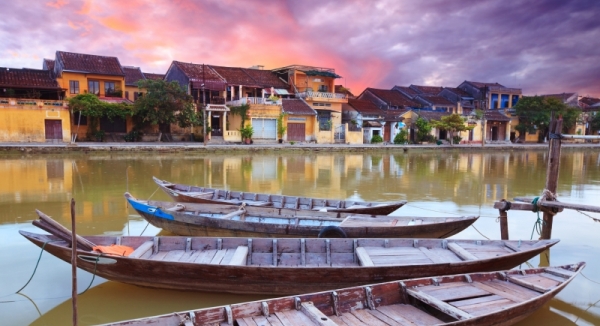 Like blurred colors on an artist's palette, the colors of the lanterns reflect on the Thu Bon river, their mesmerizing glow a typical scene from Hoi An's old town. It is the night of the full moon and there is a magical atmosphere in the old quarter. The lights from the lanterns replace fluorescent beams. No motorbikes. No bicycles even. Only pedestrians traverse the streets on this monthly "legendary full moon night". Traditional performances echo across the town, as locals honor their ancestors with offerings and incense. Couples send floating candles out on the river; like waxen flotillas they drift and flicker romantically along the passive waterway.
This is Hoi An; historic, cultural, traditional, and incredibly charming. This quaint heritage town on Vietnam's central coast is a must-visit location for any traveler visiting the country. Declared a UNESCO world heritage site 10 years ago, the township of Hoi An has been remarkably preserved. Antiquated houses, some over 300 years old, abound in the old town, their architecture a testament to this 16th century trading port's resplendent past.
All visitors delight in the vibe of Hoi An, and it's often commented that it is the highlight of their Vietnamese holiday. While the historic elements are charming, it is also worth noting Hoi An's background as a center for the arts (and crafts) that has evolved with time – it is still very much a town thriving on its artistic abilities. This creates a definitive atmosphere of cool, one that is further complemented by a sophisticated bar and restaurant scene.
Strolling around the old quarter, there are several landmarks of interest. The most iconic attraction is the Japanese Bridge. Located on Tran Phu Street, the bridge was built in 1590 by Japanese settlers to link them to the Chinese community across the stream. Besides its distinct roofing, the construction was also originally designed to withstand earthquake damage– as shown in its strong base – although Vietnam is not prone to earthquakes.
There are also a number of museums, temples, old houses and cultural shows open in the old town. The tourism authority offers visitors a ticket for $5 which allows five experiences: one landmark, one museum, one temple, one old house and one cultural show. These are available at the tourism office or various ticket booths in and around the market.
For foodies, Hoi An is a refreshing find. Not only are there unique local specialties worth sampling – especially the Cao Lau, a noodle dish exclusive to Hoi An – but there are some unmatched fine dining experiences to be tried. The Mango Rooms and Mango Mango restaurants, run by Hoi An's most celebrated kitchen master, Duc, serve up delicious Asian-Latino influenced creations, while the newer Secret Garden offers pure gourmet Vietnamese cuisine, in a beautiful garden setting in the midst of the old quarter. For those who want local dishes but don't fancy eating off the street, there is the Morning Glory restaurant. For European cooking, Casa Verde is recommended (operated by Chef Gustav who used to work at Victoria Hotel) and for those offering a balance of Asian, European and Mediterranean dishes there are the River Lounge and White Marble restaurant/lounges.
Beyond the activities in the old town, Hoi An boasts worthy stretches of sand for beach lovers– the Cua Dai beach and An Bang beaches both cater to tourists with plenty of small seafood restaurants and sunbathing chairs available. An Bang beach, tends to be more of a local or expat hangout. You can either go to the farthest on the left or farthest on the right of the restaurant strip for venues that are frequented by expats – try Phatties or La Plage. Drinks and food menus cater to Western tastes and you can borrow equipment free (including rafts, surfboards, frisbees, footballs etc etc).
Staying in Hoi An for a week or more is well worth it. This hip little heritage town on Vietnam's coast offers a bit of everything: history, culture, beaches, dining and shopping (the tailors are internationally renowned). It's also within close proximity to other UNESCO protected landmarks, My Son and Hue. Only 30 minutes drive from the Da Nang international airport, it is an easy and highly recommended destination for the Vietnamese holidaymaker.
Amy Morison is a writer who lives in Hoi An, Vietnam. She is founder and managing editor of Live Hoi AN Magazine (www.livehoianmagazine.com) and director of the Central Vietnam Advertising & Marketing Company.