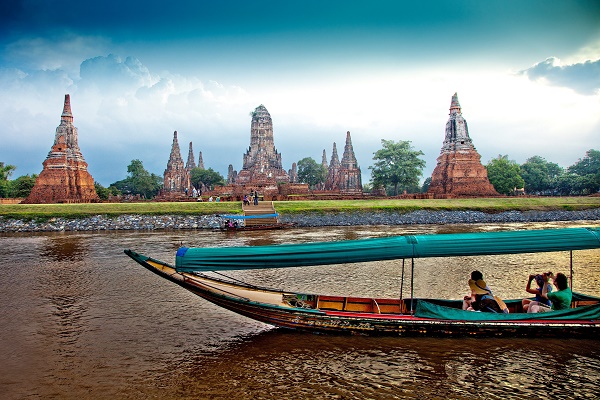 Southeast Asia's empires are far older than you think.
The Khmer Empire that brought us Angkor Wat was born at the same time as Charlemagne's Holy Roman Empire. The Sailendras that built Borobudur were contemporaneous with the Byzantines in Europe. And the Ayutthaya Kingdom was already rich and powerful by the time Europeans came knocking in Asia.
A trip to explore these ancient empires brings plenty of surprises: gorgeous architecture, glimpses into lost cultures, and a sense that a glorious history underpins much of what makes Southeast Asia a memorable region to visit.
This itinerary cuts a clean path through Southeast Asia's major historical empires: taking travelers up close to the region's intertwining historical and cultural roots through Thailand, Myanmar, Cambodia, Indonesia and Vietnam.
Sukhothai & Ayutthaya, Thailand
Two of Thailand's ancient capitals are just a short drive away, and easily accessible from the modern capital Bangkok to boot.
Start in Sukhothai, arguably the birthplace of Thailand as the country's first capital. Established in the 13th century, Sukhothai ruled over Siam's golden age.
Home to over a hundred historical sites and treasures, Sukhothai is best explored through its gorgeously restored Historical Park. Walk amidst the Park's lotus ponds and leafy hills while gazing at Sukhothai art and architecture – the last remnants of the city that once stood here. About 200 chedis can be found around the park, most of which can be explored by bike.
If you have more time on your hands, head north to another city remnant, the Si Satchanalai Historical Park, to check out its complement of over 130 ruined monuments.
Check out this alternative itinerary that runs through Sukhothai.
From Sukhothai, take a long drive to another former capital, Ayutthaya, where you'll find temple ruins like Wat Panangchern and Wat Yai Chai Mongkol standing in contrast to the well-preserved Bang Pa-in Royal Palace.
Founded in 1350, Ayutthaya gained – and never lost – a reputation for standout cuisine that it earned from its place on the ancient Silk Route. The locals took Chinese rice noodles, rice-flour sweets from Japan, and Indian spices for their own, combining it with local ingredients to produce treasures like the spicy sour soup Tom Yam Kung, the red curry shrimp Chu-chi Kung, and desserts like the Roti Sai Mai Ayutthaya.
Read more about taking a foodie tour through Ayutthaya.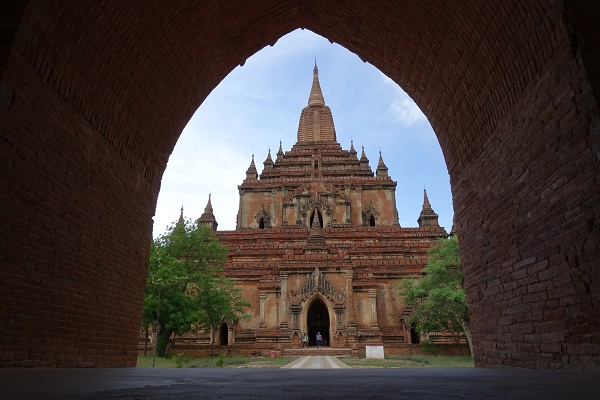 Bagan & Mandalay, Myanmar
Fly to Mandalay in Myanmar from Bangkok, Thailand; once you arrive, make the rounds of the former Burmese kingdom's capital before taking a long drive west to Bagan's arid temple plain.
Mandalay is Myanmar's second-largest city, and remains its cultural capital. Built around a recreation of the Royal Palace inhabited by the last Konbaung Dynasty, the city hides multiple surprises around its precincts – silk weavers, wood and marble carving, gold and silver work, and tapestry making, all still working hard as if royalty had never left.
Other nearby attractions include Mandalay Hill, offering magnificent views of Mandalay and its surrounding countryside; Kuthodaw Pagoda, built in 1857 to house "the world's largest book"; and Mingun, site of the world's largest ringing bell and a massive unfinished pagoda.
Check out this alternative itinerary that runs through Mandalay.
Established in 1044 AD by the great Burmese king Anawrahta, the Pagan Kingdom that once ruled over Bagan in Myanmar established the very foundations of Myanmar nationhood.
About 2,000 Buddhist stupas and temples still stand in the arid plain of Bagan, remnants of the empire's glory days, durable acts of piety by commoners and nobility alike. Some of the most massive (and most memorable) include Shwezigon, a gold-covered stupa whose structure inspired Shwedagon in Yangon; Ananda, a cathedral-like temple whose massive stone interiors remain surprisingly cool and refreshing despite the heat outside; and Shwesandaw, a stupa you can climb to see the glorious sun setting over the Ayeyarwady River.
Read more about temple-hopping in Bagan.
Angkor Wat, Cambodia
You may need to double back to Bangkok from Mandalay to get to our next stop, but the long slog will be worth it, we promise.
The vast Angkor Archaeological Park in Siem Reap sprawls over 400 square kilometers of jungle containing the remnants of the Khmer Empire that ruled from the 9th to the 15th century AD. Its centerpiece is a 208-hectare square temple, delineated by a wall and a wide moat, all built around five towers rising over 200 meters in the air: Angkor Wat.
Angkor Wat manages a number of contradictions: gargantuan size and balanced proportions; enormous space covered in a gorgeous amount of detail. Avoid the sunrise crowds and leave Angkor Wat for last – take your time exploring other Angkor temples like Bayon, richly covered with sculptures and dozens of enigmatic faces turned towards the cardinal directions; and less-visited temples like Banteay Srei.
After touring Angkor, take off to detours around the Siem Reap countryside, among them the Tonle Sap lake and its waterborne communities; and cultural experiences like the Rosana Broadway show and the Angkor Silk Farm.
Find out more about watching a sunrise at Angkor Wat in Cambodia.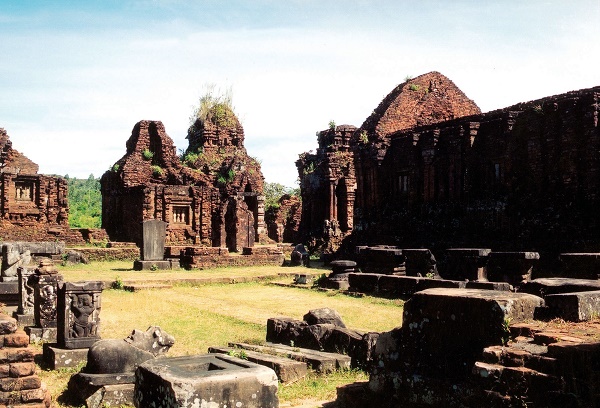 My Son, Vietnam
From Siem Reap, take a flight to central Vietnam's Da Nang Airport, which in turn is only a 70km drive southwest to one of Vietnam's hidden empire cities.
The Cham ruled central and southern Vietnam for seven centuries (from the 7th to the 14th century); they were rivals of the Khmer, their conflict often breaking out into open war. As the Cham reached their apogee, they built the My Son temple complex – a spiritual city where they could commune with their Hindu gods.
Over 225 remaining temples stand in My Son today, with about 70 well-preserved enough to visit. Cham kings were enthroned in My Son, signifying its central importance to the empire. The Cham used bricks with sandstone decorations – many of the better-preserved carvings have been separated into their own exhibit at the Da Nang Museum of Cham Sculpture.
While visiting My Son, take some time to visit a more recent, but still ancient, city some 40km away. Hoi An used to be a bustling trading port until the river silted up; today, the ancient clan houses and structures along the Old Town, excellently preserved, take travelers back in time to its heyday. At night, paper lanterns add a dash of romance to the narrow lanes.
Read about cultural heritage tourism in Vietnam.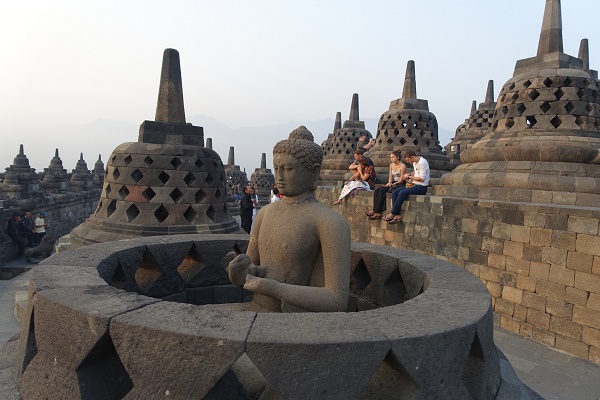 Borobudur, Indonesia
The last ancient empire on our list takes us from Da Nang to Yogyakarta in Indonesia (with no direct flights available, you'll need to make a layover in Singapore). Yogyakarta, itself a venerable capital to a centuries-old Sultanate, serves as the stepping stone to the Sailendra dynasty's chief wonder, a massive Buddhist stupa built in the 9th century AD.
Borobudur encompasses a religious Buddhist narrative – its stairs and alleys recap the human journey to nirvana, and its sides tell the story of the Buddha's life in intricate stone relief work. The stone Buddhas near the top look impassively on viewers, all facing away from a giant dome that contains nothing: a representation of Nirvana, to which all good Buddhists aspire to.
Arrive just before dawn, and watch the sun rise over Java as you sit on your perch high atop Borobudur. After your visit, circle back to Yogyakarta to see the best of Javanese culture up close: the Royal Palace (Kraton), the Kota Gede silverworks, and the Malioboro shopping street for starters.
Read about traveling overland through Java, Indonesia.