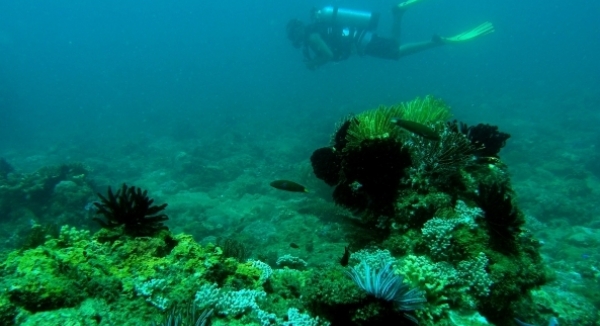 Divers are generally a hardy lot; they don't mind roughing it to get to a fantastic dive site. And perhaps once upon a time they needed to, but not anymore. Scuba diving has become one of the most popular vacation activities throughout Southeast Asia, and these days popular resort areas can be reached easily by regular, convenient and reliable transportation. Once there, the choices of accommodation and the general infrastructure are usually top-notch, affordable and connected to internet and cell phone systems.
Has this taken the fun out of dive travel? Not at all! It simply allows divers to concentrate more on enjoying the actual diving rather than worrying about getting there. Not that those looking for remote, inaccessible locations are poorly served these days. Frontier diving, whether by live-aboard or back roads and tracks to remote reefs, is as rewarding and challenging as it has ever been. Although these days I personally prefer to unwind with a cold drink and a good meal in an air-conditioned restaurant après dive rather than bathe in a bottle of mosquito repellent, slurp lukewarm cup-of-pot noodles and shiver in a sleeping bag in a jungle clearing.
I am often asked which country has the best diving in Southeast Asia? This is not an easy question to answer. It is sort of like asking "how long is a SIT time?" or "how deep is the ocean floor?"
The truth is, there is such a huge range of dive experiences within Southeast Asia, it is impossible to pick one site, one island, one province or even one country as being "better" than another.
And there are many different factors involved, like what type of diving you prefer, what your skill level is and how much travelling you are prepared to put up with.
Southeast Asia's waters teem with exotic marine life large and small, from gigantic whale sharks, sunfish and manta rays to tiny, colorful nudibranchs, coral shrimp and mandarin fish.
Deep (technical) divers are probably going to be happiest in the Philippines where there is a preponderance of deep sites and lots of technical dive centers with the necessary equipment and expertise. But tech diving is a popular option throughout the region these days, and even in relatively shallow Thai waters, where you will probably need a shovel if you plan to dive deeper than 70 meters, tech divers are well catered for.
Trainee divers at all levels, from basic beginner to the highest technical sport and even commercial diving levels, are well served throughout the area, although Thailand consistently outranks all the competition when it comes to the actual number of students it certifies.
For wreck divers, Coron Bay in the Philippines may be the ultimate destination. There are at least nine, excellent, diveable WWll wrecks, all under 130ft deep (40 meters), each one an eerie echo of distant guns and troubled times. Then again, Bali's Liberty wreck is also a brilliant dive too. The Hardeep, a short distance away from Pattaya, is another popular site, one of many wrecks scattered around the relatively shallow waters of the Gulf of Thailand.
Coral? You want to see coral? Pretty much any regional diving location is likely to be centered around coral dives – this is Southeast Asia after all. Some are perhaps better endowed than others when it comes to easily reachable scuba and snorkeling sites. Manado in Indonesia, Puerto Galera in the Philippines and Mabul in Malaysia are just some of the more accessible coral dives in the region.
There are exotic place names that easily roll off the tongues of divers familiar with the Southeast Asia. These locations are benchmarks of underwater excellence and showcase some awesome diving. They include Tubbataha Reefs in the Philippines' Sulu Sea, Malaysia's Sipadan, The Similan Islands off the west coast of Thailand and Indonesia's Bunaken Marine Park.
Whether you prefer shallow, leisurely beach dives exploring stunning corals a-buzz with a zillion reef fish or the challenge of a deep, remote dives off a liveaboard boat on dive sites seldom, if ever, visited by divers, or if your preference is for wrecks, caves, corals, deep, drift, wall, technical, big fish, or muck, beach, boat or liveaboard diving, you will be spoiled for choice diving throughout Southeast Asia.
And that's not such a bad thing, is it?
Heneage Mitchell is the publisher of The Philippine Diver, Thai Diver and ScubaGlobe Asia Pacific magazines. He has written dive guides to the Philippines for Lonely Planet, Periplus and Fieldings. Heneage lives in Thailand with his wife and three sons.