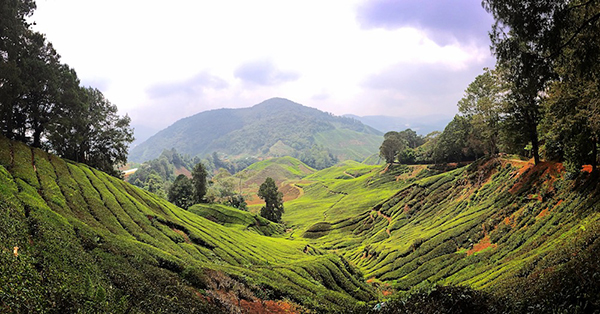 Avid hikers will go on and on about Southeast Asia's gorgeous multi-day trails – the hikes up Mount Fansipan in Vietnam and Myanmar's Kalaw to Inle Lake trail come to mind – but even the region's short hikes can give back far more than travelers dish out: amazing wildlife finds and stunning scenery out of all proportion to the effort hikers put in!
We asked a few expert travelers to put in their two cents about the region's best day hikes, and the variety of the responses surprised us.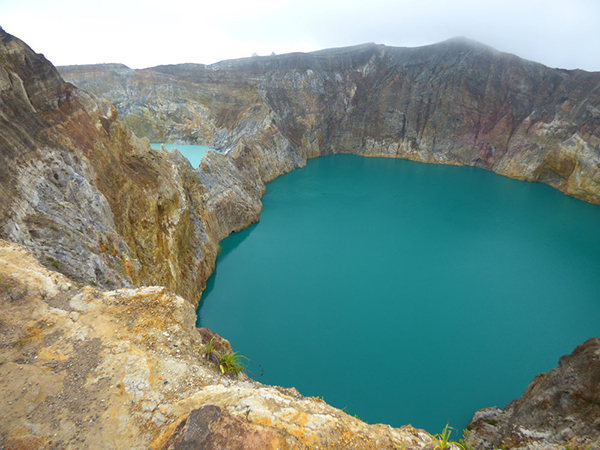 Indonesia's Volcanic Trails
You'll find many of Indonesia's best day hikes spiraling around the craters of its dormant volcanoes. Most of them require no more than a whole day (from early daylight) to summit and back.
Kawah Ijen. This volcanic trek requires an early wake-up (1am at the latest) to go to the jump-off point, taking about four to five hours to climb to the crater's edge. You'll pass sulfur miners who hack off pieces of sulfur and sell it for pennies at the base; miners and hikers alike are required to leave the crater by the afternoon, in case the volcanic fumes get too noxious!
Mount Kelimutu. For a different volcanic view, you'll want to follow in the footsteps of Lisa of The Hot Flashpacker (Facebook|Twitter|Instagram), who woke up at 4am to summit the crater of Mount Kelimutu in Flores Island, then hike to Moni Village afterward.
The hike from the carpark to the viewpoint only takes 45 minutes, and as one gets there Kelimutu's crater lakes come into view. "As the first light of day starts to shine, you get to see the three distinct colors of the three crater lakes," Lisa tells us. "It's worth staying until the sun has risen to get the full effect."
The real effort comes in the hike down to Moni Village, where Lisa took a detour through a road to see the local views. "The road has minimal traffic and gives the ability to see rain forests, a village among rice terraces, and a couple detours to waterfalls," Lisa tells us. "If taking the road, make sure you take a dip in Kolorongo hot springs in the middle of a rice field."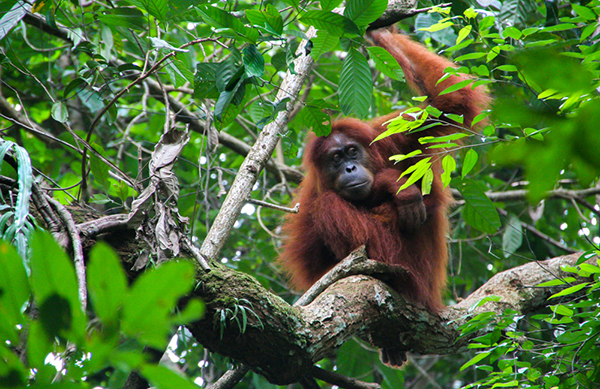 Malaysia's Highs and Lows
Wherever you decide to trek in Malaysia, you'll find amazing natural scenery and curious wildlife along the paths – with a variegated environment from mountains to seashores.
Bukit Lawang, Gunung Leuser National Park. Miguel of Travelsauro (Facebook|Instagram), calls a day hike from the village of Bukit Lawang through North Sumatra's Gunung Leuser National Park "one the most rewarding and unique experiences in South East Asia." If the jungle and river scenery doesn't capture your imagination, Miguel says, its residents will.
"You'll have the chance to meet fascinating orangutans and lots of other charismatic monkeys," Miguel says. "Orangutans are only present in Sumatra and Borneo, and while it's easy to see them in several rehabilitation centers, Bukit Lawang is probably the best place to find them in the wild."
The winding (though easy) trails may not make much sense at first, but Miguel assures us that there's reason behind the randomness. "The trails will vary every time because the guides will take you through the jungle using the orangutans' traces to find them," he explains. "Once you get in front of them, you'll see it was worth the effort!"
Cameron Highlands, Pahang. Craig Russell of No Real Plan (Facebook|Twitter|Instagram) swears by Cameron Highlands for its coolly comfortable hike with a view – "simply stunning," Craig calls the latter, with tea trees as far as the eye can see.
Created as a hill station by British colonial officials, Cameron Highlands covers over 700 square kilometres of tea plantations at an elevation between 1,100-1,600 masl: "As you are at a higher altitude, you also experience a cooler climate than what a lot of Malaysia has to offer," Craig says. "There are various hiking trails around the amazing tea plantations and all differ in length and difficulty…. choose the experience you want and it makes it different for everyone."
Penang National Park, Penang. We've covered mountains and jungle – now, how about the sea? Jorge Bastos of CoupleRTW (Facebook|Twitter|Instagram) tells us of the Park's two day-hiking trails – "one through the jungle to Pantai Kenachut (aka Turtle beach)," he says, "the other through the cost to Teluk Duyung (aka Monkey beach)."
The 3.4km jungle trail offers a challenge to first-timers, with a path that passes over a meromictic lake before arriving at Pantai Kenachut, a turtle reserve. The second, 3.3km trail is "a forest trail by the sea, it surrounds the coastal line and is very scenic," Jorge says. "The ending point of the trail is the Monkey beach, where you can rest and swim."
Thailand's Island Trails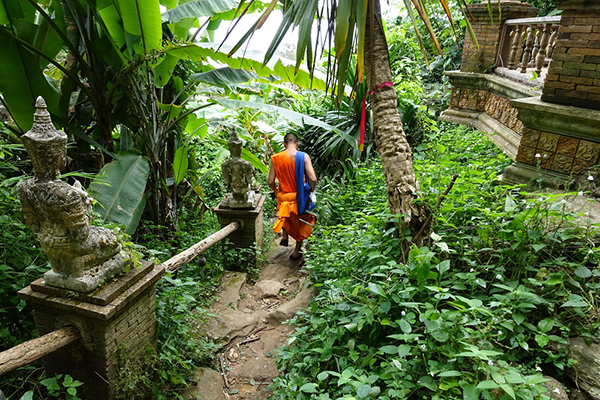 Thailand's jungles and mountains provide the perfect backdrop for several compelling day hikes, some of which are surprisingly close to the nation's famous beaches.
Northern Thailand's Doi Suthep & Doi Inthanon. The mountainous terrain of Thailand's north offers something for everyone.
For a relatively easy day hike, Jet Set and Forget's Gina Bambinelli (Facebook|Twitter|Instagram), recommends a trail tucked away at the bottom of the Doi Suthep Mountain – the "Monk's trail" to Wat Pha Lat and the peak.
"The hike is only 90 minutes to the top of Doi Suthep Mountain, however at the halfway point is the most serene Buddhist temple you will ever see, Wat Pha Lat," Gina tells us. "It was so beautiful that an overwhelming feeling of calm came over me."
Orange cloths tied around trees mark out the trail; you'll need good shoes and plenty of water to go the distance. "The hike will also help you burn some calories from eating too much Thai food every day!" Gina tells us.
The tallest mountain in Thailand can be found nearby, but surprisingly, it "can easily be done in a day," explains Foodie Flashpacker Nathan Aguilera (Facebook|Instagram). Doi Inthanon can be reached in a two-hour drive from Chiang Mai.
The trek takes you past gorgeous scenery: "The mountain is covered in waterfalls, [some of which have] natural pools for swimming," Nathan says. "Near the summit of the mountain are two gorgeous temples that you're able to tour.
"Make sure to reach the mountain summit for sunset, as the views are gorgeous."
Khao Sok National Park. Stuart Forster of Go-Eat-Do (Facebook|Twitter|Instagram) found himself taking a walk within Khao Sok National Park in southern Thailand – "a gorgeous, exciting setting for a hike," he calls it.
Located roughly 700 km southwest of Bangkok, the 739 square km national park offers a variety of trails for the determined hiker. "Khao Sok is a fabulous place to go walking," Stuart tells us. "I could get down to check out the colours and textures of the fungi that thrive in the warm, damp shadows of Khao Sok…. Intermittent pauses brought opportunities to photograph butterflies and millipedes that sat curled on the muddy trail like links of Cumberland sausage on a British barbecue.
"The highlight was undoubtedly seeing a spectacled langur, sitting in a tree, from just a couple of metres," Stuart says.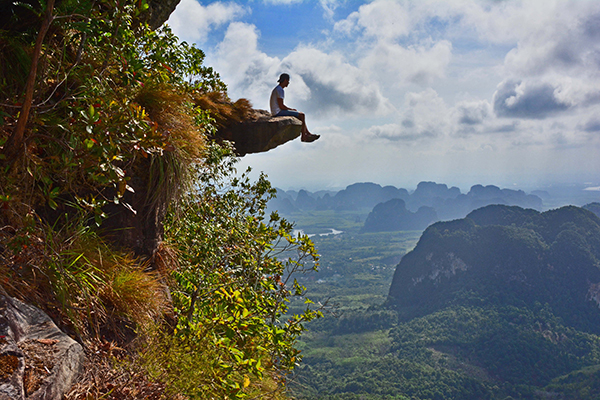 Tab Kak Hang Nak, Krabi. "This nature trail is the ultimate day hike in Thailand and surely the best viewpoint in the Country of Smiles I have seen," explains Tom Grond of TravelTomTom (Twitter|Facebook|Instagram): this mountain park near Ao Nang Beach is an interesting departure from the beaches that most tourists gravitate to in Krabi.
Climbing Tab Kak Hang Nak's trail "includes some serious climbing through the forest," Tom tells us, but determined hikers will be rewarded at the top: "The view from the top over the nearby coastline and the off shore islands is already amazing but the surrounding National Park tops it off."
Khao Ra, Koh Phangan. Nate Hake of TravelLemming.com (Twitter|Instagram|Facebook) was surprised to find that party island Koh Phangan also offers something for adventurous hikers.
"Many don't know that Koh Phangan also offers some spectacular, and only moderately difficult, nature hikes," Nate says. "The best of these hikes is the climb to Khao Ra, the highest peak on Koh Phangan."
The 627-m high Khao Ra peak can be scaled "in a couple hours, but still challenging enough to give you a good workout," Nate says. The trail "wraps around the mountainside through thick forest jungle until capping out at a wonderful peak with two stunning viewpoints offering different perspectives on this gem of an island.
"Along the way you'll encounter streams, monkeys, and plenty of smaller viewpoints with unique views of the island's jagged coastline," Nate tells us.
Vietnam's Gardens and Mountains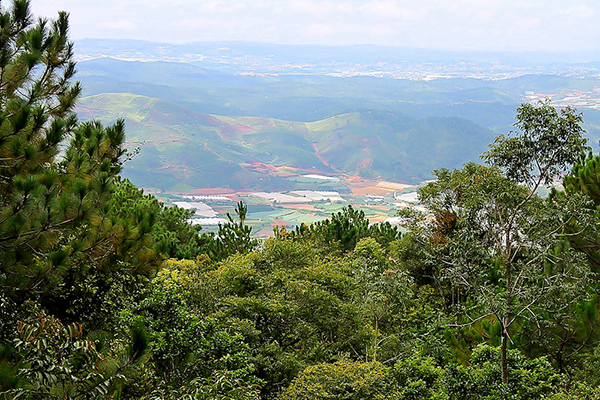 Vietnam's mountainous hinterlands have a wide range of trekking trails to choose from – with varying degrees of access from its cities.
Lang Biang, Da Lat. Maptrotting's Kristina Stamp (Twitter|Facebook|Instagram) swears by trek up the Lang Biang mountain in Da Lat, near a city widely considered by locals to be a honeymoon destination. "While the locals head here to have their wedding photos taken, the westerners come here for excellent hiking opportunities," Kristina says.
Visitors can choose one of several paths up Lang Biang's rather steep incline – choose the right one, and "you will have a peaceful trek through strawberry fields, coffee plantations and pine forests," Kristina says. "It's a tiresome but rewarding trek, and takes around 3-4 hours to complete depending on your fitness level.
"As you reach the top, it will probably be cloudy at 2,167 m above sea level," Kristina tells us. "Make sure you wait for the clouds to shift to see the beautiful panoramic views of the highlands of Vietnam."
Sapa. This mountain town in Vietnam's northeast is a perfect base for hikers, says Claudia Tavani of My Adventures Across The World (Facebook|Instagram|Twitter). Leaving aside the multi-day trek up Mount Fansipan (the highest point in Vietnam), "day hikes [from Sapa] offer beautiful views and the opportunity to meet the local indigenous communities," Claudia says.
"The entire region is famous for the many ethnic groups, all dressed in traditional clothes (each group has its own design and colors); and the beautiful, colorful markets," Claudia recalls. For an up close encounter with the locals, Claudia recommends a day hike "that leaves from Sapa in the morning to walk down along the valley until the village of to Ta Van, a Black Hmong community."
Phong Nha-Ke Bang National Park. Home to the world's largest caves, this national park in central Vietnam has plenty to offer non-spelunkers who want to explore the area's natural beauty.
"Phong Nha's botanic gardens were the best day hike that I had in my two months exploring Vietnam," Live Travel Teach's Mike Still (Facebook|Twitter|Instagram) tells us. "You can take three trails around the gardens, with the shortest being a short walk to a waterfall and back.
"The other two loops will let you explore the jungle and have a chance for a few wildlife encounters as you become immersed in the forest," Mike continues. "The best part about this hike are the swimming hole and waterfall so be sure to bring a swimsuit!"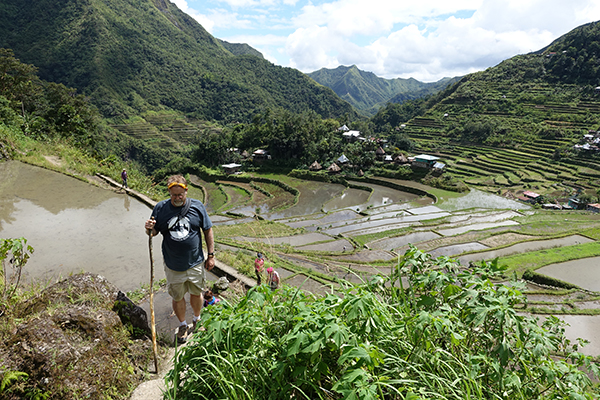 Special Day-Hike Mentions for Southeast Asia
Some hikes around Southeast Asia – though further from the beaten path – are worth the special trip it takes to get there:
Cordilleras' Rice Terraces, Philippines. The Amateur Traveler Chris Christensen (Facebook|Twitter|Instagram) visited the Philippines' Ifugao region to take on the UNESCO-recognized Rice Terraes of the Cordillera amidst its valleys.
"[It's] an amazing, if quite strenuous, hike," Chris says. "These rice terraces were built by the local people 2,000 years ago as they converted steep mountain valleys into the production of rice, which is still their staple food today."
The hike leads down to a small town in the middle of the rice terraces and back, a taxing 3-hour round trip on stone steps with no vehicular assistance. "Even today there is no road, no cable car that descends into these beautiful green valleys – everything that goes in our out has to walk or be carried," Chris says.
Sungei Buloh, Singapore. Mike Aquino of Southeast Asia Time Traveler (Facebook|Twitter|Instagram) found the natural flipside to Singapore's urban sprawl at Sungei Buloh Wetland Reserve. "It has everything," Mike tells us. "mudflats, mangroves, and lush jungle cover for hikers to wander through."
The "Route 1" hiking trail, Mike found out, was a perfect place to catch the local wildlife: a boardwalk across marshland and open water where "you can see raptors waiting to pounce on their meals, monitor lizards sunning on the banks, and kingfishers diving into the waters."
Nong Khiaw, Laos. A few hours northeast of popular Laos destination Luang Prabang, Lena Papadopoulos (Instagram) found a little town known for its beautiful hiking trails.
"There isn't much to do in Nong Khiaw — except hiking!" Lena says. She decided to take one of the shorter local routes, one leading up to Phadeng Peak viewpoint: "1.5 hours up, 45 minutes down, with a 20,000 kip ($2.50) entry fee," Lena recalls.
"The hike can be fairly steep, but we managed to complete it in less than 1.5 hours despite being terribly out of shape," Lena says. "Most of the hike is on a dirt trail through jungle-like scenery with very few views." The reward comes at the very top, with a breathtakingly beautiful view: "the return was worth far more than we put in," Lena concludes.
Ulu Temburong, Brunei. Guests staying overnight at Ulu Temburong Park's Sumbiling Eco Village can take on a one-hour night walking tour that unveils the rainforest after dark: glow-in-the-dark mushrooms, mouse deer stalking in the undergrowth, and other strange fauna, like color-changing chameleons and massive praying mantises.
Guides will provide head lamps for visitors' use, though the local Iban tribesmen will never let you set a foot wrong as you trek through Temburong's shallow creeks and muddy trails.
Ream National Park, Cambodia. Take a 7-km hike through one of Cambodia's most popular hiking areas, within easy access of Sihanoukville. Ream's landscape is as varied as it is beautiful: the marshes and seashores give rise to mangroves, coral reef and shallows.Bird watchers will love the local wildlife, with some 190 bird species reported – including brahminy kites, sarus cranes and greater hornbills. After walking through the hills and past the sea, get off the trail and onto a boat to explore the nearby islands.