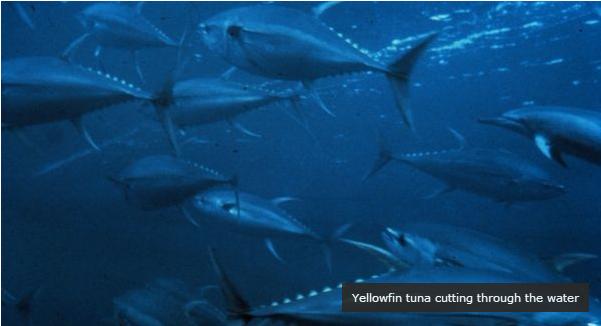 Long before this progressive city in the South propelled to fame as our world boxing champ's hometown, General Santos City ("GenSan" to locals) had already established itself in the global map as a major player in the Philippine tuna industry.
In the mid-70's, the tuna boom was encouraged by the arrival of Japanese traders hunting for sashimigrade yellow fin tuna. Tuna catch in GenSan rose with the growing base of organized tuna producers, resulting in the establishment of canneries, processing plants, as well as ice plants as post-harvest facilities in a booming commerce.
Because of its strategic location and proximity to the Mindanao Sea, Southern Sulu Sea, Moro Gulf and Celebes Sea, which are major fishing grounds rich with tuna, General Santos City accounts for the second largest total daily fish landings in the country, an estimate of about 300 metric tons of fish daily (second only to Navotas in terms of total fish volume, 500 m.t.).
But GenSan leads the production of sashimi-grade tuna, landing 8,548 metric tons of this high-grade fish. It exports a large volume of chilled and frozen sashimi tuna to Japan and other countries.
In 2003, the Philippines ranked fourth in the world, after China, Japan, and Indonesia, in the production of tuna and tuna-like species. Class A tuna for export is caught by small-scale fishermen in coastal areas, humble handliners (using hook and line gear and milkfish fingerlings for tuna bait) with their small pumpboats fitted with wooden hulls and outriggers. They are known to fish outside the Philippine fishing grounds as far as Indonesia, Papua New Guinea and Solomon Islands. An estimated 4,000 small boats engage in tuna fishing, but because ordinary fisher folks cannot afford registration fees, most boats are not registered.
Increase in catch and production followed in the expansion of its General Santos City Fish Port Complex (GSCFPC). Of the 12 canneries in the Philippines exporting to other parts of Asia, Europe, USA and the Middle East seven canneries are found near GenSan's fishport.
The Fishport Complex boasts of a 750-meter quay, 300-meter wharf for 2,000 GT reefer carriers, refrigeration and cold storage facilities, 60 tons/day ice plant, brine, air blast, contact freezers, market halls, weigh bridge station, fish conveyor, freshwater pumphouse and drainage sewerage system. Today, it hauls the most number of yellowfin tuna in the country, establishing the city as a major tuna hub.
These days, however, GenSan offers more to visitors in terms of sights and sounds. Its nightlife has evolved, with the establishment of new malls underway, coffee shops, and restaurants offering exotic food. Must-try bestsellers are tuna cooked in several ways, like dayana, and sutukil (sugbatinolang sabaw-kinilaw).
Apart from getting the best and freshest of seafood from your local food outlets, GenSan is also a gateway to neighboring tourist destinations, like Sarangani, Polomolok and Lake Sebu. Strategically located within the trading and economic center of SOCSKSARGEN Growth Area (South Cotabato, Sultan Kudarat, Sarangani and General Santos), GenSan is a gateway to foreign markets and fishery-related investors. Festivals are a must see in GenSan, too. Kalilangan Festival is celebrated every February, a social gathering and merrymaking tradition among tribal leaders and elders, and the generations who nurture its rich cultural heritage. Here you can witness colorful ethnic rituals and ceremonies re-enacted, as well as traditional sports, music and dance competition.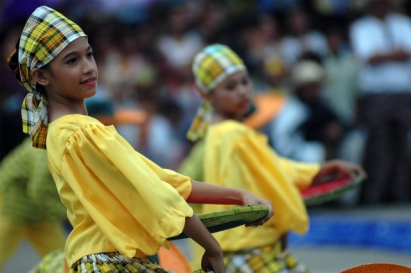 Opening ceremonies of the Tuna Festival
Every September is a charter celebration observed in colorful form— the Tuna Festival is a tribute to its major industry. Highlights of this weeklong event are the Tuna Float Parade, which produces spectacular giant replicas of sea creatures in a prestigious contest, and the culinary competition, which boasts of unending tuna treats and delights. Picture a streetlong table of tuna cuisine and you'll be flying there for the unique experience in no time.
Here, you can witness colorful ethnic rituals and ceremonies re-enacted, as well as traditional sports, music, and dance competition.
Dine
Grab a Crab Restaurant and Coffee Club 101 – Laurel East Avenue; Tel. +6383 553 4878 or email
Coffee Bar – Petron Gasoline Station, Jose Catolico Ave., Lagao Coffee Dreams – Ground Floor and Second Level of KCC Mall, J. Catolico Road, Lagao; Tel. +6383 301 8263 BluGre GenSan (Manny and Jinky Pacquiao are the new franchisees to Davao's famous BluGre Café) – JMP Building, Osmeña St.; Tel. +6383 552 1111
Six Blings Ostrich Bar and Restaurant – NCCC Compound, National Highway; Tel. +6383 553 8808 and +6383 302 1961
Tuna Tidbits
Tuna, or "thunnos" to ancient Greeks, has been a culinary favorite for centuries, pursued by fishermen hundreds of years before the time of Christ. Folks considered this elusive fish a great delicacy and admired it for its large size as well as its fierce fight when caught.
The ancient hook-and-line fishing method was mastered by the fisher folks of General Santos City using traditional fishery handed through generations of expertise. Using small but durable boats, they travel through distance in search of the yellowfin tuna (Thunnus albacares) that can grow to as long as 180 centimeters and weigh over 100 kilograms. They are fast growing, mature at about two years of age, and are highly bountiful. It has become a gold mine in General Santos City.
A member of the very large mackerel family, the yellowfin tuna is one of the world's most important food fish, beautifully colored and prized worldwide for its full flavor and firm, lean meat. Its torpedo shape gets its name from its bright yellow dorsal and anal fins. It is built for speed with a rounded body, sharply pointed nose, tapering tail and crescent-shaped fins, all contributing to its reputation as a rapid swimmer. It is a versatile fish which is consumed raw, cooked, smoked and canned.
The tuna is widely used in raw fish dishes and is a prized species for the sashimi market. Nowadays in GenSan, a bar of unsliced sashimi costs Php 377 (US$8) per kilo, while an order of sashimi is Php180 (US$4) per serving.
This article was provided by Philippine Airlines' Mabuhay Magazine.Mabuhay Magazine is published by Eastgate Publishing Corporation (email:info@eastgatepublishing.com;website: http://www.eastgatepublishing.com).