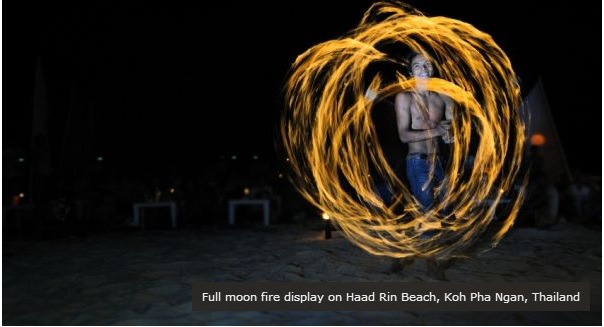 As 2009 turned into 2010 there were celebrations all over the world but one of the biggest parties took place on a small Thai island called Ko Pha Ngan. The new year happened to coincide with a full moon and Ko Pha Ngan is synonymous with full moon parties. Every month when the moon is full, tens of thousands of tourists and locals gather to party all night on beautiful Haad Rin beach. Add the New Year celebrations and the crowd on December 31st 2009 was estimated at over 50,000, probably the largest Full Moon party yet.
The Ko Pha Ngan full moon party phenomenon had humble beginnings, with the first party being a casual gathering of 30 travelers in 1985. From a small wooden disco 15 years ago, the parties steadily grew by word of mouth and it didn't take long for thousands of people to be congregating monthly on Haad Rin to bask in the silvery moonlight and then watch the sun rise while dancing to DJs and drinking potent buckets of alcohol.
Ko Pha Ngan's Full Moon parties are now one of Thailand's top tourist attractions, especially for younger, adventurous travelers. All the bars on the sunrise beach of Haad Rin town stay open all night and there's lots of dancing and great music from live bands and DJs, including R&B, drum and bass, house, dance and reggae. Sure, displays of fire skipping ropes are an exciting, if dangerous, activity but the real appeal lies in meeting so many diverse party people from all over the world. One party a month is now not enough for Ko Pha Ngan, so there are also slightly smaller Half Moon parties.
The alcohol 'buckets' are a staple of the parties, and vary wildly in strength so this is something to be aware of. In the past there has undoubtedly been drug consumption at full moon parties but drug-taking is not advisable.Apart from not knowing what you may be ingesting, drug laws in Thailand are very strict and there's now a strong police presence at the parties. You really don't want to ruin your holiday (and potentially your life) ending up in a Thai prison.
While Ko Pha Ngan is the original and most popular location for full moon parties, the phenomenon has spread to other Southeast Asian countries. In Bali, Indonesia, the full moon (known locally as purnama) has always been a special day for religious ceremonies and festivities. Many Balinese set off on pilgrimages to temples and make offerings as doing good deeds on purnama brings extra blessings.In the evenings, the streets of Denpasar and other Bali towns are crowded with pilgrims. Tourists to Bali should soak up the local traditions then head to full moon parties in the Kuta/Seminyak area. There is no single big party, but many beachside bars and clubs will be open all night with good music and great atmosphere.
Religious tradition is also combined with partying in Vientiane, Laos. The week leading up to the full moon in November is the That Luang festival, an annual homage to Buddha. The atmosphere and festivities build all week, culminating on the day of the full moon. In the morning the people of Vientiane gather at the That Luang stupa (said to contain some of Buddha's bones) to give offerings to monks while at night the party moves to the banks of the Mekong river. It's nowhere near as wild as Ko Pha Ngan and the Mekong is not as picturesque as a Thai or Bali beach but there is music, dancing, drinking and great food.
Cambodia's best full moon parties can be found in the coastal city of Sihanoukville, and they are similar to Ko Pha Ngan's except on a much smaller scale. There are fire shows, lots of alcohol and of course music and dancing on the beach until dawn. It's a more intimate but no-less enjoyable alternative to Ko Pha Ngan.
Full Moon parties also happen in many other resort towns in Southeast Asia, although they are not always monthly events. Nha Trang in Vietnam has had some good parties in the past, attracting international DJs to entertain hundreds of tourists and locals, so if you're traveling in the region, during a full moon, look for posters and signs and you may well find a party nearby. Ko Pha Ngan may have started the trend but full moon festivities now spread far and wide.
Stuart Clarke is a freelance writer based in Bangkok who has written articles for The Age and Sydney Morning Herald newspapers and Rolling Stone magazine.