The enchanting nation of Indonesia is made up of over 17,000 islands scattered in the Indian and Pacific Oceans. This archipelagic country is incredibly diverse, a product of hundreds of years of unique cultural development across islands. From the beaches of Bali to the tropical jungles of Sumatra, Indonesia offers remarkable biodiversity. The countless untouched attractions spread across the country make it the ideal destination for anyone who wants to explore myriad cultures and natural wonders in one trip. Here are five of the must-visit natural wonders of Indonesia.
Raja Ampat Islands
The Raja Ampat Islands | Visit Southeast Asia
An archipelago within greater Indonesia, the Raja Ampat Islands—which translates to four kings—are known for their mesmerizing marine life. Located off of northwestern New Guinea, this series of more than 1,500 islands is sparsely populated and home to some of the world's most spectacular natural beauty. According to local legend, its four main islands, Batanta, Misool, Salawati, and Waigeo, are the source of the 'four kings' name.
The waters around Raja Ampat are lush with marine life, including over 540 species of coral and 1,400 species of fish, ranging from whale sharks and manta rays to pygmy seahorses. This destination is perfect for underwater explorers and lovers of marine life—it is one of the richest coral habitats in the world. On land, rocky islets meet tropical jungles; two species of birds of paradise make their homes here.
To get to Waisai, the capital of the Raja Ampat Islands, visitors should take a short flight or ferry over from Sorong, a city in New Guinea. Sorong itself is a quick flight away from main Indonesian cities like Jakarta. The awe-inspiring scenery and diverse marine life of Raja Ampat are 100% worth the trip.
Mount Bromo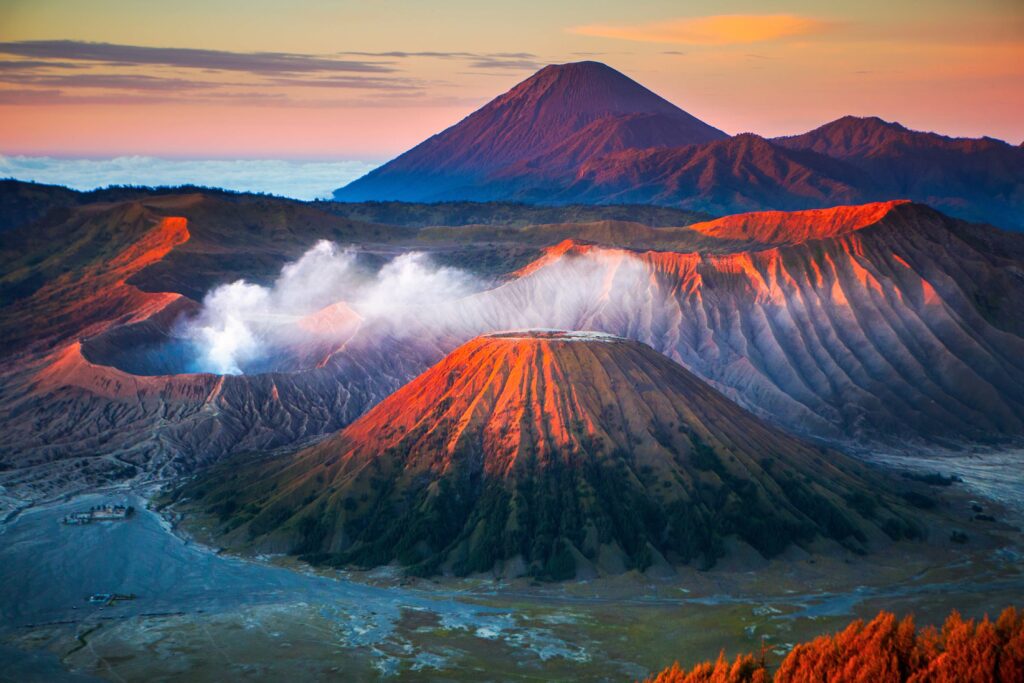 Mount Bromo | Visit Southeast Asia
Mount Bromo lives up to the hype as one of the most popular tourist destinations and natural wonders in all of Indonesia. Located in the Bromo Tengger Semeru National Park, this active volcano is about four hours by car from Surabaya, the capital of East Java. This breathtaking location is known for its blown-off top, sulfurous smoke, and eerie appearance at sunrise.
The magnificent summit of Mount Bromo takes about 30 minutes to climb, and it measures 2,392 meters tall. The name is proof of the volcano's prominent role in the national zeitgeist: 'Bromo' is the Javanese pronunciation of 'Brahma,' the Hindu god of creation. The entire mountain is located in the 'Sea of Sand,' a massive crater home to four other volcanoes.
Though the volcano is still active, it is safe to visit when it is relatively calm. The last time it erupted was in 2015. A popular way to see Mount Bromo is from a viewpoint atop nearby Mount Penanjakan, though many people also summit Bromo itself. This gorgeous destination is a necessary visit for those who love hiking and a little danger.
Komodo Island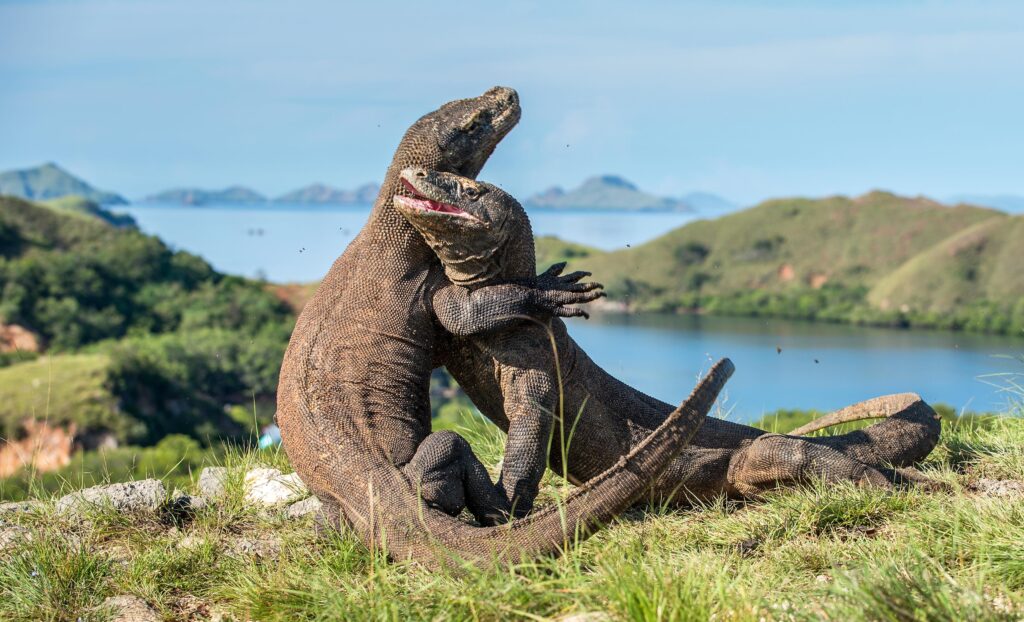 Komodos on Komodo Island | Visit Southeast Asia
This rugged, relatively dry island is most well-known for being the home of the Komodo dragon monitor lizard, a species that can grow up to three meters long and weigh up to 70 kilograms. Though this endangered species is incredible to see in its wild habitat, Komodo Island is also spectacular for its unique geography. Komodo is part of the Lesser Sunda chain, and its climate is drier than that of the rest of Indonesia.
The 390-square-kilometer island is part of Komodo National Park, which includes 29 islands and over 4,000 Komodo dragons. The park is rich in flora and fauna and dotted with volcanic hills, mangrove shrublands, pink beaches, and dry savannah. Fewer than 2000 people live on Komodo Island itself, which was once the exile location for Indonesian convicts.
Komodo Island is best accessed by boat; multiple cruises travel around the entire park. Some of the island's best activities include swimming and strolling on Pantai Merah, one of seven pink beaches worldwide, and hiking through the hills while trying to spot a dragon. To many, the entire island exists as one large natural wonder.
Labuan Cermin Lake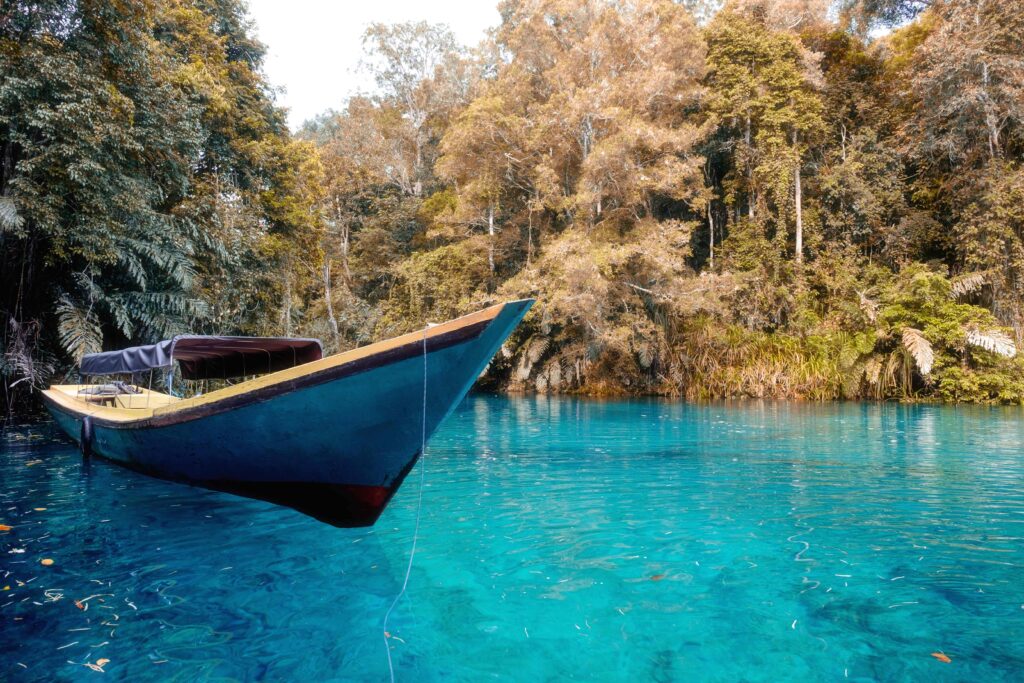 Labuan Cermin | Visit Southeast Asia
Crystal-clear waters are the eponymous natural wonder of Labuan Cermin Lake, which translates to 'mirror.' Snorkels and other diving equipment are rendered redundant when visitors can see straight to the bottom of the lake; even the shadows of boats can be seen traveling around the sand. Located in East Kalimantan, this lake falls under the scope of the city of Berau. One of the reasons Labuan Cermin Lake is so pristine is because of how remote it is, but it is well worth the journey.
Besides the crystal clear water, this lake has another natural curiosity: the upper part of the lagoon is freshwater, while the bottom is seawater, which means the lake is home to both freshwater fish and more exotic saltwater organisms. The change in water type is even evident from the lake's colors—which go from dark green to pale and clear.
This lake is a must-visit if you are in the Berau area; it is one of the most unique places in the world to swim, dive, or sail.
Kelingking Beach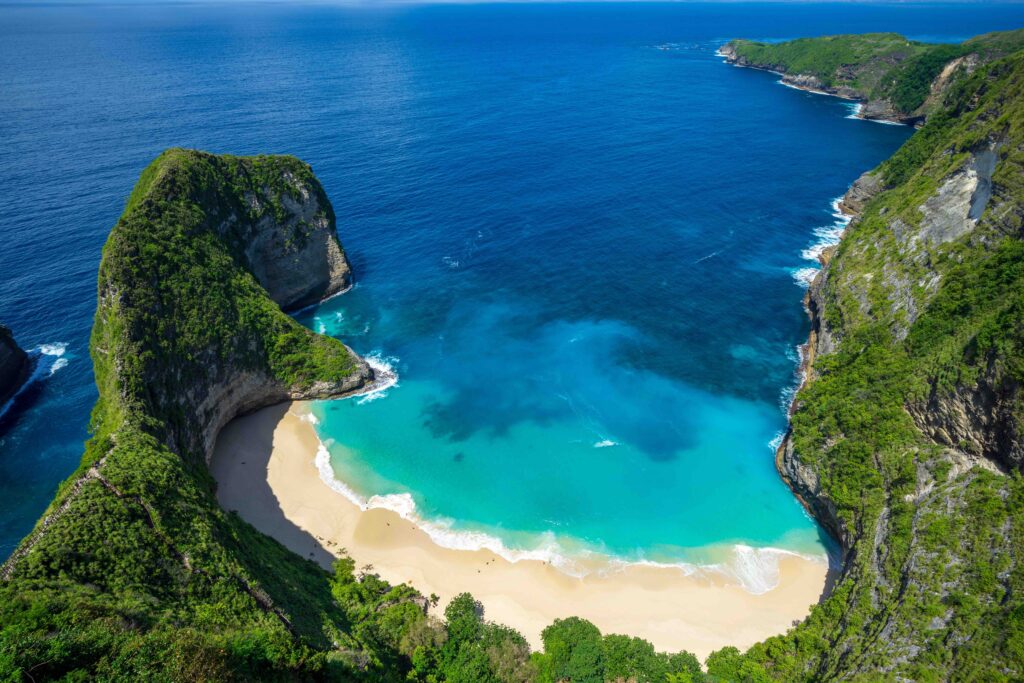 Kelingking Beach | Visit Southeast Asia
Have you ever seen a cliff shaped like a Tyrannosaurus Rex? That's precisely what you will find at Kelingking Beach, a popular attraction in Nusa Penida, a small island located southeast of Bali. Kelingking means 'pinkie,' and many also believe the cliffs look like said finger.
From the cliff's edge, visitors can look out at one of the most singular natural wonders in all of Indonesia. There's a path along the cliff's ridge—the 'spine' of the T-rex—and a steep path down to the beach, known for its strong waves. Kelingking is a great place to catch the sunset and admire Indonesia's gorgeous waves. To get here, you need to take a boat from Bali to Nusa Penida and then drive or take a motorcycle or moped ride for about thirty minutes to get to the beach.
Contact Us
Email us at aseantourismonline@gmail.com