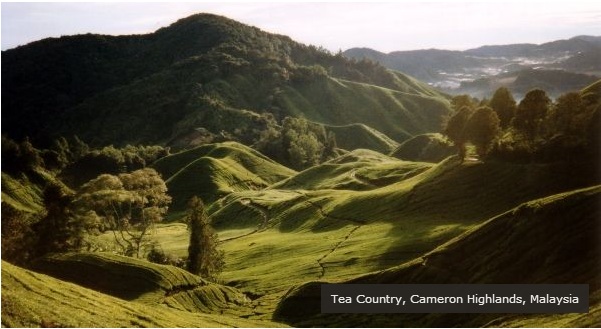 Malaysia is home to some of the world's most incredibly preserved forest areas, not to mention the oldest, dating back 130 million years. Tourists are generally aware of the premier national park, Taman Negara, which is by far the most promoted jungle in all Malaysia. While this colossal reserve is well-worth seeing, and includes highlights such as the world's longest canopy walk, it can also be a tad disappointing for travelers who prefer to veer off the beaten track. The main park headquarters is perpetually busy, with a plethora of resorts and motorized boats buzzing up and down the river, where the water at this part of the park is the color of Teh Tarik (Malaysia's famous "Pulled Tea"). Certainly further inside the jungle tourists will witness unspoiled aspects of the rainforest, but it is worth noting that there are plenty of other not-so-publicized forest reserves in West Malaysia worthy of exploration and, arguably, in more pristine condition.
Roaming Around Endau Rompin
Spanning the border of Malaysian states Pahang and Johor, Endau Rompin is a natural paradise for hikers and conservationists alike. Home to innumerable species, many which are rare and endangered, visitors are more likely to get up close and personal with nature than in Taman Negara. There are opportunities to hike, climb, canoe, shoot rapids, swim or learn the traditions of the Orang Asli. Aboriginal legends also abound here of the mythicalHantu Jarang Gigi, Malaysia's version of Big Foot. Trekkers are likely to see leaf monkeys, long-tail macaques, white-handed gibbons, elephants, deer, tapirs and—if you're lucky—a Malayan tiger, clouded leopard, or the extremely rare Sumatran Rhinoceros. But be prepared to rough it a little.
Endau Rompin is less accessible than Taman Negara. Entry into the park requires a 4WD route and within the park itself clearing/camping areas consist only of basic dorms, simple cooking stations and toilets. Besides a tent or a rudimentary dorm style chalet, there is no other accommodation option. It is because of this lack of noise and better blending into the native environment, that you are likely to see and experience more. Not to be missed are the 50m high Mahkota Waterfalls which harbor a cave (Kelapa Gading Cave) mid-falls. Every visitor requires a forest ranger to take them trekking and options for where to stay and hike will depend on you and your guide. For information on how to get there and to organize your permit and ranger, contact the Johor National Parks office +60-7-223-7471.
Hiking in the Highlands
The Cameron Highlands are famous among Malaysians as a destination where you can seek reprieve from the heat and humidity. Lush, rolling green hills, where tea is predominantly grown and Tudor bungalows (leftover from British colonial rule) provide a quintessentially romantic backdrop. Beyond these aspects, however, the highlands also possess some beautifully rugged hiking terrain. Conservation-lovers and true trekking enthusiasts are advised to check out the Malaysian Nature Society's BOH center for information on hiking routes, of which there are vast number to choose (http://www.mns.my).
My personal favorite hike in the highlands is the trek up Gunung Irau, which easily takes a full day and requires a certain amount of physical fitness. The path will take you through a magical mossy forest, alive with colorful pitcher jug flowers and fairy-like large trees covered in green lichen. The trek is muddy, the slope is steady and difficult, and often involves scrambling up thick tree roots. There are two peaks, one considered the "fake peak" with a clearing available for camping. Reaching the final peak is an exhilarating experience and you can see the so-called G7, Peninsula Malaysia's seven other highest mountain peaks. But for visitors who prefer less intense walks, there are various alternatives. The best area to be based for hiking in the area is Gunang Brincang.
Rimming Kenong Rimba
On the outskirts of Taman Negara, Kenong Rimba is known among conservation circles as having some of the best limestone cave and waterfalls that Peninsula Malaysia has to offer. The main hike route takes you to Gunung Kenong where the most popular caves are found (Gua Batu Tangga, Gua Tangkup and Gua Telahup). Beyond this, the route finishes with the spectacular Seven-Storey Waterfalls (Air Terjun Tujuh Tingkat). Access into the national park is from Kuala Lipis and visitors can contact the Kuala Lipis District Forest Office +60 9 312 1273 for more information.
Quick Out-of-the-City Sojourns
If you wish to go hiking somewhere closer to the city, then you might consider the following options:
Kuala Selangor. There are many pleasant hiking routes in this town which also harbors the famous nighttime fireflies.
Fraser's Hill. Only a couple of hours drive from Kuala Lumpur, this town – similar to Cameron Highlands – is known for its cooler climate and historic atmosphere (it served as an Estate during British Colonial rule). The 4-hour hike up to Pine Hill is recommended.
Batu Caves. Besides the hundreds of steps leading into the Hindu temple, there are other walks around this area, including a large dam which is popular with mountain bikers.
FRIM. The Forest Research Institute Malaysia has many small walking routes, including a canopy walk. It's a good hiking option for those with limited time during their stint in Kuala Lumpur (http://www.frim.gov.my/).
Amy Morison is a writer who lives in Hoi An, Vietnam. She is founder and managing editor of Live Hoi AN Magazine (www.livehoianmagazine.com) and director of the Central Vietnam Advertising & Marketing Company.