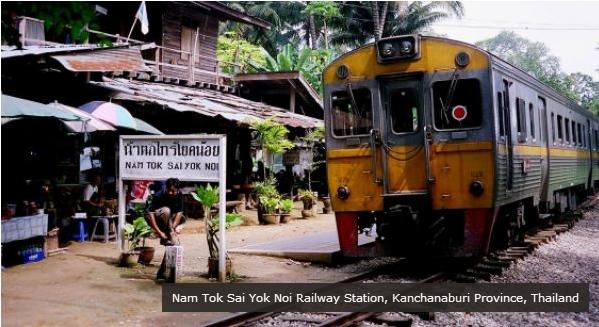 Kanchanaburi is a great place for cycling and offers a unique way of taking in the sites and beauty of the area.
Although you can choose to do a day-trip from Bangkok by jumping on the first train in the early morning, we recommend giving the area a few days and renting a bike from one of the numerous local shops in town, some of which can be found along Maenam Kwae Rd. for about 50 baht/ day. A mountain bike is advisable as the road is long (60 km) and often dirt track, meaning added suspension will save you pain of both puncture and behind. As ever, bring water, a hat and sun cream.
The Route:
Cycle to the train station and buy a ticket in the direction of Nam Tok (running only 3 times daily, so check the timetable). This will take you along the stunning 'Death Railway' line, whose name is born of the dear cost in human life cut short in the process of its construction by POWs in WWII. Re-mount your welded steed at Nam Tok Sai Yok Noi station and head to Hellfire Pass.
This is a 15km ride along the main road before reaching an indicated pathway taking you to the Pass. Next, follow the main road for a few km and you should, on your left hand side, find yourself briskly at Saiyok Noi Waterfall to tank up from the various food and drink stalls there. Depending on your speed and time, the trip back to Kanchanaburi then takes a forked path:
• A flat, leisurely road following the railway tracks South towards Wang Po railway station passes through the new Wang Pho Elephant Camp. The site features elephant shows, riding and water rafting until 6pm, although a hairy-backed ride will set you back 800B/ 40 minutes.
• Another route takes you to the Krasae Caves, which are 4.7 km from the Wang Po train station and whose trail will have you meander through a patchwork of sugar cane, teak and rice plantations. The cave houses sacred Buddha images and sits beside the surviving remains of a stretch of the Death Railway overlooking Khwae Noi River. If feeling insufficiently mud-spattered, there is an off-road option beginning some 2 km before the cave entrance. After these, pedal back to the Kwai River Bridge for a rewarding sundown drink.
This article can be found in the guide book "Travel Green Thailand"
Richard Werly is the European bureau chief, based in Brussels, for the Swiss daily « le Temps » (www.letemps.ch). A former correspondent in Bangkok he has kept in regular touch with Southeast Asia since the early 90's, reporting on numerous events in the region, such as the 2004 Tsunami. He is the producer and editor of "Travel Green Thailand".