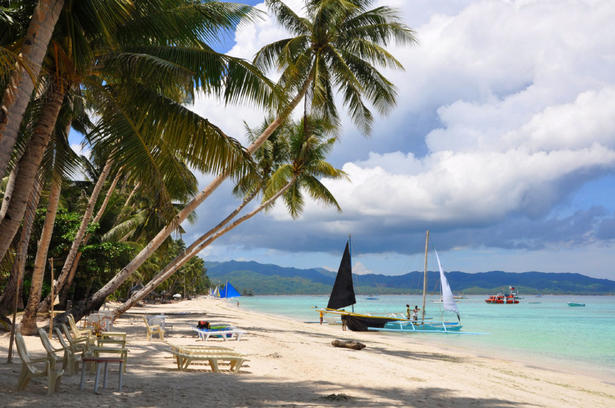 This promises to be a great year in tourism. Europe's economic turmoil appears to mean some pretty good deals can be found, and it's also the 500th anniversary of Florida's discovery by Europeans. Here's a look at what the experts say about travel in 2013.
Arthur Frommer
Miami Beach
This white-sand-lined part of the sultry Miami currently is awash with tourists from Brazil and Peru in particular, and their heavy presence and expenditures have caused dozens of new commercial enterprises to erupt, and many others to enjoy special prosperity. New Peruvian restaurants are especially apparent, and one of my favorites, called Mixtura, is found on Collins Avenue in North Beach. I would guess that the addition of many thousands of Brazilian, Peruvian and other South American tourists is causing total visitor numbers here to reach record levels. Since so many foreigners also own Miami Beach condos (their method of stashing their savings outside their own countries), and because they are not always in residence, you'll find a great many empty apartments offered at low rates through VRBO.com. Last winter, I took out a 10-day condo rental here from an absent British owner, and enjoyed a moderately priced vacation in a glamorous beachside setting.
Dubai
Though personally I am bewildered by the popularity of this budding resort, and cannot understand how anyone could enjoy a stay there, I obviously am in a dwindling minority, given the huge numbers of North Americans who are now boarding flights on giant new planes (A380s) of Emirates Airlines and then spending a couple of weeks in what they look upon as heavenly luxury. Luxury is what Dubai purports to sell – some of the world's most spectacular skyscraper hotels and restaurants, amid countless upscale shops and stores – but who can enjoy luxury where culture is absent? From what I've heard from a great many visitors, there isn't a single attraction here that taxes the mind or excites the intelligence. But clearly, in a place owned, in effect, by an aristocratic family enjoying unheard-of wealth, Dubai has achieved worldwide fame, and is among the top hot spots for 2013.
Lima, Peru
Viewed by too many as simply a gateway to Cuzco and Machu Picchu, Lima, Peru, currently is gaining fame (and crowds of new tourists) as a culinary capital, the location for famed ethnic restaurants that are now opening branches all over the world. Several celebrated chefs have made publicity tours to spread the word about Peruvian cuisine. Others are opening cooking schools within Peru, while still others actually are operating the branches of such well-known Peruvian restaurants as La Mar Cebicherria in New York. The tourist office claims that 80,000 young Peruvians (from former poverty backgrounds) are now in training to open even more Peruvian restaurants both in Peru and abroad.
India
Just when it seemed that devaluation of the rupee could not go further, the currency charts are now showing India's money to be on the verge of declining to a rate of 56 to the U.S. dollar. At that exchange, a cheap-to-visit country has now gotten even cheaper, and adventuresome tourists would miss a good bet by not considering a trip in the coming winter months. You'll find countless bargains in accommodations, meals and sightseeing.
Travel Editor Jim Byers
Ireland
They're calling it the Gathering 2013; a mashup/meetup of Irish folks – and those who wish they were. There are dozens of reunions all over the Emerald Isle this year. County Clare is inviting anyone named Clare or Claire or Clair to come for one of the parties. Live on St. Clair? Give them a call. Hotwire.Com said that fall hotel prices in Dublin were down 23 per cent from autumn of 2011, so there likely are deals to be had.
The Philippines
We've seen booms in Thailand and Vietnam and even a mini-boost for tourism in Myanmar. It's now time for this enormous island archipelago to get some time. Hotel chains are falling all over themselves to set up shop.
Toronto
Yeah, I know. This isn't travel for a lot of us. But, holy moly, look at what this city accomplished in terms of hotels in 2012. All the Big Smoke did was see the opening of three major, would-be five star hotels: The Trump, The Shangri-la and the new Four Seasons in Yorkville. Not to mention such existing, sexy beasts as the Ritz-Carlton, the St. Germain properties and the Thompson.
New Orleans
They have Mardi Gras every year, but this year the Big Easy also gets the Super Bowl on Feb. 3. Not everyone is feeling the benefits, I suspect, but the city seems to have pretty much bounced back from the horrors of Katrina.
Florida
This year marks the 500th anniversary of the "discovery" of Florida by the explorer Ponce de Leon, who landed? In St. Augustine. There are celebrations up and down the U.S. state that Canadians love most.
Spain, Portugal and Greece
I've seen four-star hotel properties in Madrid for March, 2013 for as little as $89 and in Lisbon for as little as $73 at hotels.com. At hotwire.com, where you don't find out the name of the hotel until you book, they recently were showing four-star properties in Lisbon in March for as little as $53 and a five-star spot for $96. They showed four-star hotels in Barcelona in March for the ridiculous price of $67, and a four-star place in Athens for an incredible $48, which is less than you pay for a cab from Pearson to downtown Toronto.
Other suggestions
Travelzoo
This website lists New Zealand (The Hobbit movies), Ireland, Niagara Falls (hotel deals on both sides of the border), Colombia and Alaska as its "wow" destinations for 2013.
Lonely Planet
This popular guidebook series lists its top 10 countries for 2013 as Sri Lanka, Montenegro, South Korea (The Gangnam Style effect should help), Ecuador, Slovakia, The Solomon Islands in the Pacific, Iceland, Turkey, The Dominican Republic (labeled as The Caribbean's Next Big Thing) and Madagascar. It's best-value destinations for the year are Rio de Janeiro, Gothenburg (Sweden), Cambodia, Bolivia, Spain, Slovenia, Nepal, Portland (Oregon), Georgia (The Europe one, not the U.S. version) and Namibia.
National Geographic Traveler
This magazine lists its top 20 places for the year as Crimea, Marseille, Raja Ampat (Indonesia), Ravenna (Italy), The Great Bear Rainforest on Vancouver Island (labeled as "Canada's fragile coastal wilderness), Malawi, Quito (Ecuador), Bagan (Myanmar), Cape Breton Island (described as "Nova Scotia's treasured island"), Uganda, New York's Hudson Valley, Thessaloniki, Grenada, Bodo (Norway), Valparaiso (Chile), The Missouri River Banks, St. Augustine, Memphis, Kyoto and Jerash (Jordan).
Canadian content
Lonely Planet names Montreal one of its top 10 cities for 2013, describing it as as a "mélange of cultures (that) marries brains and beauty. It also has The Yukon as one of its top regions for the year, calling it a place that "puts the wild in wilderness." Lonely Planet named Vancouver Island as a marvelous meteorological sites for the year, citing its storms. Manitoba made Lonely Planet's "snakes alive" list due to the tens of thousands of garter snakes that live underground. Quebec City made the "great wall walks" list for 2013, and Oak Island Nova Scotia was named as one of the best places to search for buried treasure. Montreal made Lonely Planet's list of top cities with bike-sharing schemes and Unlucky Lake, Saskatchewan made the list as unluckiest places in the world, although editors said they don't seem to be anything particularly unlucky about it.