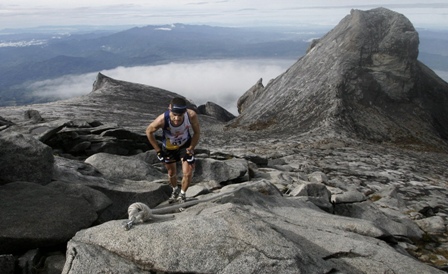 Image courtesy of Tourism Malaysia
The sport of sky-running may be in its early days yet, but its enthusiasts look to Sabah's Mount Kinabalu for one of the major events of the calendar: the Kinabalu Climbathon that takes expert sky-runners to the peak and back, in the space of four hours.
The International Skyrunning Federation places the Kinabalu Climbathon as the last event of its Skyrunner World Series. The Climbathon's "Summit Race" event accommodates qualified skyrunners, among them World Series contenders looking to take the world skyrunning title home.
The Summit Race covers 33 kilometres beginning at the Kinabalu Park's entrance, up to the summit at 4,100 metres above sea level, and down to Kundasang Town. Contestants must be able to make it to the summit in at least three hours to qualify.
Amateurs are allowed to take the alternative, less challenging "Adventure Race" that only goes halfway up the mountain, starting at Kinabalu Park's entrance and ending at Kundasang Town for a total of 23 kilometres.
Whichever route or level of difficulty you take, you'll pick your way through all four of Kinabalu's vegetation zones, making for an interesting change of scenery as you ascend from 500 metres to a maximum of 4,000 metres above sea level.
At the lowlands you'll pass by carnivorous pitcher plants and massive stands of trees; as you ascend, the trees start getting shorter and more lichens and ferns populate the surroundings. Go even higher, and even the soil disappears – you'll be walking on exposed rock as you approach the summit.
For 2014, the Kinabalu Climbathon takes place from October 18 to 19.
Elsewhere on the web: to find out how you can join either of the two races, read the official page for the Kinabalu Climbathon, or read Sabah Tourism's official page on the event.