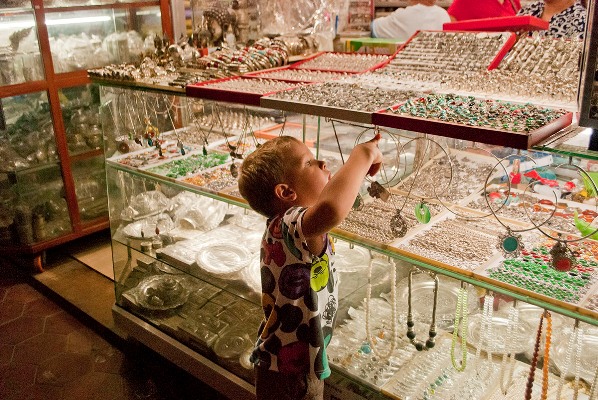 Malls may be taking over Southeast Asia's cities, but don't count traditional markets out yet.
Markets are still going strong, even in the region's increasingly air-conditioned shopping landscape. That's because old habits die hard: families in Asia still prefer to get their fresh produce, traditional crafts and household items from open-air (and very aromatic) traditional markets, as generations of families had before them.
For travelers to Southeast Asia, traditional markets offer a unique opportunity for immersion in the local culture. Markets offer traditional crafts at prices much lower than in malls or purpose-built souvenir shops. Their produce sections allow visitors to see (and smell) a slice of local daily life at its most authentic. And many markets also reserve space for food kiosks that serve the local cuisine at a fraction of the cost of restaurants.
All this without needing to venture too far off the beaten path: Southeast Asia's most well-established cities tend to grow around the market area, which means that they tend to be very centrally placed, right in the path of visiting tourists.
In Siem Reap, Cambodia, the market known as Psah Chas (Old Market) exemplifies this perfectly. Venture to the center of the market, where vegetables, meat and traditional processed food products are sold – the sight and smell of live fish, cuts of meat, fish paste (prahok) and the housewives haggling for a good price on these goods will carry you right into the heart of Cambodian culture as it's lived day-to-day.
The aisles that radiate out to the surrounding streets sell more touristy stuff – T-shirts, brass sculptures, handbags, and jewelry, with an entire hallway devoted to the last item.
Travelers to the Old Quarter in Ha Noi, Viet Nam find themselves in one of the most ancient parts of an already ancient city. The Old Quarter was founded from the 11th century as crowded trade area where artisans and traders concentrated to work and set up specific trade streets.
As artisans set up shop in craft villages around the former Thang Long Citadel, they tended to gather in areas that specialized in their work. This resulted in separate streets for every trade, each lane serving as a de facto craft village – to this day, the names denote the trades and merchandise that each street once specialized in, from Hang Gai (Silk Street) to Hang Duong (Sugar Street) to Hang Muoi (Salt Street).
Penang, Malaysia's Cecil Street Market attracts plenty of tourists, not just for watching locals buy their produce, but also for the excellent "hawker" street food served within. Cecil Street Market is an essential part of Penang's food trail. You can get your fill of roast duck, char kway teow (fried noodles) or laksa (spicy noodle soup) – all fast, all cheap.
Both Luang Prabang in Laos and Bandar Seri Begawan in Brunei offer a different take on the market experience. Their evening markets – the Night Bazaar in Luang Prabang and Pasar Gadong in Bandar Seri Begawan – cater to a more touristy crowd seeking traditional crafts and foodstuffs for the former, and freshly-cooked traditional food for the latter.