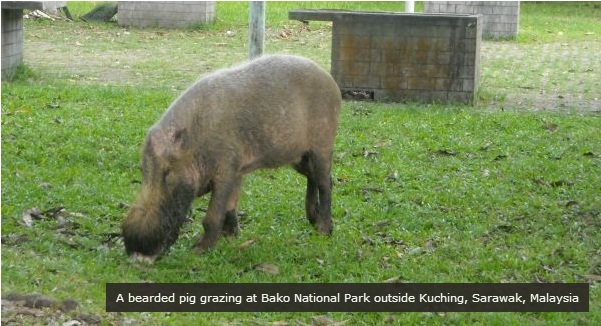 For a really cool holiday trip that doesn't soak up your last penny, you need to know the basics:
1)How to get there
2)Where to stay
3)What to look for, and
4)Where to eat
How to Get There
If your way leads to Kuching, Sarawak, how to get there, is easy; you fly. The old MV Rajah Brooke has steamed into history, and there's no overland route to Borneo. Fly luxury, fly budget, but fly. You can't walk– unless you're on Borneo already. From Kalimantan, Sabah and Brunei, there are overland routes; the very latest is a bus service from Pontianak to Kota Kinabalu.
Heidi's tip:
The bus service from Pontianak to Kota Kinabalu runs in several stages. From Pontianak to BSB, use Eva Express Sdn Bhd. (Sarawak contact: Regional Express Bus Terminal, 3rd Mile Kuching; Tel: 082 57733, or 014 6999600. Brunei contact: Wisma Setia, Jln Pemancha, BSB; Tel: 673-7173355/ 8183000. The buses leave from the PGGM Building/Brunei Shell Marketing Office). From Brunei, the onward connection to Kota Kinabalu is by Jesselton Bus Company. Tel: 6082-577333/ 6014-6999600.
Where to Stay
To find where to stay, there is a wide choice, from five-star to no-star, and this includes a hostel modestly named the 'Onestar Lodge'! There are over forty budget hotels or B&Bs in Kuching – how can a new arrival (or a web-searcher) find the best one?Location, that's how. The old town stretches along the Sarawak River, roughly from the Tua Pek Kong temple to the old Mosque. The Sarawak Museum lies half a mile inland from the river; this triangle encompasses the town's main attractions, all within walking distance of each other.
Obviously, the best place to stay is right here. The main concentration of budget inns is on Jalan Green Hill, immediately behind the temple. Any address on Temple Street, Main Bazaar, Carpenter Street or Ewe Hai Street is worth investigating.
The pioneer in the field, B&B Inn, lies in Tabuan Road, well within range. The Anglican Guest House, situated in an old Chinese family mansion formerly used as a school boarding house, is also very central. Bed-and-breakfast is not necessarily the best choice though; the area abounds in coffee shops!
Heidi's Tip:
Goodwood Inn: 16 Jalan Green Hill; RM 55 – 85 per night. Basic, small rooms with shower/toilet and aircon.
Singgahsana Lodge: 1 Temple Street; RM 30 – 50 for bed in dormitory, RM 118 + for rooms with own shower/toilet. Sets a new standard for 'budget elegance'!
What to Look For
Museums? Serious shopping? Bazaar-browsing? Historical buildings? River activities? Wildlife? Seaside? Jungle? You name it we got it (except snowboarding…)
Start your holiday with a visit to the Tourist Information Centre in the Old Court House (near that quaint Square Fort!) and ask for the latest issue of the Visitors' Guide. After you've explored the Triangle on foot, you'll want to get to the Cultural Village in Damai, to Bako National Park, or to the orangutans in Semenggoh Wildlife Centre.
How to get there? Taxis are available, though they tend to be expensive. Try the bus instead – a constantly updated schedule of bus routes is available at the Information Centre too! The very helpful staff there will explain which buses stop right in the town center (for Bako and Semenggoh), where the Damai Shuttle (for Sarawak Cultural Village and beach hotels) stops in town, and which overland buses depart from the 'Midnight Bus Station' as locals term the Regional Express Bus Terminal, 3 miles out of town.
Heidi's Tip:
Shuttle buses for Damai stop at the Harbour View Hotel and at Singgahsana Lodge, both within 1 minutes' walk from Jalan Green Hill.
Where to Eat
In brief: everywhere! Step out of a Green Hill inn and practically fall into a restaurant of some sort. Most of these are coffee shops of the old style: the owner, besides serving hot and cold drinks, rents out space to food stalls cooking up 101 kinds of noodles, fried turnip cake (no joke!), grilled meats on skewers or in flattened 'chops', deep-fried tofu, 'fast food' in stainless steel trays…and, and and. Just don't be fooled by 'salad chicken rice', there is no salad involved! It's a scoop of cooked rice, a generous helping of roasted or steamed chicken liberally doused with bottled mayonnaise. Ah yes, 'salad cream'.
Coffee shops are for coffee, long discussions, and snacks. For meals, try a food center, an agglomeration of cook-while-you-watch restaurants, such as the Top Spot. The name refers to the situation, actually, on top of a multi-story car park, but it aptly describes the quality of the meals cooked up under the stars – and under a wide canvas awning whenever it rains, which it does fairly often. Our jungle isn't called 'rainforest' for nothing!
Can you get a juicy steak in Kuching, can you get nouvelle cuisine or fusion cuisine, can you get vegetarian both the half-hearted and the red-hot variety? You certainly can, and all of these are available within walking distance of Green Hill. The steak at the Hilton or at Tom's is going to be more expensive than a green-leaf-and-tofu casserole at Zhu San Yen Vegetarian Restaurant in Jalan Chan Chin Ann, but the choice is there.
Heidi's Tip:
For halal (kosher) food and a river adventure, take the ferry from the jetty near the Chinese Temple and cross over to My Village Baruk Restaurant, a lively open-air establishment specializing in Sarawak Malay cuisine.
This article was provided by BiG Magazine (Borneo Insider's Guide) .