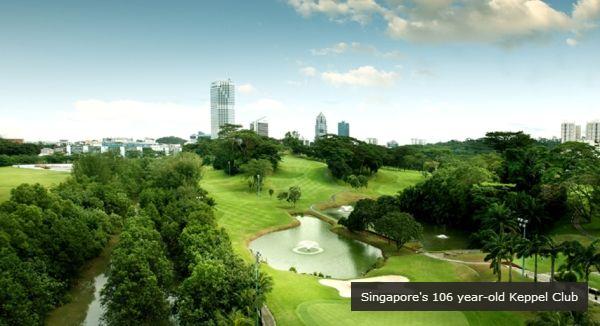 Singaporeans are besotted by golf! This is partly due to a long affiliation with the game that began when the British were still ruling the island colony. Independence came in 1965, the British left, and local golfers kept on swinging.
Adding to this affinity is a savvy business community eager to clinch deals between putts, and health conscious residents keen on fresh air rounds. As well, golf has become more an more a sport of choice for local teens. Encouraged by youth programmes initiated by country clubs through the Singapore Golf Association and the acceptance of golf as a core co-curricular activity by schools, young players are taking to the fairways in ever increasing numbers.
Catering to this demand, Singapore has nearly two dozen driving ranges and golf courses where little white balls rocket off tees virtually 365 days of the year. This line-up includes a vintage veteran and a sporty layout on its own isle.
Courses of Consequence
The circa 1904 Keppel Club (http://www.keppelclub.com.sg) is Singapore's oldest club. Over the years its course has undergone many renovations. The most recent in 2005 resulted in a testing 5917 metre rolling field of green. Watch out for the 401 metre 2nd hole where the undulating green often causes grief. After a par on the 394 metre 18th retire to the charm of the columned clubhouse and reflect on your game.
Or you can have a spot of 'tee' at the Sentosa Golf Club. Singapore's attraction-studded and activity-oriented holiday island of Sentosa has two sports grounds. Many visiting players enjoy the 6014 metre Tanjong Course where the elevated 2nd hole features an island-like green and sweeping views over the South China Sea.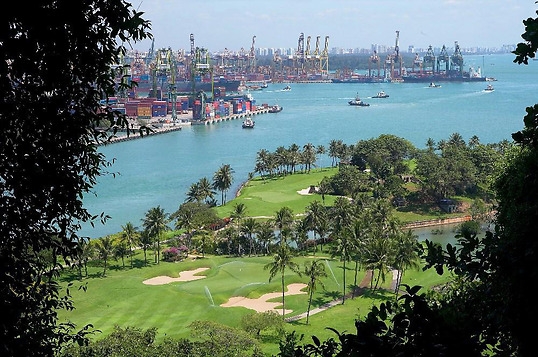 Sentosa Golf Club's Tanjong Course
The proliferation of places to play and the relative ease of reaching them … well that's the good news. The downside is nearly every Singaporean loves to golf, this coupled with the fact that all of Singapore's 18-hole courses except one are private makes it a little difficult for tourists looking to play through. That said nearly all member courses allow tourists who opt to play on weekday mornings, present handicap cards and pay (often substantial) green fees.
If you don't want to pay serious green backs to play these premier playgrounds there are other options. Just one, the Marina Bay Golf Course (http://www.mbgc.com.sg) has 18 holes, however. Located at the edge of the high rise CBD (just off the East Coast Parkway) Marina Bay is Singapore's first and only 18-hole golf course open to the public.
Covering 6561 metres, Marina Bay is an Asian anomaly with many treeless fairways, an absence of water hazards and 91 pot bunkers creating the ambience of a Scottish links course. It's easy to understand why this crowd pleaser is billed as "probably the best public course in Asia." Despite this sole 18-hole standout, Singapore is a 9 hole haven with several short but interesting courses to test your skills.
Hidden Jewels
Green Fairways (http://www.leecarringtongolf.com/green_fairways) offers a 9-hole, 1887 metre course in leafy suburban Bukit Timah. No handicap card is required to tee off on a rustic 25 year old playfield once part of a saddle club. The 145 metre 1st plays over water and with its jungle surrounds you don't feel you're in Singapore.
Bordering on the Upper Seletar Reservoir, the Max Wexler designed 1425 metre Executive Course (telephone 65 6453 2700) is also a haven for monkeys and birds. There are two par 4s, including the 265 metre dogleg left 5th.
While there are two courses at the Jurong Country Club including a private 18-hole layout, the 5-hole Jurong Executive Course (http://www.jcc.org.sg) is more visitor friendly … and affordable. As the par 17 path spans just 1040 metes this may be the only time you will ever play 10 holes in two rounds!
Opening in 2000, the Safra Executive Course (http://www.esrcc.com.sg/golf) – the first links-style par 3 layout in Singapore – has great sea vistas. Sited on the east coast not far from the Tanah Merah Ferry Terminal, the 9 hole hideaway is close to the international airport so transit passengers with sufficient time and a handicap card can get in a game.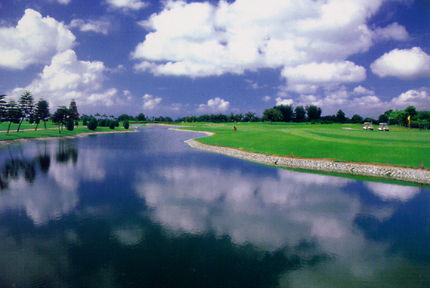 The Safra Executive Par-3
Redesigned in 2002 to incorporate 9 holes, the 826 metre par 27 Tanglin Golf Course (http://www.thefirstteesingapore.org) is another quiet suburban playground. Featuring all par threes, the signature 135 metre 9th encompasses a generous fairway narrowing to a small elevated green. Walk-ins are encouraged seven days a week and a USPGA teaching professional offers lessons. If you want to hone your skills or try golf for the first time this could be the perfect place to perfect your Singapore swing.
Thomas E. King is a professional golf and travel writer based in Sydney, Australia. He is the Executive Editor of Media East Pty Ltd, a 35 year established editorial agency specialising in supplying features on cultural destinations and golf/spa resorts in the Asia/Pacific region to publications around the world.