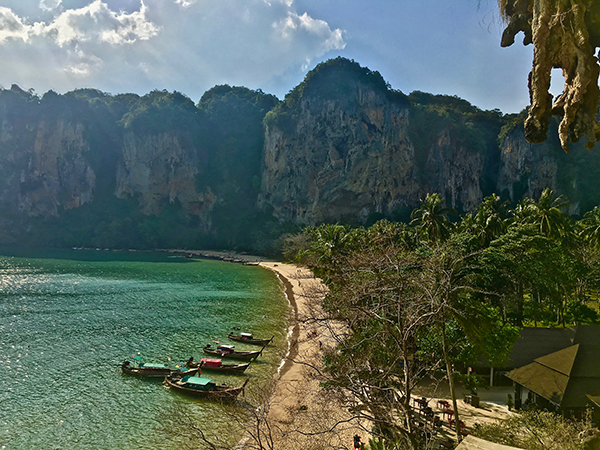 With Southeast Asia's summer season upon us, now's the time to review your beach options: where to go, what you'll find at each step, and a plan to move to the next one. We asked several bloggers to help us piece together a beach-only itinerary, and the resulting work (see below) gives readers a taste of the sunny, sandy landscapes you can explore this coming summer.
1. Krabi, Thailand
Start your epic beach roadtrip at one of Thailand's most beloved beach areas – but subvert expectations by going for one of Krabi's more laid-back stretches. "Nearby Ao Nang and Railay Beach are the main tourist places, but for some reasons everyone skips its neighbor Tonsai Beach," explains Tom Grond of TravelTomTom (Twitter|Facebook|Instagram).
"Because of its limited accommodation options, this beach seems to be forgotten by most tourists," Tom says. "In fact it is my favorite beach in Krabi." Only accessible by boat, Tom likes Tonsai's accessibility from more popular Ao Nang – "it fits perfectly into an island hopping Thailand itinerary," Tom says.
Tonsai visitors will only find a handful places to stay at, most of them designed for budget travelers. It's certainly not Party Central, says Tom: "Tonsai Beach is a quiet place where people like to practice their slacklining skills, read a book under a tree, hike to next-door Railay Beach and come to try rock climbing with incredible views."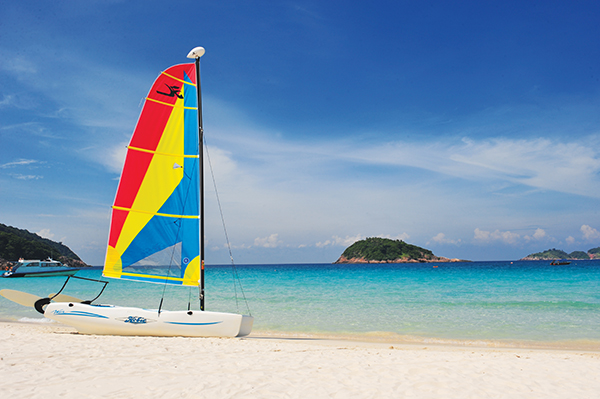 2. Secrets of Malaysia's East Coast
From Krabi, take a bus south, crossing the Malaysian border to Penang, then switch buses for a long ride to peninsular Malaysia's heartland on the east coast. Like pearls on a necklace, several white-sand-fringed islands can be found off the coast – and these islands offer some of the world's best beaches, bar none.
Redang Island. Miss Filatelista's Lola Mendez (Facebook|Twitter|Instagram) calls it "the most incredible beach I've been to not just in Southeast Asia, but in the world."
Getting to Redang Island requires a 45-minute speedboat ride from Syahbandar Jetty at Kuala Terengganu – Lola checked into the island's Wisana Village , then spent the next few days taking in the sun with some unusual companions.
"Beyond the picturesque shoreline, what makes Redang so special are its aquatic inhabitants – sea turtles are literally everywhere!" Lola tells us. "We saw at least three each day."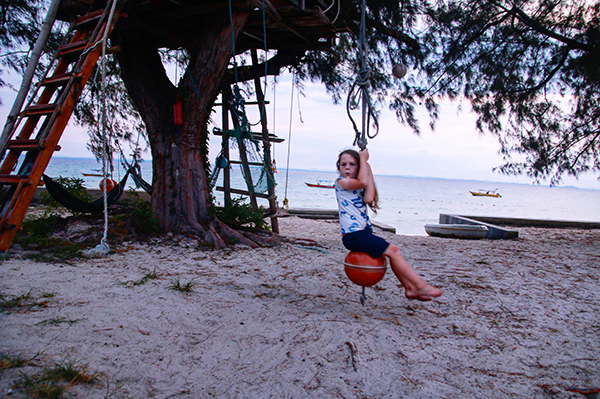 Perhentian Islands. For a digital detox, Natalie of Unbridled (Facebook|Twitter|Instagram) suggests visiting the Perhentian Islands: "Cell phone connectivity is almost non-existent and WiFi is more of a burden than a pleasure," Natalie says. "You are 'forced' to spend your days in a hammock at the beach or swimming in the crystal clear water. Not a bad deal, right?"
Natalie stayed at the Flora Bay Resort on Pulau Perhentian Besar. The island offers some pluses and minuses: "It's a great, budget-friendly place to relax," Natalie says, but ""if you rather want nightlife and a more touristy place, you should visit the neighboring island of Pulau Kecil, because Pulau Besar is very laid-back."
The island's beaches are all connected by water taxi, "the only way to get around," as Natalie explains. "They will bring you to any beach you want – enjoy the beach hopping!"
Pulau Besar. Bronwyn Leeks of Smiths Holiday Road (Facebook|Pinterest|Instagram) came upon this family-friendly island off Mersing district in Johor: "A 30 minute speed boat ride from the jetty takes you to Pulau Besar (also called Pulau Babi Besar), an island with a choice of two accommodations just steps away from the sandy white beach," Bronwyn says.
Bronwyn loved swimming around Pulau Besar's clear waters with her kids. "Snorkel excursions are a must-do, as you explore three sites including the beaches of Palua Rawa to learn about the under water world," she tells us. "Kids can spend the evening playing beach volleyball, swinging on rope swings or building sandcastles."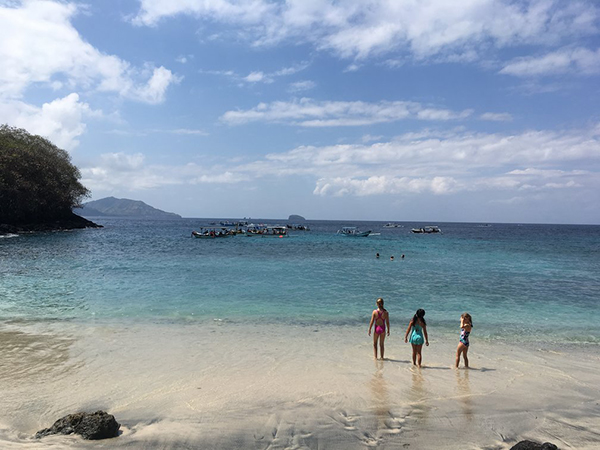 3. Beaching Around Bali and Lombok in Indonesia
From Mersing, catch a bus to cover the three hours' voyage down (across another border) to Singapore, where you can ride a plane to the Indonesian province of Bali and its sunny island neighbors due east.
Bali is a major beach destination in Southeast Asia, though bedeviled by massive volumes of tourists around the Kuta area. Luckily, there are less-visited beaches that you can visit – like Padangbai and its Blue Lagoon Beach, "a beautiful hidden gem on the East coast of Bali," as RTW (Round The World) Families' Suewan Kemp (Facebook|Twitter|Instagram) puts it.
Easily accessible by car from Ubud and Denpasar, Blue Lagoon is a family friendly beach that feels worlds apart from the more touristy beaches down south.
"Kids can swim and play easily in the sea as it is calm, warm and the water is clear blue – perfect for snorkelling," Suewan says. "The local warungs sell delicious and affordable local food where you can sit back and enjoy the stunning view." One caveat – most of the sand is covered during high tide, so Suewan suggests visiting when the tide has receded.
Bali is also Indonesia's gateway to the east; ride a ferry to Lombok, the next large island over, with a volcano and several less-visited beaches.
Kuta Beach, Lombok. Confusingly, Lombok also has a Kuta Beach (same name as in Bali), but theirs offers a totally different vibe.
"Few venture to the south of the island and discover the small town of Kuta and the many beaches that adorn its coastline," explains the Travel Blogs' Matt Hulland (Facebook|Twitter|Instagram). "The town itself is about an hour by bus from Lombok's main ferry terminal and has accommodation to suit all pockets, from budget homestays to luxurious resorts."
Kuta's popularity with surfers can be attributed to its many surf spots, catering to surfers of all levels. "But if relaxing is more your thing, there are plenty of quiet beaches with dreamy white sand, shady palms and every now and again a local wandering past selling the juiciest pineapples you're ever likely to enjoy," says Mark.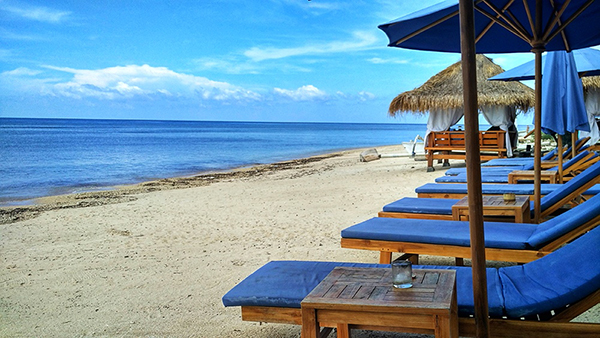 The Gili Islands. Fast boats from either Lombok or Bali can take you to one of the smattering of islands off the west coast of Lombok, collectively known as the "Gilis".
Gili Air is one of the most laid-back Gilis – as Chandroma Ray of One Earth Too Less (Facebook|Twitter) puts it, "Gili Air is filled with a very different crowd: people who love to procrastinate, have hours to spare for just gazing into the bright blue sea ahead, with the occasional desire to cycle around the island, or enjoy the sunset while taking a dip."
Prices are pleasantly low in these parts: "Gili Air is a pocket friendly destination with a decent homestay costing around USD 35," Chandroma says.
Gili Nanggu is even more laid-back than Gili Air, if you can believe it: Melissa Delaware of Thrifty Family Travels (Facebook|Instagram|Twitter) loves this southern island for "the most beautiful, clearest beach I have ever swum at."
Crystal-clear swimming waters where "you can see your feet even when the water is up to your shoulders," with a riotous abundance of fish ("colourful and friendly – it was like swimming in an aquarium," says Melissa), make Gili Nanggu one of Lombok's best beach experiences.
"There is only one place small place to stay on the island (Gili Nanggu Cottages), so you don't have to worry about it being overcrowded," Melissa says.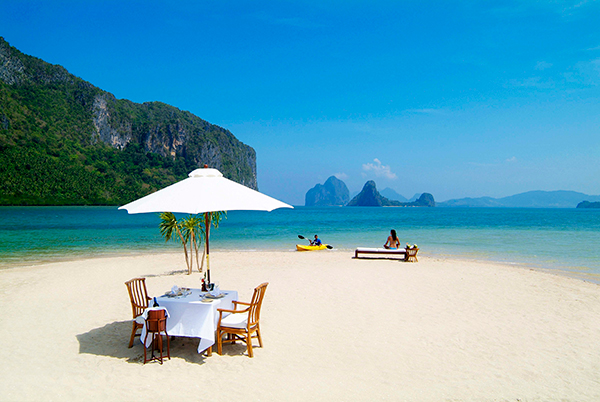 4. The Philippines' Palawan Island's Surreal Landscapes
After getting back to Bali, hop onto a plane to the capital of the Philippines Manila, where you can catch a connecting flight to either Coron or El Nido, both part of Palawan Island or its surrounding islets.
The karst (limestone) landscape gives both Coron and El Nido their gorgeous, almost surreal shape: the limestone has been carved by erosion into stark gray islands, caves, and lagoons, all great for kayaking, swimming or snorkeling.
El Nido faces an archipelago of dozens of such islands: the lagoons, sandbars and forested islands in Bacuit Bay can be explored through "island-hopping" expeditions from El Nido Town. Luxury resorts can be found nestled amidst some of the islands here, while backpacker and three-star resorts stay in El Nido town proper.
Coron, on the other hand, is part of the Calamian island group north of El Nido. Tours from Coron proper range across the islands, but travelers can content themselves with attractions closer by: Kayangan Lake, whose crystal clear waters feel like it's been transplanted from another world; or the Twin Lagoons, two saltwater pools separated by a limestone wall.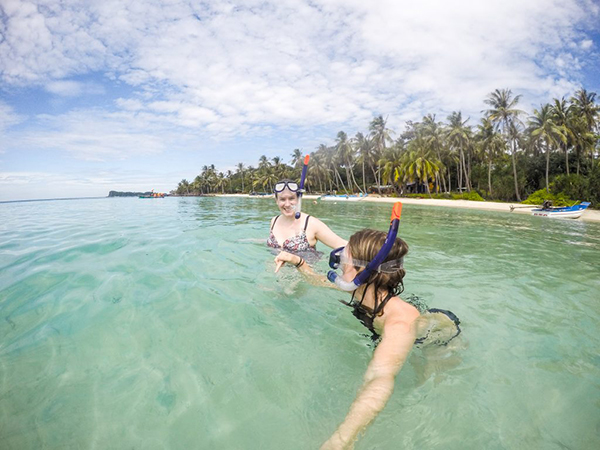 5. Vietnam's Fun, Flexible Phu Quoc
Take a flight from Manila to Vietnam's Ho Chi Minh City, then catch a bus and ferry (or plane) to Phu Quoc on the southwestern tip of Vietnam. For Chapter Travel's Lisanne van Beurden (Facebook|Twitter|Instagram), Phu Quoc has something for everyone: "It's perfect for both backpackers and luxury seekers, as you can easily stay there on a budget, but also go all out in a fancy hotel," she says.
Lisanne spent several days in Phu Quoc, and she tells us that there's plenty there for the visitor to do: "visiting Phu Quoc national park, learning about the Vietnam War in the Phu Quoc Coconut Tree Prison or exploring the island by motorbike," recounts Lisanne.
"But our favourite activity by far was island hopping from Phu Quoc to the An Thoi Islands!"
15 islands and islets south of Phu Quoc make up the An Thoi archipelago – its shores constitute "absolute perfect white beaches and turquoise waters," says Lisanne, suggesting a day tour from Phu Quoc as the local experience to beat. "You can rent your own boat or go on a tour and go snorkelling in the clear waters," she explains.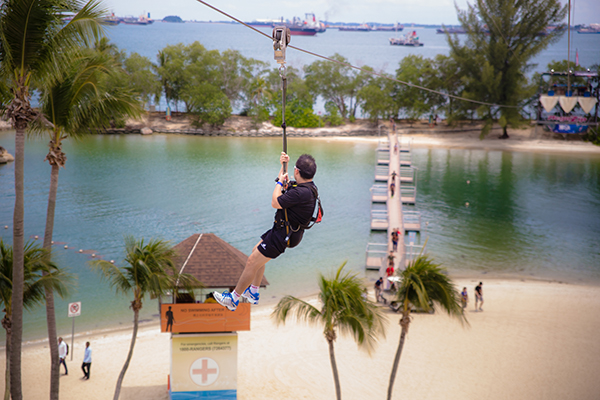 Detours – Going Off the Beaten Path
The destinations we've described here barely scratch the surface of Southeast Asia's most beloved beach destinations. Take a detour from some parts of this trip, and check out these other beaches worth seeing:
Siloso Beach, Singapore. Part of the swanky Sentosa resort development, Siloso Beach offers far more than you'd expect in a beach: high-end bars and restaurants, a man-made surfing wave; and an almost endless collection of sports activities, from kayaking to ziplining to rollerblading to skimboarding.
Beyond Siloso Beach, Palawan Beach's suspension bridge takes beachgoers to the Southermost Point of Continental Asia (and Asia's closest point to the Equator); Tanjong Beach is Sentosa's hottest party beach, thanks to its popular Tanjong Beach Club.
Sihanoukville, Cambodia. Rapid development aside, Cambodia's foremost beach town provides near-instant access to white-sand beaches and copious amounts of beer. Many backpackers swarm to Sihanoukville's Serendipity Beach, a backpacker fan favorite.
Ngapali, Myanmar. It's the anti-Phuket, a calm, collected stretch of white sand lined with palm trees and quiet resorts alternating with fishing villages. The low volume of tourists means you can relax at Ngapali in ways impossible to do in more crowded beaches: if you can't sit still, the local snorkeling, kayaking, and scuba diving (not to mention an 18-hole golf course) keep you occupied for hours.