The Democratic Republic of Laos is a landlocked country that can't boost of beaches, but otherwise is blessed with an abundance of natural and cultural resources and a dominantly rural, very hospitable population. No wonder over 3.6 million visitors flocked to the country in 2013[1], doubling the number of 2008. From those who stayed over for at least one night, tourists from the 5 neighbouring countries (most notably Thailand) by far formed the lion's share; 12% originated from far away markets: Europe, The Americas, Africa and the Middle East.
Yet, those long haul markets are considered the most important for Lao tourism, looking for cultural treasures, nature and the country's varied ethnic populations. Of all European and American tourists arriving in the country nearly two-thirds visit the cultural World Heritage Site Luang Prabang, Lao's jewel in the crown.
The city is conveniently located in a splendid natural environment teemed with possibilities to combine it with the exploration of the lifestyles of varies ethnic minorities as well as not too strenuous adventurous activities.
Local and foreign travel companies therefore have created a bunch of tours crossing the Northern and Central parts of the country. One of the most remarkable of these includes trips of longer duration to and through the most remote (hence least visited) province of Laos, Phongsali in the North East, bordering Vietnam and China; an area that for a couple of years ago simply lacked the infrastructure to welcome and entertain tourists.
Nowadays though, it's easier to be reached by a long bus ride from Luang Prabang. Obviously, the tours follow a more leisurely pace and contain opportunities for hiking, kayaking or canoeing, mountain- and motor-biking, next to visits to local markets, temples and pagodas. North-West of Luang Prabang, in the second smallest province (Bokeo), one can experience the most stunning Zip Wiring of the country in a Nature Park for Forest Protection (Bokeo Nature Reserve).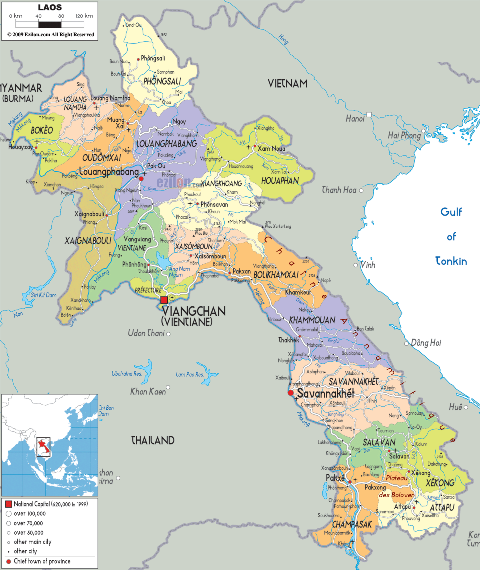 Provincial Map of Laos Source: www.ezilon.com
The Park is initiated and fully implemented by a local community; one of the most impressive Community Based Conservation/Tourism enterprises. Accommodation is Tree Tops style, connected to the fauna of the Park (such as the Black Gibbon and Macaques) by Zip Lines, only.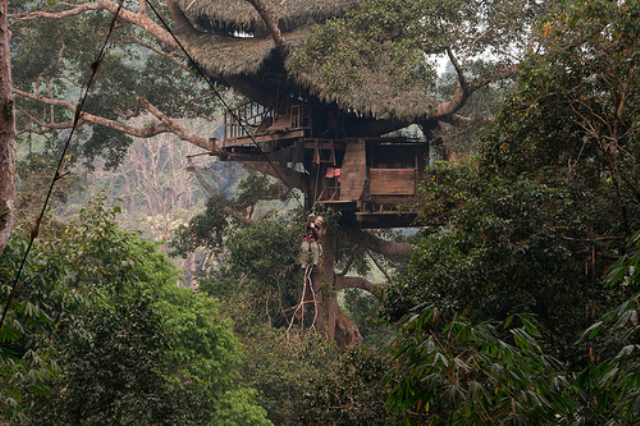 Zip lining, the only way of transport to and fro your Tree Top bungalow,
Bokeo Nature Reserve, Laos Source: www.spaghettitraveler.com
On the way to Phonsavan (South-East from Luang Prabang) to consume the extraordinary view of the Plain of Jars, jungle tours could be on the menu, as well as exploration of caves.
The Plain of Jars, Laos Source: www.jasmineholidays.uk.com
Alternatively, on your way back to Vientiane, Vang Vien is the place to be. Grown out of its status of "Backpackers Capital of South East Asia", it is attracted by Korean families and backpackers of all flavours alike. Amongst others, its fame was built on tubing, a gently way of floating down the Nam Song River in inflated inner tractor tubes, mostly with a refreshing drink in hand. It's still popular. Other activities include rafting, low grade rock climbing and caving. Especially the limestone caves at Tham Phu Kam are worthwhile to explore, with a visit to a reclining bronze Buddha statue regarded as a spiritual bonus.
Rumour has it, though, that Zip wiring at Vang Vien has ceased to exist. But, for the fearless it still can be done nearby, some 10km outside of town; in quite a spectacular way on a two-day trip.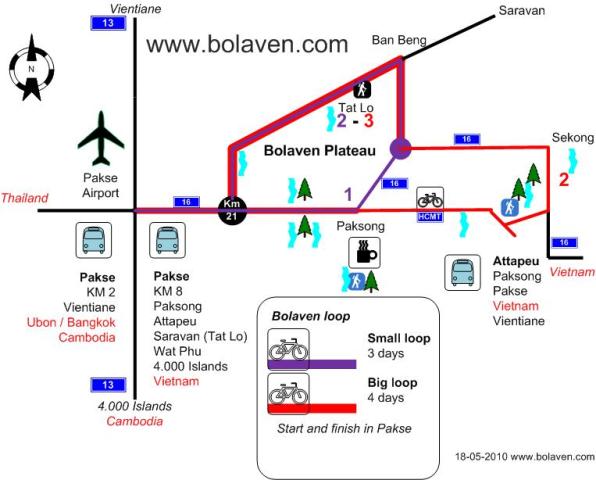 Chart of the Bolaven Plateau and surrounds, Laos Source: www.totallaos.com
Finally, for those embarking on a trip to Champasak province (Southern Laos) to visit the majestic Angkor era temple complex of Vat Phou, a side tour to the Bolaven Plateau is highly recommended. Not only is it possible to have an off chance encounter with a tiger family, but also to do so by riding an elephant, adding to the excitement in no small matter.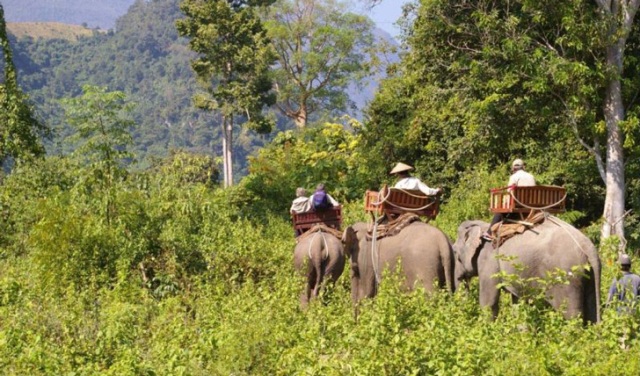 Elephant trekking, Laos Source: www.blacktomato.com
Laos, a country to indulge in and savour the many tourist attractions, combined with lots of adventurous activities at your own unhurried pace.
Nearly one third of these being excursionists (people who only stay for the day) from the neighbouring countries China, Vietnam, Cambodia and Thailand