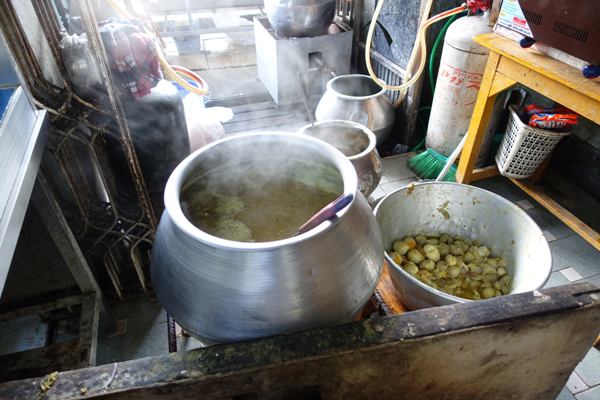 On my first full day in Myanmar, I met my tour guide at our first stop on a tour of the neighborhoods around Shwedagon Pagoda: Daw Cho, an unassuming noodle stall on Old Yay Tar Shay Road off the ancient pagoda's eastern entrance.
As far as introductions to ordinary Myanma life went, Daw Cho could not be better or more authentic: an open-air streetside stall where ordinary Myanma sat eating steaming bowls of mohinga, each bowl ladled from a giant metal kettle stationed in front.
Look for "authenticity" in Southeast Asia, and you'll likely find it as this writer did: in a local noodle stall, whichever country you end up in. Newbies might not be able to tell their mee from their mohinga, but real foodies can tell how every culture has made their individual noodle dishes unique: ingredients, cooking style, and adaptation into the local cultural mainstream distinguishing one from the other in endless interesting ways.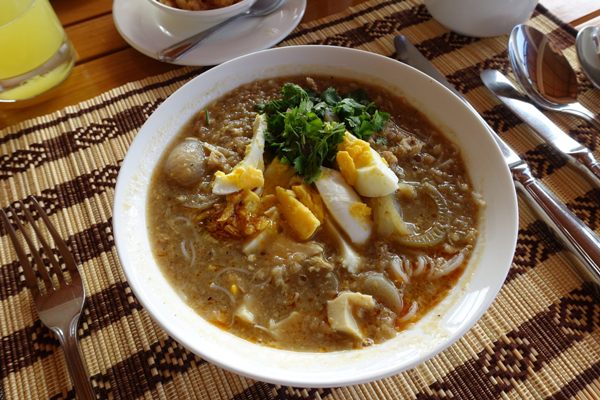 Let's start with mohinga, my first taste of Myanmar's culture. Widely considered Myanmar's national dish, mohinga can be found everywhere in Myanmar (and almost everywhere you'll find a major Myanma community overseas). Everybody eats it for breakfast, from the lowliest citizen to the highest minister of state.
The mohinga broth is made first, using the meat of a local catfish and an assortment of local spices including (but not limited to) lime, coriander, and lemongrass. The broth is then ladled over rice noodles and garnished with crispy fritters and hard-boiled egg slices.
Flexibility is mohinga's most treasured asset, being easily adaptable to local ingredients and preferences. It can be eaten any time of the day, and it comes in endless variations depending on what part of Myanmar you visit. There is one rule, though, that mohinga eaters strictly follow: one must never eat mohinga using chopsticks! (You use a soup spoon instead, or fork and spoon if that is unavailable.)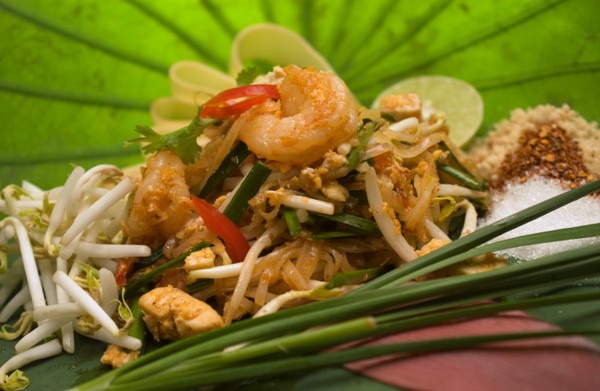 In neighboring Thailand, the stir-fried noodle dish known as Pad Thai can be found (and eaten) almost everywhere, though Bangkok locals swear by Thip Samai in the old city for the original experience. At Thip Samai and in many other places, patrons sit and eat pad Thai in the open air.
Pad Thai lacks the pedigree of many other noodle dishes in the region: it only became popular during World War II, thanks to an unstinting national campaign by the government. But what it lacks in history, it more than makes up for in taste: tamarind pulp, fish sauce, red chili, palm sugar, coriander and different meats create a flavor profile that is unmistakeably Thai the minute you pop a chopstickfull in your mouth.
For other glimpses into the local culinary scene, read about Thai food.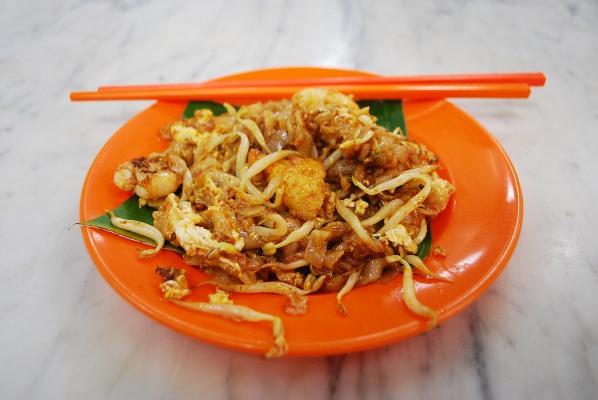 Die-hard foodies will recognize the kinship between pad Thai and a similar stir-fried noodle dish further south. In Malaysia, char kway teow is a massive street food smash, beloved by foodies in Penang.
Char kway teow is made from flat rice noodles briskly stir-fried with cockles, prawns, Chinese sausage, chives, egg and bean sprouts in a dark soy sauce. The mark of a real char kway teow is the ineffable but distinct wok hei – the slightly burnt aroma that comes from the noodles' being stir-fried over high heat in a traditional Chinese wok.
While you can get char kway teow almost anywhere in Penang, this writer swears by the stuff served by Mr. Lean Joo Sean at Kedai Kopi Sin Guat Keong at Lebuh Kimberley: using oil previously used to fry prawns, Mr. Sean creates a flavorful noodle dish that goes down well with a beer or three!
Elsewhere in the region, locals blend rice noodles and local curry concoctions to create dishes beloved by the locals. The citizens of Cambodia cherish their num banh chok noodles so much, they claim the Chinese stole the idea from them. Like mohinga, num banh chok is eaten primarily for breakfast: topped with a fish-based curry that incorporates turmeric, kaffir liime and lemongrass, then topped by the diner with green beans, mint leaves and cucumbers to taste.
In Laos, the locals make curry noodle soup with a twist: the rice is first fermented for three days before cooking and pressing into noodles. Called khao poon, this Lao breakfast favorite offers a slightly sour whiff that is then subsumed into a coconut curry broth, then topped with your choice of fresh herbs and vegetables, including Thai basil, corinder, green onions, lemongrass, and fresh lime.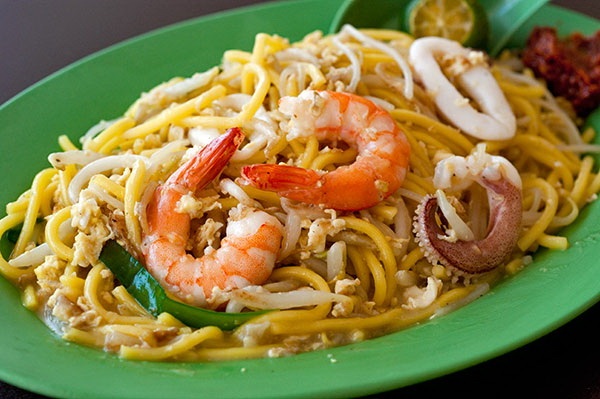 Finally, Singapore offers a variety of delicious noodle dishes befitting its reputation as a Southeast Asia food hotspot. One local favourite you should try: Fried Hokkien Mee, comprised of yellow noodles and thick 'bee hoon' (vermicelli), accompanied by juicy prawns, squid, pork belly strips, egg (and optional crunchy fried pork). The addition of sambal chilli and a squeeze of lime provides extra zest and zing.
Food scholars claim it was originally known as "Rochor mee" because it was first sold at Rochor Road. Hokkien workers from local noodle factories would gather at Rochor Road in the evenings to fry excess noodles from the factories over charcoal stoves. Yet some disagree, pointing out that Rochor Mee was a Peranakan interpretation of the dish cooked with more gravy and accompanied by sambal – a more common version these days. Hokkien mee, on the other hand, was originally fried till dry and eaten with sliced red chilli.
Today, fried Hokkien mee is a constant presence in the local food scene, found anywhere from the hawker centres in cosy heartlands all the way to downtown Orchard Road.