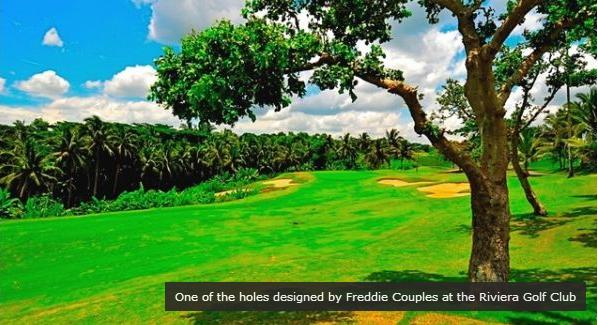 The sheer vibrancy of Manila can often be overwhelming. While long days trudging past attractions and longer nights plodding through pubs are exhilarating though exhausting experiences, the thing that tires me most is the hot sultry weather swirling through the massive capital of the Philippines.
Relief is not far away. Just 1½ hours south of the capital are the refreshingly cool surroundings of the Tagaytay Highlands, a sublime setting that's been a personal favourite for years.
Because of its 700 metre elevation and resulting cool climate, as well as its proximity to the capital, Tagaytay was touted to become an alternate summer capital to Baguio. Though the city was never given the title officially, the Manileños en mass know they can escape the heat when they head for the hills. There's an influx throughout the year, though weekends are always busier and summer months are packed.
Avid golfers are well catered to with a tantalising choice of tip top tees around Tagaytay. It's wise to check availability in advance, as well as determining if you need to be accompanied by a member. Some clubs may accommodate foreigners staying in nearby and adjoining resort hotels and opting for midweek tee offs is a wise choice. Play on weekends and holidays, if available, can often be double the price!
Blooming Beauty
It's a delight to find that the heavenly highlands offer a resort course aimed at novices or even aspiring players who don't want to be dazzled by an overly challenging layout. With nine night-lit holes spread over 3079 yards, the Royale Tagaytay Country Club (http://www.royaletagaytay.net) also appeals to hapless hopefuls who prefer a short simple game leaving ample time for other leisure pursuits like lapping the pool or trooping along countryside paths.
Take time to admire the proliferation of flowers embellishing this garden course or make time to perfect your short game – there are only two par-4s on the scorecard – in preparation to go the distance elsewhere in the highlands.
Championship Challenges
It's been claimed that on any given day at least a third of the golfers playing the 100 odd courses scattered around the Philippines are from foreign lands. Because of the proximity to Manila, however, you are likely to hear Mabuhay as a greeting from fellow players on highland courses and that includes these terrific sporting havens:
At the Riviera Golf and Country Club (http://www.rivieragolfclub-philippines.com) you have the opportunity to play the Fred Couples designed course which tops the leaderboard at 7201 yards off the gold tees or the Bernhard Langer layout which is a mere 7057 yards. Note that from June to October waterfalls accenting these all-weather courses are at their bubbling best because of the rainy season.
Arnold Palmer decided his foray in the highlands would also be an all-weather sports field. The master designer's 6704 yard Masterpiece Golf Course twirls through the well tended grounds of the Evercrest Golf Club Resort (http://www.evercrestgolfclubresort.com). Set on a scenic ridge of rolling green hills, this is a testing track with deep ravines and a few bunkers plopped in the midst of fairways.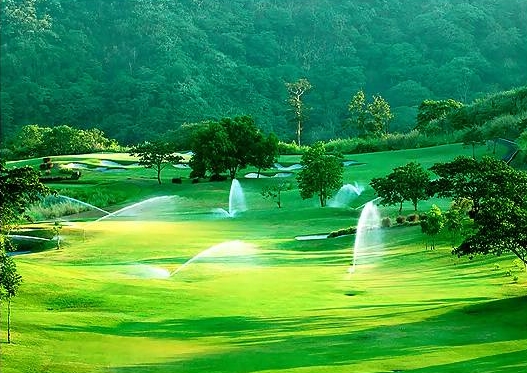 Greg Norman's Splendido Taal Golf Club
Over at the Splendido Taal Golf Club (http://www.splendidotaal.com) another top drawer designer has his name associated with a lovely leisure complex. Opening in 2002 the all-weather course blueprinted by Greg Norman is the sporting epicentre of the 250 ha. Splendido Taal Residential Golf & Country Club. The signature 2nd hole is unlikely to be forgotten as it requires a 220 yard carry over a ravine followed by a 90 degree dogleg.
Twin Treats
Without doubt my favourite treasure is the Tagaytay Highlands International Golf Club (http://www.tagaytayhighlands.com). The two outstanding and much-in-demand layouts located here are unbeatable for style and substance. The hilly 6119 yard Highlands Course was crafted through stands of forest on the outer ridge of the enormous Taal Volcano.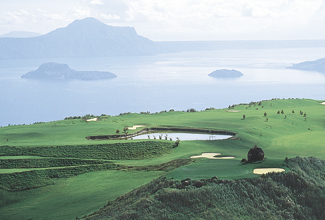 View from Tagaytay Highlands International Course
A small cable car transports players between the front and back nine holes because of the difference in elevation. This is one notable distinction; another is an elevation drop of more than 130 metres on the first few holes on the back nine.
Meanwhile, the flatter and more forgiving 7029 yard Midlands Course is actually inside the simmering volcano! A 48-seat cable car – the only one of its kind in the country – moves players between the upper Highland Course and the lower course on the crater floor.
The twin playgrounds are so popular that walk-ons are not allowed and weekend play is virtually impossible. The best bet is to purchase a golf package from a travel agent in Manila should you be tempted to traipse across three dozen terrific tees shadowed by a volcano that last erupted in 1977.
Thomas E. King is a professional golf and travel writer based in Sydney, Australia. He is the Executive Editor of Media East Pty Ltd, a 35-year established editorial agency specialising in providing features on cultural destinations and golf/spa resorts in the Asia/Pacific region.