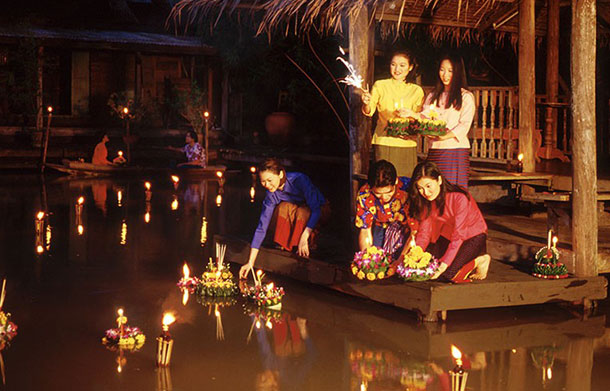 Picture it: hundreds of flickering lights floating down rivers and canals. It almost looks magical and it happens on Loi Krathong or the Festival of Lights, one of Thailand's most picturesque festivals. Held every year on the full moon of the twelfth lunar month (usually falling in November), Loi Krathong is a time when Thais pay their respect to the river spirits and send off their krathong (traditionally, a small lotus-shaped receptacle) with a lighted candle afloat down the water together with their prayers and wishes.
In Bangkok, the Chao Phraya River is the centre of Loi Krathong festivities. The historic 'River of Kings,' which remains a vital waterway for the capital, has several key piers where you can join the crowds celebrate. Past venues have included Wat Pho, Wat Arun, Wat Prayoon, Wat Kanlayanamitr, Maharaj Pier, Yodpiman Riverwalk, and Asiatique the Riverfront. You can also observe Loi Krathong around the lakes or ponds of the many public parks in Bangkok, including Lumpini Park, Chatuchak Park, and Santi Chaiprakan Park.
If you don't want to elbow your way through the swarm of festival goers, book in one of the many elegant riverfront hotels that offer Loi Krathong events packaged with a special dinner. You can also hop on a one of the boats offering a dinner cruise to see the lights on the Chao Phraya.
To fully experience Loi Krathong, there are a number of other activities held during the festival. Catch the Noppamas beauty pageants, many traditional cultural performances, and impressive fireworks display over the river.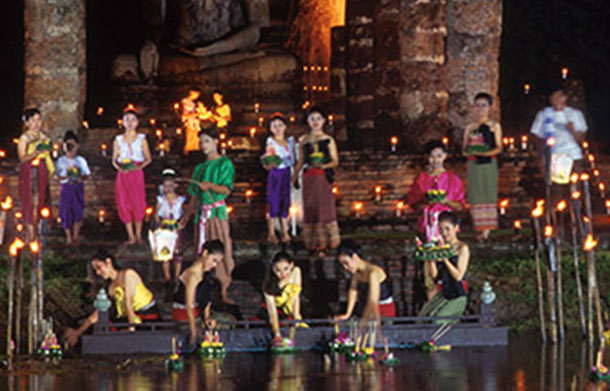 You Might Also Like…
For similar festivals that honor nearby bodies of water, visit Cambodia's River Festival; Indonesia's Lake Toba Festival; and Myanmar's Hpaung Daw Oo Festival. For other festivals in the month of November, visit Myanmar's Tazaungdaing Light Festival and Cambodia's Bon Om Touk (Water Festival).