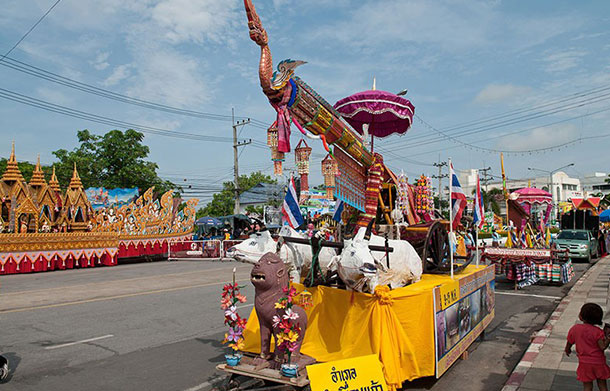 Watch rockets fly in Thailand's most explosive festival, the Bun Bangfai. This ancient tradition held in May at the end of dry season endeavours to appease the god of rain (Phaya Thaen) to bring much needed water for a good planting season. It is believed that firing a rocket up in the heavens means plenty of rain will come pouring down to the country's rice fields. And in the sleepy provincial capital of Yasothon, plenty of rockets are launched skyward.
While Bun Bangfai is celebrated across northeast Thailand, it is in Yasothon where most of the home-made rockets blast off. The festival kicks off with Raw Friday, which features all-night performances (and loud, inebriated partying on the main street) that includes the traditional mor lam sing. Saturday is parade day when the vibrant floats of decorated rockets hit the streets, while locals come out in their colourful traditional costumes to walk alongside the procession. After all, the festival is also all about fostering community spirit.
The highlight of Bun Bangfai takes place on Sunday when the rockets are shot up in the sky and compete on which one can reach the greatest height and distance. Traditionally, the rockets were made out of bamboos and filled with gun powder. These days though they come in different materials and some of the biggest ones (imagine nine metres long!) are packed with a whopping 120 kg of gunpowder! So keep a safe distance from the launch platforms, but feel free to join the ear-splitting cheers that accompany each lift off.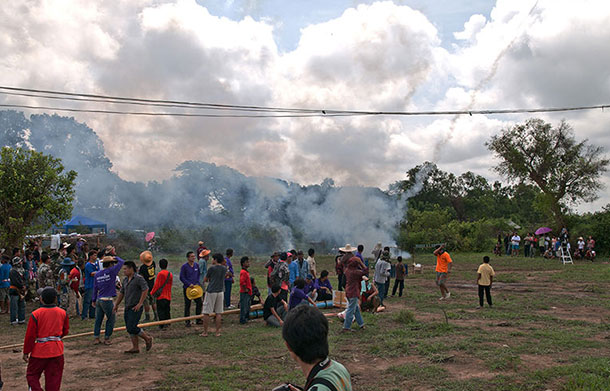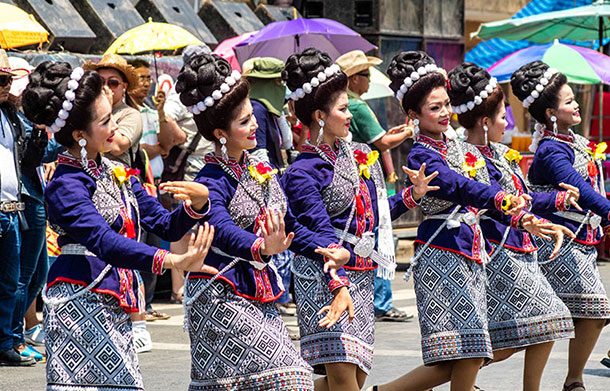 You Might Also Like…
For other upbeat cultural/religious festivals in Southeast Asia, look up Singapore's Deepavali and Hari Raya light-ups; Vietnam's Kate Festival; and the Philippines' Sinulog Festival. For other festivals in the month of May, visit the related Boun Bang Fai Festival in Laos; and Vietnam's Hoi An Lantern Festival.