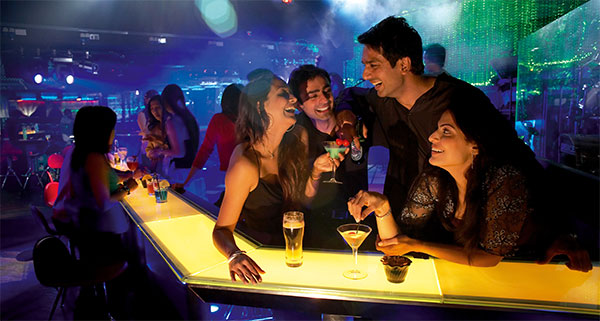 There is no shortage of restaurants, cultural performances, pubs, clubs, discos, and movie theatres to distract you of an evening in Southeast Asia, but what if you are craving live music? Yes, there's plenty of that too. Here we conduct a quick survey of some of the better live music venues open for business in ASEAN's 10 capital cities.
Brunei Darussalam: Nightlife is not Brunei Darussalam's claim to fame. Drinking laws and the lack of licensed bars and clubs in Brunei have crimped the live music scene somewhat, but alcohol and gigs aren't mutually exclusive. Some of the country's larger hotels play host to bands and performers, and Jerudong Park in the southwest showcases local talent occasionally. Source: Travel Dojo.
Phnom Penh, Cambodia: Many venues in the Cambodian capital of Phnom Penh feature live bands. The best way to find live music is through the Leng Pleng guide, which posts upcoming live gigs. Sharky Bar on Street 130 claims to be the longest running rock n' roll bar in Indochina. Equinox on Street 278 hosts live music almost every Friday and Saturday night featuring indie, reggae, dub, electronic and funk bands. The gigs are often crowded. Paddy Rice by the river has an open mic night every Thursday and features bands on the weekends. The more upscale Foreign Correspondents Club (FCC) by the river offers live music most weekends. Source: Travel Fish.
Jakarta, Indonesia: It may be surprising to some that Jakarta offers plenty in the way of live music venues; some people say it is the live music capital of ASEAN. Notable venues include: BB's, a cool three-floored venue in a side-street off Jalan Cokroaminoto in Menteng; one of Jakarta's very best live music venues with a mixture of blues, jazz, reggae and classic 1970's rock. Jamz near the Aston Hotel is a favorite live music venue among locals offering three rooms with varied musical genres. Oscars, an institution on Block M, is a two-floor pub/restaurant offering live music six days a week with different local bands each night. Zoom on the 28th Floor of Wisma Nusantara is a cozy sky-top restaurant and lounge showcasing slick local jazz acts; a favorite hangout for diplomats, westerners and jazz-loving locals. Source: Jakarta 24.
Vientiane, Lao PDR: Vientiane's music scene is still in its infancy, yet a handful of local bands usually play shows on the weekends, with a few more on weekdays. Local bands feature both Lao and foreign musicians, mostly performing covers from their respective countries to an audience of a similar demographic. Vientiane has no designated concert venue, but certain bars feature live acts. Wind West near the intersection of Khoun Boulom and Setthathirath Road attracts a local clientele to listen to Lao and Thai rock bands. Kop Chai Deu near Nam Phou is one of Vientiane's busiest restaurants and has live music most nights of the week featuring Lao bands and occasional international performances. The most popular venue for foreign families is Kongkhao on Phagna Sy, a bar and restaurant with indoor seating, a beer garden, and facilities for children. It features weekly jam sessions every Sunday afternoon. Vientiane's jazz scene is almost entirely comprised of foreign performers and audience members, mainly at I-Beam, Wine 95, and Jazzy Bricks. Source: Travel Fish.
Kuala Lumpur, Malaysia: There are a number of local and foreign bands around KL playing pop to classic rock to jazz, and a few live venues to host them. Backyard in Sri Hartamas not only provides a venue for live acts but also hosted the JamFest 2011. La Rambla in KLCC hosts great musicians throughout the week. A venue where music is the main attraction rather than a sideshow is the excellent No Black Tie. Every month, this jazz and blues institution plays host to a steady stream of local and overseas artists. Alexis Ampang is also a strong supporter of live jazz and blues. La Bodega Lounge provides an intimate, laidback venue for free live music. Laundry, Palate Palette, and The Actors Studio host regular gigs by local indie bands. Sources: Malaysia Asia, Travel Fish.
Yangon, Myanmar: Yangon's nightlife is waking up along with tourism, foreign direct investment, and the economy. ABC Country Pub on Mahabandoola Road has a resident band knocking out classic country and western songs. BME 2 on Ahlone Road draws crowds to its house music, live rock performances, and kitschy ambiance and is a frequent hangout of the expatriate community in Yangon. Mr. Guitar on Sayasan Street is one of the hippest venues in Yangon attracting both locals and tourists. Its house band is versatile with a repertoire of country, rock & roll and other genres. The Zero Zone Roof Top Beer Garden on Shwe Dagon Pagoda Road is the place to go to experience how locals unwind after dark; offering live dance performances, model shows, and a live band playing mostly Myanmar pop and disco. Source: Visit Mekong.
Manila, Philippines: Manila's music scene is dynamic, where the most exciting musical acts cram into bars and clubs the size of a thimble and blast music that's nuclear, original, unkempt, and never boring. Filipinos are born with an innate love for music, whether as performers or spectators. East Bar and Grill, Km 19, East Service Road, Parañaque City is a spacious live-music bar with top-of-the line sound system and probably the best entertainment venue in the country. The line-up of performers is eclectic and top-notch with music ranging from mainstream pop to folk to jazz to R&B to the usual indie. The Hydra at 43 Scout Ybardolaza, Timog, Quezon City is a low-ceilinged club lined with banquettes and outdoor tables, and hosts a slew of everything from heavy metal, reggae and punk, jazz and the blues, big band to fusion. The 70s Bistro, 46 Anonas Street, Project 2, Quezon City is one of the oldest live-music venues nestled in a suburban residential neighborhood. It has featured legends and plays host to veteran folk and rock bands that hold court almost daily. Saguijo, Guijo Street, San Antonio Village, Makati City is an indie band haven smack bang in the middle of Makati's glitzy yuppiedom. Be it grunge, down home, experimental or avant-garde, squeeze into this club for some top music and see independent groups appearing alongside more established artists.
Singapore: Despite its compact size, Singapore's modernity ensures a range of quality venues for live musical acts of many genres. Crazy Elephant in the Clark Quay district is one of Singapore's best known bars for live rock 'n' roll and blues music. Located on the quiet side of the Singapore River at 1 Old Parliament Lane, Timbre at The Arts House is a restaurant/bar offering live acoustic performances. Wala Wala Café Bar in Holland Village is an attractive two-storey venue featuring a different rock 'n' roll act every day of the week and sometimes stand-up comedy. The Boiler Room at St James Power Station offers great live rock, R&B, and pop with resident bands and visiting performers, including stand-up comedians. JSB (Jazz@Southbridge) at the end of Boat Quay is one of the best jazz bars in Singapore with a quality house band and frequent visiting international acts. Source: The Best Singapore.
Bangkok, Thailand: Bangkok's nightlife is famous for many reasons, and there are great places to catch quality live music in the Big Mango. Saxophone near Victory Monument built its reputation on jazz, but these days aspiring new groups or established pros play anything from jazz, blues, and reggae to ska and hard rock. Adhere the 13th Blues Bar on Samsen Road is a tiny place featuring a great blues act as well as jam sessions on weekends. Rock Pub on Phayathai Road sometimes hosts live sessions by Thailand's legendary rock outfits. Most nights you get rock and heavy metal, but sometimes the dungeon-like venue reverberates with grunge, garage, nu-metal, post-punk, and ska. Overtone Music Cave at RCA on Rama 9 Road has become a hotspot for recording artists to perform their own sets or jam with each other; rock, punk, ska, pop, jazz and more. Det 5 on Sukhumvit Soi 8 is an aspiring live music venue. Guest musicians perform occasionally and there's an open mic night every Monday. Source: CNN Travel.
Hanoi, Viet Nam: Most of Hanoi's nightlife is centered around Hoan Kiem Lake and the Old Quarter. Minh's Jazz Club on Luong Van Can is Hanoi's original jazz club; a smoky laid-back venue hosting skilled and passionate jazz artists. I-Box on Le Thai To offers good views across Hoan Kiem Lake in addition to live music. Seventeen Saloon on Tran Hung Dao is a kitschy take on a Western-style bar, complete with ten-gallon hats and a wooden Indian figurine standing guard. A quality Filipino band belts out popular standards. Several of the hotels in Hanoi have nightly performances by live bands and the CK Bar in the Meliã Hanoi is one of the better places. Sources: Go SE Asia, World Travel Guide.