Across Lao PDR are monuments, temples, and more landmarks with histories dating back thousands of years. Lao PDR is steeped in ancient history and fascinating art and culture, giving you insight into its storied past. Whether visiting the ancient Khmer temple complex of Vat Phou or strolling through the Buddha Park, you'll be awe-struck by its beauty and culture. Let's take a look at all you can see and do with some of the best art and culture activities in Lao PDR.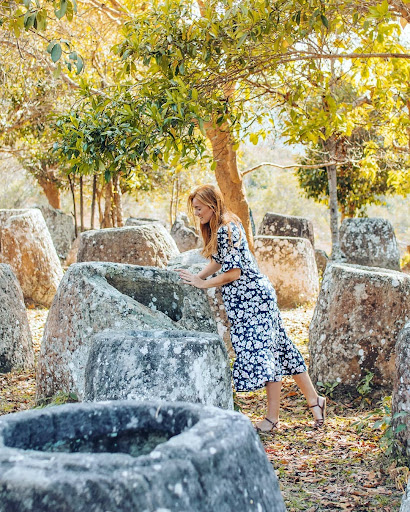 Plain of Jars
Believed to date back 1,500 to 2,000 years, the large stone jars across Xieng Khouang plain have become one with nature. Scattered throughout the valleys and foothills of the Xieng Khouang Plateau is the Plain of Jars, a collection of thousands of stone jars arranged in clusters. These mysterious creations are theorized to have once contained everything from food to human remains.
Laotian legend says the jars were created by an ancient king of giants, Khun Cheung, who lived in the highlands after fighting a long, victorious battle. He created the jars to brew large amounts of lao lao rice wine. Explore these jars as you make your way through the Lao Highlands.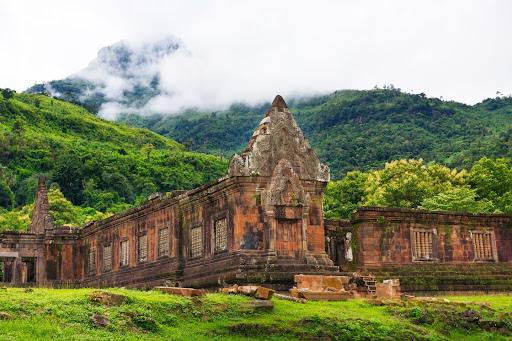 Vat Phou
Vat Phou is truly a sight to behold with detailed structures of temple pillars, reservoirs, lintels, pediments, and palaces. This ancient Khmer temple complex is a UNESCO World Heritage Site built between the 5th and 15th centuries. To this day, Buddhist religious ceremonies still occur within Vat Phou's main sanctuary. The temple was originally dedicated to Shiva, the God of the Hindu Trimurti. It was later converted into a Buddhist monastery and is still a place of worship for the locals.
Royal Palace Museum
Once Lao PDR's Royal Palace, the Royal Palace Museum in Luang Prabang is filled with culture that gives visitors an exciting look into the history of Lao PDR. Once home to King Sisavang Vong during the French colonial era, official visitors to Luang Prabang would disembark from their river voyages directly below the palace and be received there. Inside, you'll find paintings of the Lao monarchy, exquisite murals of the traditional Lao lifestyle, the royal family's living quarters, and more.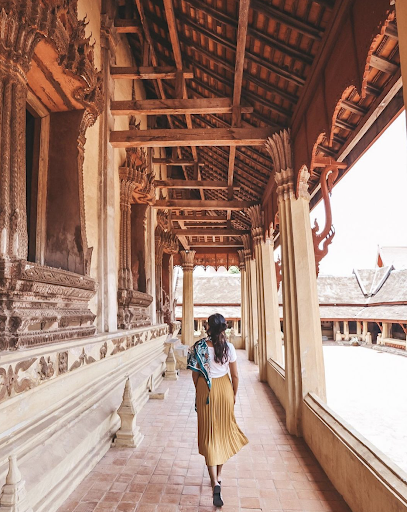 Wat Si Saket
With a history dating back to 1818, Wat Si Saket in Vientiane features over 10,000 Buddha sculptures varying in size and style. The temple is the only surviving temple from the Siamese occupation.
Visitors can admire its 5-tiered roof, trim tower, small library, floral ceiling, and 7,000 images made from wood, stone, and bronze. Fun fact: many of the statues were sculpted between the 16th and 18th centuries.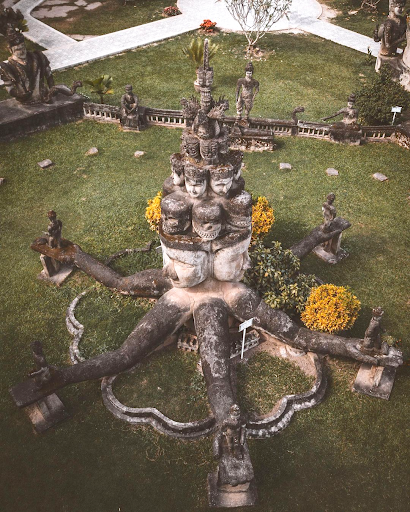 Buddha Park
In 1958, a monk named Luang Pu Bunleua Sulilat built a large park with more than 200 religious statues and a giant 40-meter-long reclining Buddha. In Buddha Park, Lao PDR, you'll find impressive statues of Buddha images and Hindu gods and demons. The most prominent organized religion in Laos PDR is Theravada Buddhism. There are nearly 5,000 temples that serve as the center of the community in rural areas. Most Buddhist men spend a portion of their lives as monks in temples.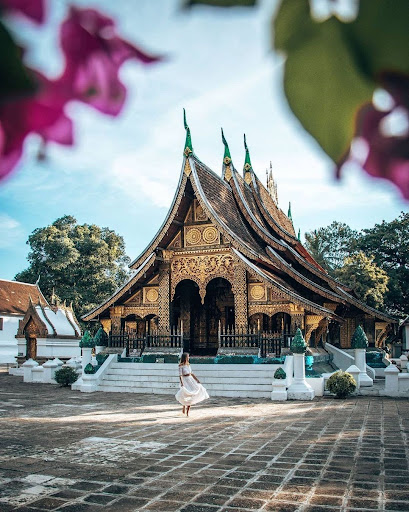 Wat Xieng Thong
As one of the largest temples in Luang Prabang, Wat Xieng Thong has characteristics representative of 16th-century Lao architecture. Its elaborate mosaic patterns and wall carvings draw visitors in with rare Buddhist deities and a 12-meter-tall funeral carriage. In the Red Chapel of the temple is a rare reclining black Buddha coming from the reign of King Setthathirat.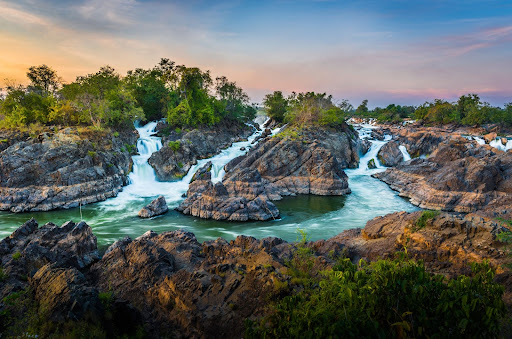 Si Phan Don
Laotian for "Four Thousand Islands," Si Phan Don stretches 50 kilometers along the Mekong River. This scenic river reaches 14 kilometers during the rainy season, which is the widest of the Mekong along its length. Along the river are lush waterfalls and tranquil nature where you can hire a boat to float and admire its natural beauty. Residents of Si Phan Don grow their sugar cane and rice. During the French colonial era, the islands were the primary link for supplies between Vietnam and Lao PDR.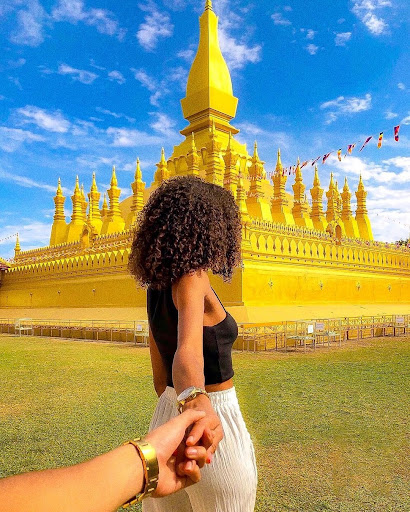 Pha That Luang
The cultural wonder of Pha That Luang was built in the shape of a grand pyramid with a vast gold-covered Buddhist stupa 69 meters long and 45 meters high. Thousands of pounds worth of gold leaf adorn the stupa, offering a brilliant sight to behold.
The best time to visit Pha That Luang is during the That Luang Festival in November. The festival occurs during the full moon, and residents of Lao PDR join in celebrating the occasion. The procession begins at Wat Si Muang and starts towards Pha That Luang, where a religious ceremony occurs. People carry incense or candles and circle the temple three times in honor of Buddha.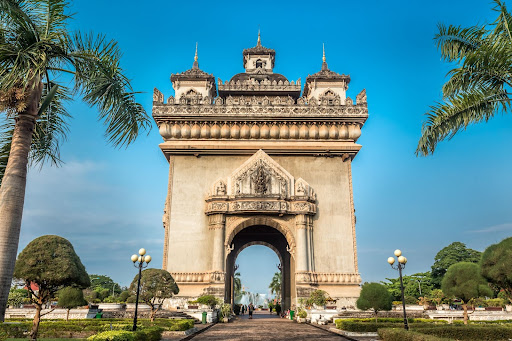 Patuxai Victory Monument
At the end of one of Lao PDR's capital's most significant avenues is an enormous arch known as Patuxai or Victory Monument, dedicated to the Lao PDR people killed fighting to gain independence from France. Symbolizing the resilience and independence of Lao PDR, many come to the monument to appreciate one of Lao PDR's most influential cultures and traditions. On the monument's exterior are stupa-shaped towers and lotus leaves, statues of nagas, and animist kinnari. Inside are intricate paintings of gods, goddesses, and elephants.
There is still much more to see and do in Lao PDR for you to discover. Uncover each hidden corner in this beautiful country to learn more about Lao PDR's history!