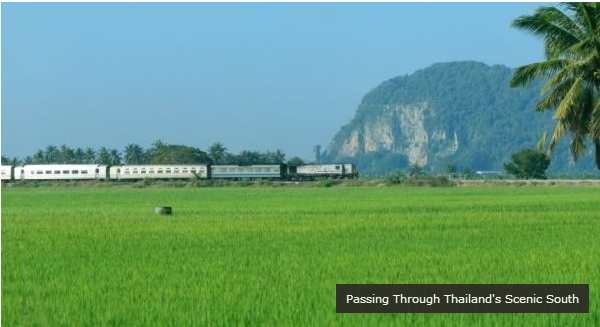 As the 19th century turned 20, Southeast Asia climbed onboard the steam locomotive revolution to transport people and freight throughout the region.
By the 1920s, teak carriages clattered along tracks stretching from Singapore to northern Thailand's Chiang Mai, but the line never reached its ultimate goal…Chiang Rai, the Mekong River and Laos.
Early passengers – royalty, British colonials, trade tycoons and the leisure class – required the level of comfort and service received while sipping gin and tonics on the Singapore Cricket Club's veranda or staying at The Oriental in Bangkok.
Private day rooms transformed into cozy berths with beds covered by fine linens. Dining cars delivered five-star cuisine, the salon carriage served afternoon tea, cigar smoke filled the bar car, and rattan chairs on observation decks offered unrivalled views.
For the elite, a rail trip from Singapore into Malaysia and Thailand simply extended their social setting. The train was a "place" for making acquaintances, engaging in conversation, attending social functions or simply reading books.
Rail vs Road
The ASEAN Highway currently connects Singapore to the Mekong near Chiang Rai, and the future completion of the bridge to Houay Xai in Laos will continue the route to Beijing.
This may mean little to air travelers, but for those with time, a relaxing ride along Southeast Asia's rails presents a distinct experience not offered by road.
Busses seem like slow and are often uncomfortable, and while autos provide freedom, they are confining and require costly fuel and accommodation stops. Un-cramped train carriages find carefree riders moving around, exchanging travel tales with new acquaintances and meeting locals, who can offer insight unavailable in guidebooks.
Malaysian and Thai trains carry dining and/or lounge cars. Staff deliver menus and meals, and patrol the aisles and berths with snacks and drinks throughout the trip.
Essentially, trains offer relaxing strolls up and down Southeast Asia's spine, and the tracks mostly follow the original routes first surveyed in the 1880s, presenting passengers with the same varying terrain seen by travelers from yesteryear.
A Historic Ride
Tin mining brought trains to Malaysia in 1885, and by 1903, Singapore's rails reached Woodlands, where ferries carried passengers to Johor Bahru and a blossoming rail system that extended to Hat Yai, Thailand in 1913.
By 1918, the tracks linked to Bangkok and Chiang Mai, and in 1923 the Johor Straits Causeway directly connected the network to Singapore. Today's terminus, Singapore's monolithic Tanjong Pagar, opened in 1932, with its marble reliefs and barrel-vault roof.

The seven-hour day-run to Kuala Lumpur reveals Johor State's rubber-production role. With the 19th-century introduction of post-like trees, plantations sprouted endless, perfect rows that hypnotize window watchers, with only an occasional Hindu temple to break their trance.
The landscape shifts to forested mountains and grazing buffaloes in Negeri Sembilan State, before the cosmopolitan capital teases passengers with the 21st century. But, Stesen Sentral, Kuala Lumpur's majestic station, pulls them back to the past.
The ongoing eight-hour run through Perak to Penang's Butterworth Station continues past mountains, pausing at Ipoh's colonial-style station that reflects the city's one-time status as a prominent tin-trading hub.
The daily 20-plus-hour Butterworth-Bangkok Express brings sleeping into the equation, though afternoon departures from either end present similar daytime scenes.
The three-hour trundle to the Pedang Besar border checkpoint presents endless paddies of growing green or harvest gold rice. Hat Yai brings dinner calls, before porters reconfigure first-class compartments and second-class booths into sleeping berths.
The railway follows the peninsula's east coast through Thailand's Islamic south before squeezing past Myanmar to Hua Hin and the Royal Summer Palace. Dawn delivers the train to Petchaburi, the 1903 terminus of the original Southern Line, before pulling into Bangkok's refurbished 100-year-old Hua Lamphong station.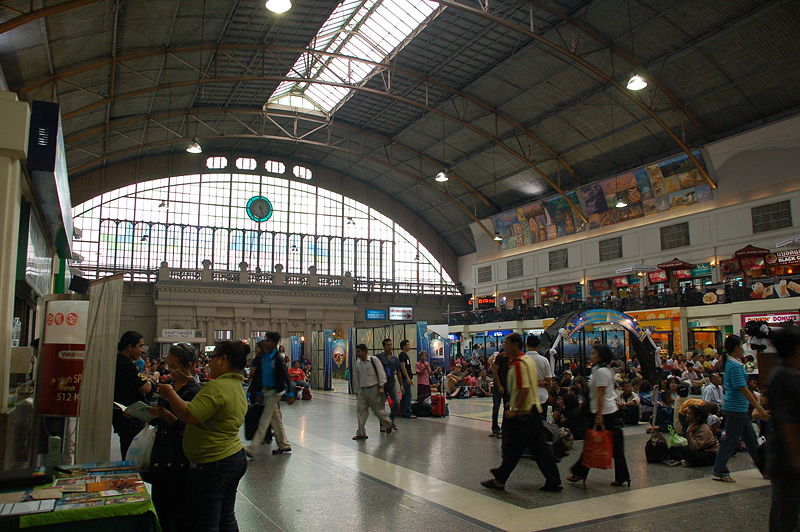 Bangkok's Hua Lamphong Station
Thailand's first rail venture in 1893 ran from central Bangkok towards the Chao Phraya River Delta. By 1900, the Northeastern Line, marked for Nong Khai and today's bridge to Vientiane, reached Korat, while the Northern Line, destined for Chiang Mai, spanned 170 km, past the ancient capital of Ayutthaya, to Lopburi, home of the famed monkeys of the Pra Prang Sam Yot temple.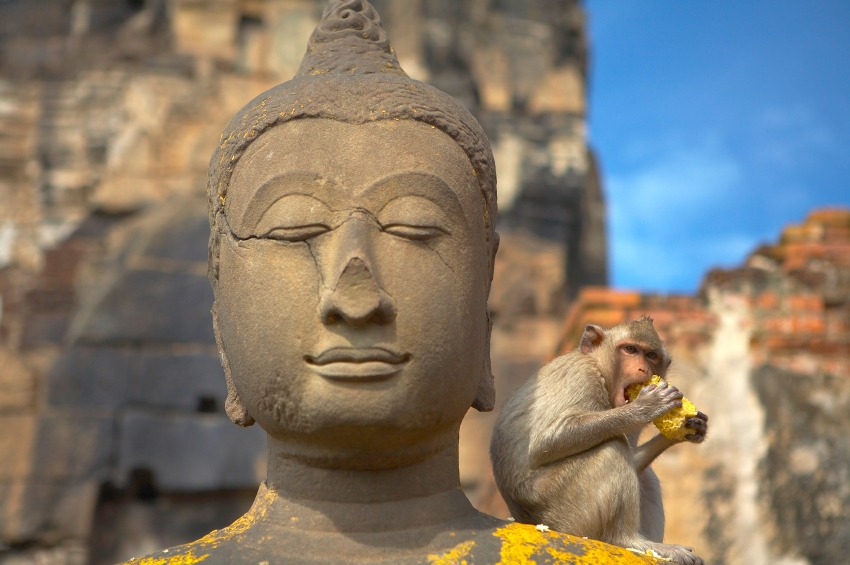 Once of the many macaques of Pra Prang Sam Yot Temple
Two daily overnight Special Expresses join a few daytime runs tackling the 12-15 hour Bangkok-Chiang Mai journey. The tracks roll over rivers and past rice fields, Buddhist temples and rural schools before reaching the winding mountain route from Phrae to Chiang Mai, the ancient Lanna Kingdom capital once accessed only by elephant or foot.
For more information on fares and timetables:
Malayan Railway Administration (KTM Berhad): www.ktmb.com.my
State Railway of Thailand (SRT): www.railway.co.th/english
Eastern & Oriental Express (E&O): www.orient-express.com/web/eoe/eastern_and_oriental_express
Vientiane-based Bernie Rosenbloom writes for TTG Asia, PATA Compass, and EcotourismLaos.com; and he co-authored The Responsible Tourism Guide to Cambodia, Laos and Vietnam.