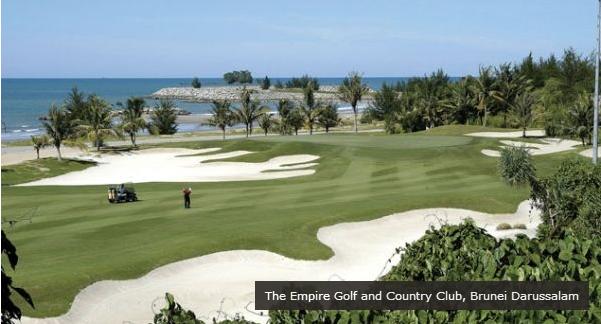 If there was ever any doubt about selecting Brunei Darussalam for a sophisticated golfing holiday it disappears upon landing when you see lengthy swatches of green alongside the runway at the international airport. Even if you are only transiting through this affluent and tranquil Southeast Asian nation you'll probably still be able to squeeze in 9 holes at the Royal Brunei Airlines Golf Club (www.rbagc.com.bn). If you've come for quality time then all of the intricacies of the country's first 18-hole public golf course will be gloriously revealed during a leisurely round or two.
Long before it opened, several decades ago, course architect Max Wexler was brought in to ensure that style and substance would be swirled through an expanse that's flat as a pancake. Even though the course was created primarily for local players not familiar with the complexity of signature layouts, the designer didn't compromise. In addition to adding four massive ball-drowning lakes to the 6266 metre course he introduced dozens of ball-catching hazards around landing areas and greens.
Secluded Jewel
Spread over 1123 metres between a stylish clubhouse and a beach washed by tepid waves, the Garden Golf Course at the Royal Brunei Polo and Riding Club (Jerudong Park Polo Club tel 673 2 611 582) is a hidden gem. Though it's a par-3 layout I found this floral enhanced field to be immaculately well kept with greens-keepers at work throughout the day.
Walk-ins are allowed but telephone in advance to ensure clubs are available. (Visitors without them are infrequent.) That inconvenience is compensated for by the cost. Officially the fee for 9 or 18 holes is B$10 but staff advised me that if the course is not busy the charge covers play from 8 AM to 7 PM!
The pocket pleasing payment was but one of many pleasant discoveries I made in the sovereign Sultanate of Brunei where the world's largest residential palace and the planet's biggest water village are also located. The country's distinctive appeals aren't limited to these twin stand-out attractions but I think they're are the best.
Brunei is unique for many reasons including the fact that it's a geographically divided nation, only one of a few in the world. Wedged between the Malaysian states of Sarawak and Sabah and north of the Indonesian province of Kalimantan on Borneo Island, the wellbeing of the nation's 400,000 subjects are looked after by the Sultan of Brunei, one of the world's 10 richest men.
Regal Rounds
The Royal Brunei Golf & Country Club used to be the exclusive domain for the current and 29th Sultan, His Majesty Haji Hassanal Bolkiah with 'A'-list celebrities and other dignitaries regularly attempting to break par on his 6175 metre course. In recent years, however, the idyllic playground described by American designer, Ronald Fream as the "Augusta National of Asia" has also welcomed mere mortals.
There are a few points to consider if you want to play this privileged plot. This is a buggy only course and advance bookings are mandatory. Even then tee times are not always guaranteed. Should persistence be your byword you'll savour one of Asia's most exclusive courses characterised by fairways fringed with jungle foliage, mighty ravines, numerous 'do or die' water shots and an air of royalty.
The Golden Touch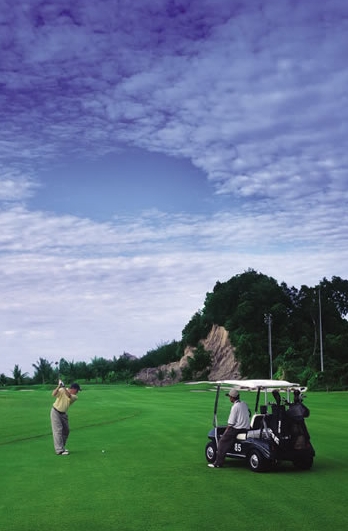 The visual and physical excitement continues on the sultanate's newest playfield, the 18-hole challenge at The Empire Hotel & Country Club. Designer Jack Nicklaus probably thought he was designing a course in heaven when he saw a jungle-cradled and seaside-cuddled tract. With pristine rainforest sheltering birds of all colours and splendid scenes of the South China Sea, the master craftsman knew that the par 71, 6427 metre course would be a jewel in the jungle. And he was right.
First coming to global attention during the inaugural Brunei Open in 2005, this exceptional course is available to all players from high handicappers to hard hitters. Regardless of skill, every golfer is daunted by the 6th which requires a 190 metre carry over a ravine to a constricted fairway.
The difficulty of this hole contrasts with the beauty of the wind-washed 15th where I could have lingered all day. The signature hole has a sandy bunker stretching down the entire left flank of the fairway – actually it's an extension of the beach – and a rocky outcrop looming behind the green. It's a most memorable hole at The Empire Hotel & Country Club, a superlative sanctuary that has done much to raise the profile of the sport in Brunei Darussalam … or should that be the Sultanate of Swing?
Thomas E. King is a professional golf and travel writer based in Sydney, Australia. He is the Executive Editor of Media East Pty Ltd, a 35 year established editorial agency specialising in supplying features on cultural destinations and golf/spa resorts in the Asia/Pacific region to publications around the world.