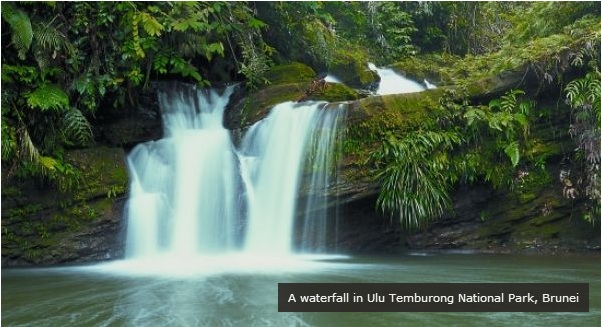 Brunei is rightly proud of its conservation efforts, most recently joining the Heart of Borneo initiative which is acting to save one-third of Borneo's rainforests where endangered species such as the orang-utan, pygmy elephant and clouded leopard can be found. More than 70% of Brunei's land area is covered by primary rainforests, and the country continues to take great strides to protect them. Some 32,000 hectares are conserved as forest reserves while another 50,000 hectares are designated as national parks.
The distinct advantage we hold in Brunei is that our natural attractions are all located within easy reach of the capital city Bandar Seri Begawan, so it is incredibly easy to take some time out to enjoy what nature has to offer. In this issue, BiG suggests a few ideas for walking on the wild (and not so wild!) side.
1.Visit the Ulu Temburong National Park
The longboat ride down the winding jungle river, surrounded on both sides by the pristine rainforest, is as much of an adventure as the destination itself. The national park is unlikely to be teeming with tourists so you will be able to appreciate having this untouched paradise all to yourself to explore at your own pace. Spend a night at the Ulu Ulu Resort and listen to the tinkle of the river as you nap in the afternoon in between nature walks. Remember to look out for the "kamikaze" bats that always seem to aim for you as they fly about at night. For the more adventurous, go rafting in the river or follow your guide into the rainforest and trek towards the various waterfalls.
2.Dive along the coasts of Brunei
The sheltered waters of Brunei Bay as well as the coastal reefs of Brunei are amongst the best preserved in the region and possess a number of excellent dive sites. You will find pristine coral reefs that are untouched and home to a great variety of stunningly beautiful marine life. In particular, Brunei is especially famous for its wreck dives, including some World War II and post war vessels which are also extremely photogenic. For a more esoteric experience, you can choose to dive amongst oil production platforms and decommissioned oil rig jackets!
3.Go on the Brunei River Night Safari
Mangroves are plentiful and unspoiled in Brunei. You see them lining the Brunei River and its various tributaries. They house abundant forms of plant and animal life unique to Borneo. You will experience the animals in their natural habitat as they remain totally free to roam around. The night safari begins before dawn and takes you along the river's many offshoots. Seek out the infamous pot bellied proboscis monkey, or nasalis larvatus. Be enthralled by the millions of fireflies as they flicker away and if you are feeling brave, look for the crocodiles.
4.Sail in Brunei
Dream Charter offers a range of experiences ranging from short two hour sunset cruises to a 2D 1N adventure with a pit stop in neighbouring Malaysia. You will travel on the Petina, a 25 year old yacht originally built in Denmark and which sailed around the world before ending up in the waters of Brunei. If you prefer a bespoke experience, the Dream Charter team will happily sit down with you and tailor a package to suit your requirements.
5.Go fishing at the Mangrove Paradise Resort
The recently opened fishing "pond" at the Mangrove Paradise Resort is run by Hooks & Catch, a local Bruneian company. Open until midnight on all days of the week, this represents a very accessible option for trying out what is becoming a very popular past-time amongst Bruneians, young and old. The site is bordered by mangrove swamps and the Brunei River and as result, is quiet and picturesque, ideal for relaxing whilst waiting for your catch to bite. When BiG visited on a Saturday afternoon, we spoke to two groups of fishing enthusiasts who had arrived mid morning and expected to be there right up to closing time! Fishing equipment is available for rent and the friendly staff are more than happy to show the less experienced customers what to do. If lady luck is on your side, you will be bringing your dinner home for grilling on the barbecue.
6.Relax on the shores of Pantai Seri Kenangan (also known as Tutong Beach)
Half a mile on from the turning into Tutong Town, you will find a beautifully unspoiled yet well maintained beach with shade, tables and a sand pitch for beasal, also known as beach football. The sparkling blue waters are safe for swimming although you should keep an eye open for jellyfish. Marvel at your own ability in not stepping on the miniature crabs scrambling across the smooth warm sand. The beautiful shorelines of Tutong Beach are always a good bet if you are seeking a few hours of solitude from the hustle and bustle of city life. On the other hand, paragliding and sand buggies are available during weekends should you seek a tad more excitement.
This article by CP Lim was provided by BiG Magazine (Borneo Insider's Guide)