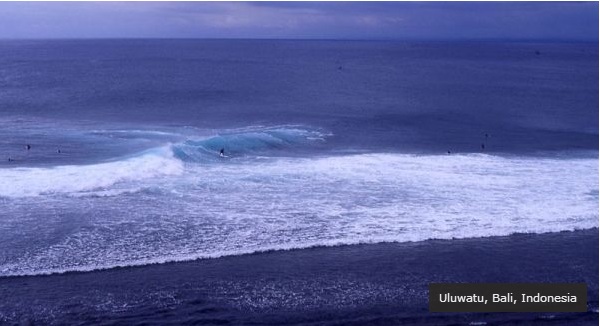 No matter where your trip through Southeast Asia takes you, it is possible to be surfing somewhere within hours of arrival. Needless to say, for any serious surfer, visiting Southeast Asia is a must.
Along with the world famous wave magnets of Indonesia, the Philippines and Papua New Guinea are the lesser known surfing jewels of Thailand, Vietnam, Malaysia, and Myanmar. While not globally renowned for their surf, these countries can get some great waves and the friendly locals will make even the most seasoned surfers stoked. Swells in the region generally coincide with the monsoon season between April and September and Thailand in particular boasts over 60 individual surf breaks. The waves travel across the Indian Ocean and water temperatures reach a tropical 28 degrees Centigrade (82 degrees Fahrenheit), so no rubber (wetsuit) is required. Most waves follow several days of intense wind, but can glass off and reach 1 – 2 meters in size making for fun and challenging conditions for beginners and experts.
In Thailand, Phuket has the reputation for having the best and most consistent surf, but other places are now being discovered and travellers should not be discouraged from exploring the Thai mainland – both the east and west – in search of waves. While still fun for experts, the waves in Thailand are great for beginners. Add this to the cheap accommodations and friendly locals and you've got a fantastic destination for a maiden surf trip. One traveller says "The best breaks are Kalim Reef (right-hander) and Karon Beach which is best surfed close to high tide. I remember reading an article in a magazine a few years ago which mentioned the biggest waves along Thailand's west coast can be found at an Island called Koh Kradan. It's situated down near Trang and it sits out in deep water."
To the west of Thailand lies Myanmar which has surf, but has rarely been documented. Surf stories have made it out of Myanmar and by all accounts, the surf is good, though largely un-explored. If you can get a visa, Myanmar could provide some epic surf adventures.
"You can either surf, or you can fight!" Surfing in Vietnam was immortalised by Francis Ford Coppola in his 1979 film Apocalypse Now. The most well known break in Vietnam is China Beach. This is a left hand beach break, breaking over sand and located near Da Nang (this beach actually spans all the way to Hoi An). China Beach has a row of little seafood restaurants along the beach at the end of the road. Each of the restaurants have outdoor decks that overlook the surf providing a great viewing platform, however surf in Vietnam is fickle, so you'll have to time it well to see some good waves. Well worth a look at China Beach is Hoas place which rents longboards and offers some basic accommodation.
In the massively wave rich archipelago of Indonesia waves can be found year round. The most popular time for surf travel in this region is between April and October – which is 'big wave season' and can bring both exciting and dangerous waves for everyone. Because of the size and diversity of the country and culture, a surfer could travel Indonesia for years and still not surf every wave. The more well known destinations include Bali, Sumatra, Java and the Mentawaii Islands, but new waves are constantly being discovered and Samba, Sumbawa and Timor are now on the global surf map.
As one of the premier surf destinations in the world, surf safaris in Indonesia can offer a mix of the most remote deserted waves to the crowded bustle of Kuta beach in the heart of Bali. For accessibility you can't beat Bali and with the amazing shopping on offer in Denpasar it offers more of a resort style holiday and has something for everyone. From Bali it is easy to get to anywhere in Indonesia, so many surfers choose to start or end their trip here. Bali is also a great place to experience your first 'boat trip' on a traditional Indonesian Jukung outrigger (local fishing boat). These leave Bali for a whirlwind trip of Nusa Lembongen, Lombok and Sumbawa and arrive back within two weeks.
A description of some of the waves experienced on this popular trip are described on the 'Captain Coconut' website:
Desert Point: A long walled and incredibly hollow left hander that on its day can break up to 300 meters, growing in size from takeoff to end. Best between 3-8 ft.
Scar Reef: A long walled left peak where you drive into several backdoor sections all offering tube rides to write home about. Best between 2-10 ft.
Super Sucks: Has been called the longest most intense tube ever ridden. Breaking over a live coral reef, this wave reels faultlessly for 150 meters. Get pitted from takeoff to exit. No top turns here when it's on! Best between 3-6 ft
Yo-Yo's: Catches any swell. It consists of two rights, one a wedge peak breaking off a cliff face, the other a long walled right reef in the middle of the bay, usually surfed when everywhere else is small. Best between 2-6 ft.
While booties, light rubber and helmets are recommended for these reef breaks, on their day any of these waves are perfect for a beginner with the right attitude.
Sitting slightly to the north of Indonesia, the best time to surf the Philippines is from November to March (when the rains are passing through Indonesia). Comprised of thousands of individual islands, travel in the Philippines can be difficult and slow. Planes and boats are the easiest way to travel, so allow lots of time between destinations. Swells the Philippines can also take a while to arrive so be patient and ride out the flat spells. The easiest accessible surf is in the south, with Cloud 9, a former destination on the surfing pro tour it's still a prime destination.
In 1993 Ean Johnston left London for greener pastures and found himself hooked on board sports, spending a decade pursuing waves and good snow. A freelance journalist, he now resides in wave rich New South Wales with his wife and two daughters.