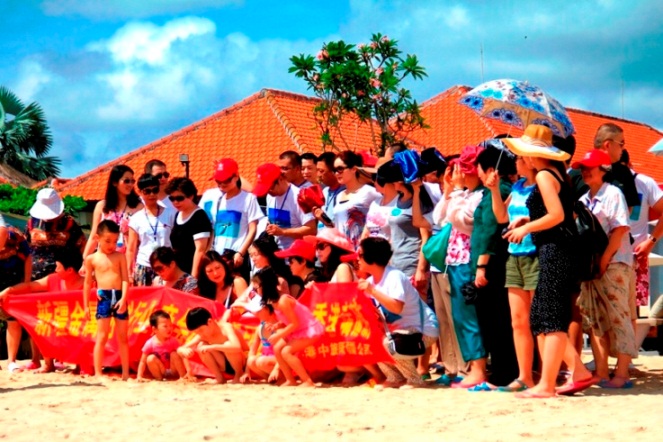 The number of tourist arrivals to Indonesia in 2013 hit record high at 8.8 million for the entire year, an upsurge of 9.4% compared to 2012. Whereas, total foreign currency receipts from tourism reached US$ 10.1 billion, up 10% compared to the previous year, confirmed final figures issued by Indonesia's National Statistics Bureau.
These figures exceed the 8.6 million foreign arrivals target set earlier by the Ministry of Tourism and Creative Economy.
December 2013 was also a bumper month when 860,000 visitors came to visit Indonesian destinations, a rise of 12.22% compared to the same month in 2012.
The highest increase for the year was at the Lombok International Airport, rising 204% year on year, but the record number of tourists still entered through Bali, registering a total 3,241,899 arrivals. Second highest was at Jakarta's Soekarno-Hatta International Airport with a total 2,240,502 visitors, followed by Batam with 1,336,430 foreign arrivals.
Other high increases were also felt in the number of tourists flying direct to Bandung, which has become a favorite haunt for Singaporeans and Malaysians, attracted by Bandung's mountain scenery and climate, its shopping and culinary offerings, reports Kompas daily.
Domestic tourists also increased, having made a total of 248 million trips during 2013, up 1.2% compared to the 245 million trips in 2012.
Tourism and Creative Economy Minister, Mari Pangestu explained the surge in arrivals to Indonesia to the continued healthy growth of tourists from Asia, in particular from China, whose increase topped 20 percent, as well as from the Middle East, especially from Saudi Arabia.
Improved infrastructure built by the government, the opening of new airports in Lombok and Medan, and expansion of airports have also contributed to increased arrivals. Additionally, domestic LCC airlines have greatly increased their fleet and connected destinations, not only flying direct from major cities but also from secondary cities to more far flung tourist destinations, thus improving connectivity and adding to distribution of domestic and international tourists. Another source of increase in visitors was caused by MICE activities, including the staging of the APEC and WTO Conferences in Bali, as well as the Miss World Pageant.