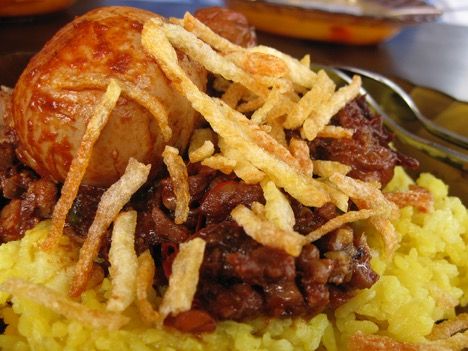 Ready for a taste of ASEAN?
Today, we'll be starting a new blog series, dedicated to the cuisine of Southeast Asia. ASEAN is a hotbed of historical culture and civilization that has traveled across countries and continents to become adopted and loved worldwide. However, on this adventure, we're taking you right to the source.
Today, you'll begin the journey into the most flavorful nooks and crannies of cultures in ASEAN, walking straight through the doors of local kitchens to learn about the culinary traditions of Southeast Asia. Hopefully, by the end of this adventure, your taste buds will have faced a tantalizing tease encouraging you to explore the authentic dishes of each country for yourself. You've got to eat while on vacation, so why not eat something new and delicious each day?
So, how about it? Let's explore these ten amazing countries and our select favorites from thousands of their incredible dishes! First stop: Indonesia!
Indonesian Cuisine
Indonesia is a nation made up of thousands of jungle-covered volcanic islands. The cuisine is marked by abundant local island produce and the deep spices that made Southeast Asia famous along ancient trading routes. If you've ever wanted to eat from the freshest of sources, you'll find ASEAN as one of the most authentic places to achieve it.
As a majority Muslim nation, Indonesian cuisine offers many dishes considered halal, or within the limits of Islamic eating rules. That said, pork is still an island favorite and can be found throughout the country in all forms, from babi guling roasted suckling pig to rousong sweetened floss. Indonesia has everything.
Indonesian cuisine will surprise your palate with a variety of textures and bright flavors. Let's take a look at two regional dishes that show up on tables across the country.
Nasi Kuning
Nasi kuning means 'yellow rice' in Bahasa Indonesia. The dish is a heap of fragrant kunyit turmeric rice served with sides like boiled eggs, pork floss, ayam goreng fried chicken, rice noodles, crisp tempeh, and bright red sambal pureed chile sauce.
This type of rice is traditional for special occasions due to its bright golden color and the richness from the santen coconut milk. To this day, Indonesian cooks grind fresh turmeric root by mortar and pestle to create the bright goldenrod spice mixture for the rice.
Indonesians typically serve it in tumpen, a ceremonial pyramid form surrounded by toppings. Today, visitors to Bali can find nasi kuning at roadside carts, packaged nicely for takeaway in a clean banana leaf.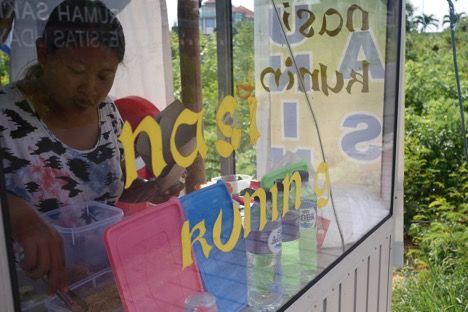 An appealing mix of supple rice, soft egg, and crunchy textures, this is a full meal for any time of day. Try it on your summer vacations in Bali or make your own using a recipe from Marvellina, an Indonesian home cook and author of Southeast Asian food blog What To Cook Today.

Gado-Gado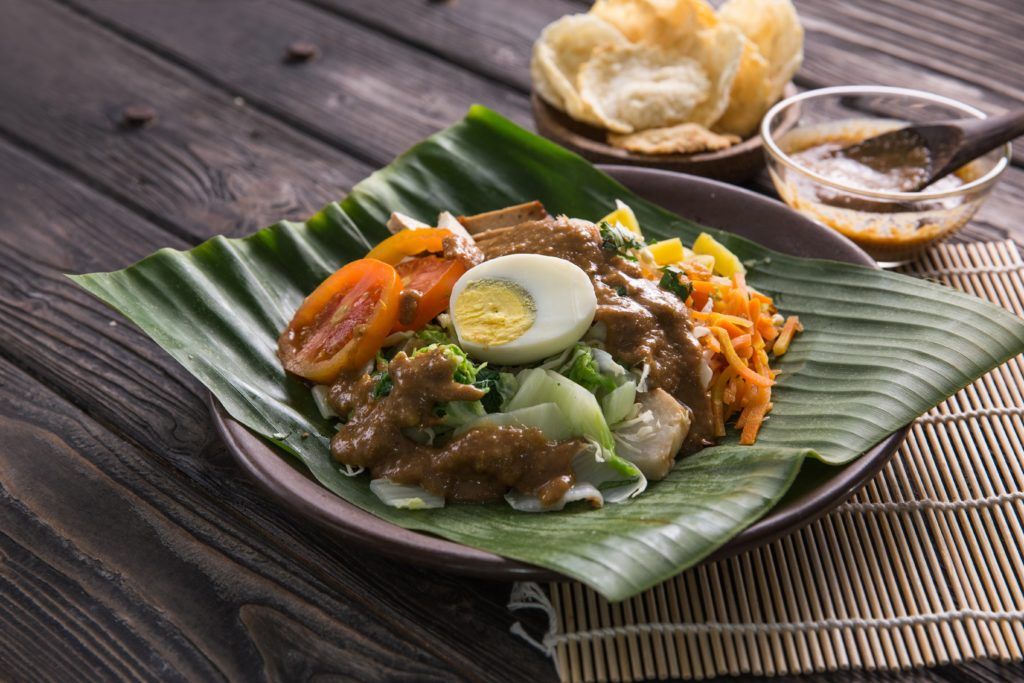 This uniquely Indonesian dish is a hearty way to eat your vegetables. Also known as lotek in Javanese and Sundanese, gado-gado is a variety of blanched corn, squash, bean sprouts, potatoes, cabbage, and other 'mix-mix' items draped in a rich, creamy peanut or cashew butter sauce.
Other mix-ins include tofu, compressed rice, or tempeh, Indonesia's fermented soybean cakes. Typically, the dish is typically served vegetarian.
Hearty enough for a healthy main dish or served alongside ayam pelalah, chicken curry is one dish you can eat every single day. Alternatively, to other styles of curry, the recipe here can satisfy a craving for bright, fresh flavors that sets in after a few too many heavy curries. If you are traveling to ASEAN with a vegetarian friend, you'll find the curry itself to become a quick favorite on the table during every meal.
Popular as a street food snack and on the menu at local restaurants, you can find gado-gado all over Bali and Java islands, with a concentration in Jakarta. Mark Wiens, author of Indonesian Food: 50 of the Best Dishes You Should Eat, recommends a food stall outside of Jakarta's Citywalk Sudirman Mall, where the stall owner Andy whips up fresh peanut sauce for each order.
The array of luxurious spices and toppings of Bali's nasi kuning and the rich yet fresh flavors of Jakarta's gado-gado are a good introduction to the Indonesian style of eating. However, as a whole, cuisine from all corners of the country as well-known as hearty, punchy, and flavorful, thanks to the expressive bevy of toppings, additions, and sauces.
In the end, the countries cuisine reflects the styles and colors of lush landscape and colorful culture that it exists within. If you're looking forward to Indonesia's sights, you'll simply revel in the taste it also provides.