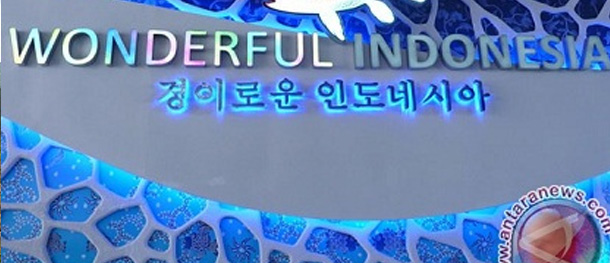 Bureau Exposition Internationale des Expositions (BIE) presented its top Cosmos Award to the "Wonderful Indonesia" Pavilion at the Yeosu Expo in Korea, chosen from among 10 countries nominated in this huge international exhibition.
The Award was received by Secretary General of the Ministry for the Seas and Fisheries, Gellwynn Jusuf, at the closing of the Yeosu Expo on Sunday 12 August. Nominees were chosen based on best displays closest to the Yeosu Expo theme: "The Living Ocean and Coast Diversity of Resources and Sustainable Activities".
Indonesia's "Wonderful Indonesia" Pavilion, which carried the theme "Sustaining Tropical Diversity" matched the Expo's main message in its display as well as its implementation, explained Gelwynn Jusuf. Indonesia was awarded the Cosmos appreciation based on the basic message for the need to conserve the oceans.
The prize won was 20,000 Euros to be handed to the Institute of Pulau Banyak in south-east Aceh.
Indonesia displayed the country's rich diversity that embraces a people with 500 different cultures, speaking 730 different local languages, yet one national language, united in this diversity. Continued Jusuf.
Geographically, Indonesia separates the Indian Ocean from the Pacific Ocean forming a Ring of Fire in the Pacific. Indonesia also possesses the richest ocean biodiversity in the world.
The Pavilion displayed how the country valued the management of the country's tropical biodiversity through the conservation of its oceanic and coastal ecosystems, while continuing to value customs and traditions of coastal communities, and how they live and interact with their environment.
The Ministry has identified these areas as Ocean Conservation Zones, both through government regulations as well as through customs and traditions, which form an essential part for the sustanaible development of the seas and coastal areas.
The Pavilion also displayed Indonesia's history related to the seas and coasts from ages past until today, said Gellwynn Jusuf.
The Cosmos Award has given Indonesia a boost in this global Expo to further push the paradigm on the Blue Economy initated by Indonesia to become the basic concept for the development of archipelagic countries dependent on the sea.
UN Ocean Compact Initiative
On the same day, also at Yeosu, South Korea , UN Secretary General Ban Ki-moon announced a UN initiative to protect oceans from pollution and over-fishing and to combat rising sea levels which threaten hundreds of millions of people, reported Antara News/AFP. Called the Oceans Compact, it sets out a strategic vision for the UN system to work more effectively to tackle the "precarious state" of the world`s seas.
"Our oceans are heating and expanding," he said in a speech to a conference marking the 30th anniversary of the opening for signature of the UN Convention on the Law of the Sea.
"We risk irrevocable changes in processes that we barely comprehend, such as the great currents that affect weather patterns.
"Ocean acidification (from absorbed carbon emissions) is eating into the very basis of our ocean life; and sea level rise threatens to re-draw the global map at the expense of hundreds of millions of the world`s most vulnerable people."
(Source: Antara News)
Photo Credit: antaranews.com