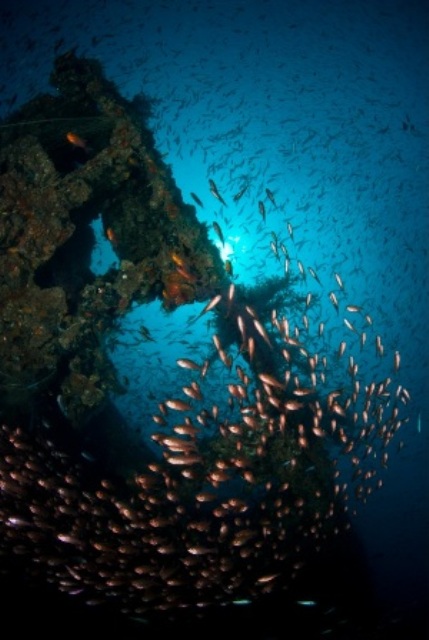 Image courtesy of Brunei Tourism
Brunei's waters may not get plenty of diving traffic, but so much the worse for the majority of diving enthusiasts. The territorial waters off Bandar Seri Begawan comprise about 4,500 hectares of some of the most pristine coral reefs in the Coral Triangle, with a series of wrecks lying less than a dozen or so metres from the surface.
The reefs are easily accessible from Bandar Seri Begawan, and can be quite surprising in their richness – hammerhead sharks swim through the colorful corals, with seafans and anemones providing safe havens for countless groupers, barracuda, jacks and the occasional whale shark.
Several man-made structures – four shipwrecks and a number of disused oil rigs – have been completely taken over by the local marine life, providing several days' worth of fun for both beginner and experienced divers. Even divers with their open-water certificates are permitted to visit the upper areas of some wrecks (the top of "Cement Wreck", a sunken freight ship, lies only 9m below the ocean surface). Advanced Open Water certificate holders can feel free to explore the wrecks in more detail.
Bandar Seri Begawan is an easy flight from most aviation hubs in the region, and most diving spots are an easy ten minutes' cruise away from the capital. Time your visit for the dry season between March and October, where the seas are calmer and the waters less likely to be cloudy from runoff.
Expect a balmy water temperature of about 25 to 28 degrees Celsius all year round, with a visibility between 20 and 30 metres in the dry season.