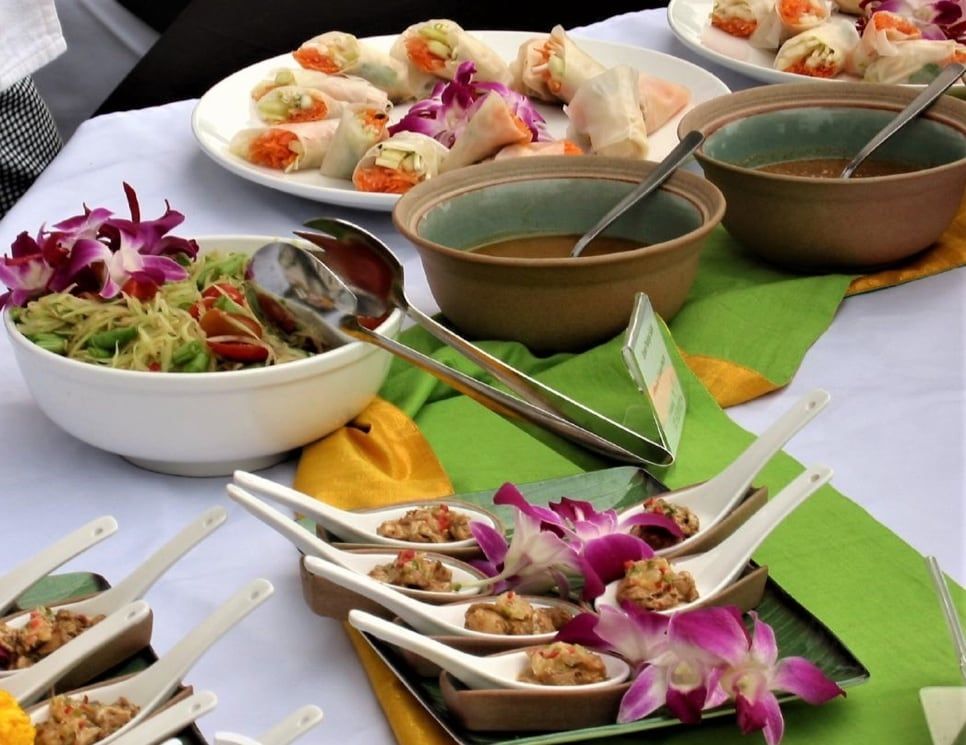 Welcome to the fourth culinary feature in our Taste of ASEAN food series. So far, we've embarked on a fascinating food tour of Indonesia, Philippines, and Brunei in search of all the best local cuisines. The vast varieties of flavors really got our appetites going. And, the Southeast Asian food adventure doesn't stop there.
Join us as we explore the traditional dishes of Singapore to give you a rundown of all the must-try foods. We tell you where to go, what to eat and give you the chance to try these recipes at home. As one of Southeast Asia's top dining destinations, Singapore is on every foodie's travel hit-list. Will it make it onto yours?
Singaporean Cuisine
Singapore is a small, island city-state that sits just off the southern tip of the Malay Peninsula. Often celebrated for its thriving economy, Singapore boasts a diverse melting pot of Chinese, Malay, Indian, Peranakan, Eurasian and other cultures with strong western influences. This incredible fusion of ethnic communities makes the food in Singapore, the topic of many conversations. Food holds an important place in local culture, with Singaporeans often asking "have you eaten" as a form of greeting. Food debates are a frequent occurrence, as locals discuss what, where and when to eat.
You'll find a variety of authentic local dishes at most of the hawker centers in Singapore, such as Hainanese chicken rice, char kway teow (stir-fried flat rice noodles), satay, laksa (spice and coconut milk noodle soup) and chili crab (stir-fried crab with sweet yet savoury, and slightly spicy sauce).
Singaporean Restaurant – Founder Bak Kut Teh
Local favorite, Founder Bak Kut Teh, named in honor of its signature dish, is an easy find when you get to Singapore, as they have five locations in total. Well-known by Singaporeans, the restaurant has been serving their tasty bak kut teh (peppery pork-rib soup), for over 40 years.
Founder's creator – Chua Chwee Whatt, set out on a mission to create quality food using only the freshest and meatiest pork ribs, stewed in a complex broth of herbs and spices. This technique has been perfected over many years of serving the same recipe, resulting in an exceptionally inviting meal.
Singaporean Recipe: Bak Kut Teh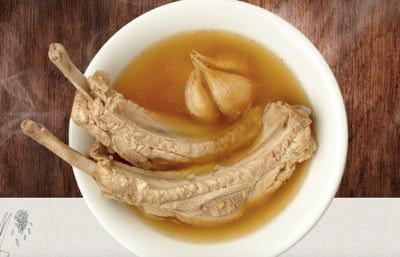 Bah Kut Teh literally means "meat bone tea" in the Southern Chinese Hokkien dialect. The pork rib broth, is a popular meal in Singapore, where there are large groups of Hokkien, Teochew and Cantonese communities, originating from China. It's easy to see the appeal of this wonderfully aromatic soup, which is conveniently served as a one pot dish.
This adapted recipe from Tasting Table includes easy-to-source ingredients to make a simple version of bak kut teh at home.
Combine water with black and white pepper, garlic powder, cinnamon, garlic cloves and soy sauce in a pan and bring to a boil, add the pork ribs and cook until tender. The result is a delicious bak kut teh, that's ready to be enjoyed with cooked white rice. Serve up hot and savor the incredible flavors.
Singaporean Restaurant – Labyrinth
If you like to mix things up from the usual hawker stalls and restaurants – one Michelin star restaurant Labyrinth is the place to go. Located in the heart of Singapore city – Esplanade Mall, Labyrinth serves beautifully presented food, blending traditional and modern Singapore flavors and produce.
Singaporean native and owner – Chef LG Han, demonstrates a deep love for his heritage using age-old recipes, some of which are passed down through his family. Food is sourced from local farmers and fisheries, giving the menu a distinctly authentic feel.
You can enjoy a range of Singaporean dishes from Labyrinth's menu, including nasi lemak (fragrant rice dish), fish maw soup and Labyrinth's version of the much-loved Singapore staple – rojak. Their take on rojak includes delicious edible garden herbs, natural stingless bee honey & cempedak sorbet.
Singaporean Recipe: Rojak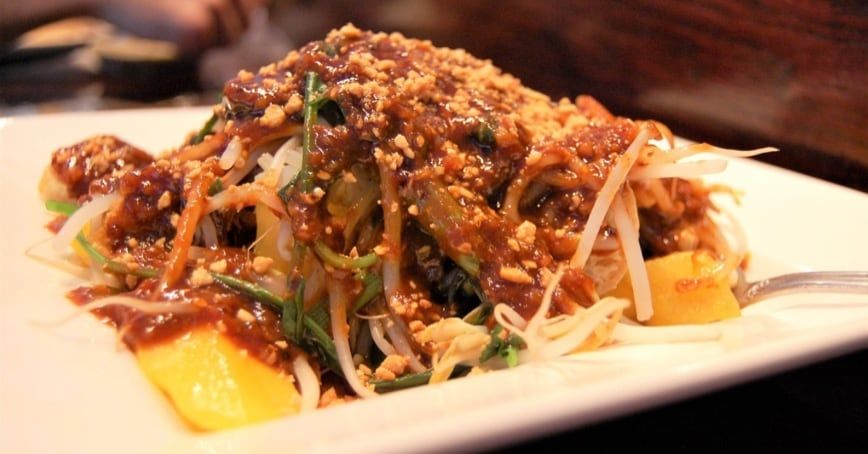 Rojak, meaning "mixture" in Malay, combines a lively combination of fruits, vegetables, dough fritters and additional spices to produce an immensely flavorsome salad. The ingredients used in rojak reflects the diverse cultures that reside in Singapore. There are many different types of rojak and cultural variations.
In the meantime, give this tangy rojak recipe from The Kitchen, a go at home. It's made with fried tofu and combines cucumber, apple, jicama, pineapple, and peanuts in a large bowl. The dressing is made with tamarind, vinegar, sugar, sambal, salt and added to the bowl. Mix all the ingredients with the cooled tofu and serve up. Garnish with peanuts and you're ready to dive into this Singaporean favorite!
Singaporean Restaurant – Long Beach
A popular seafood restaurant would be Long Beach at Dempsey, which earned its reputation for creating the wildly popular – black pepper crab recipe.
Long Beach started out over 60 years ago, serving local food to locals. It was the first seafood restaurant of its kind to serve a variety of different seafood at its venue, and word got out quickly. This long-standing establishment also serves lobster, sashimi and the popular Singapore chili crab.
Long Beach's signature black pepper crab continues to gather high praise from locals and international visitors. The Long Beach version deep-fries the crab with rich pepper seasonings – producing an iconic dish that has been recreated thousands of times, all over the world.
Singaporean Recipe: Black Pepper Crab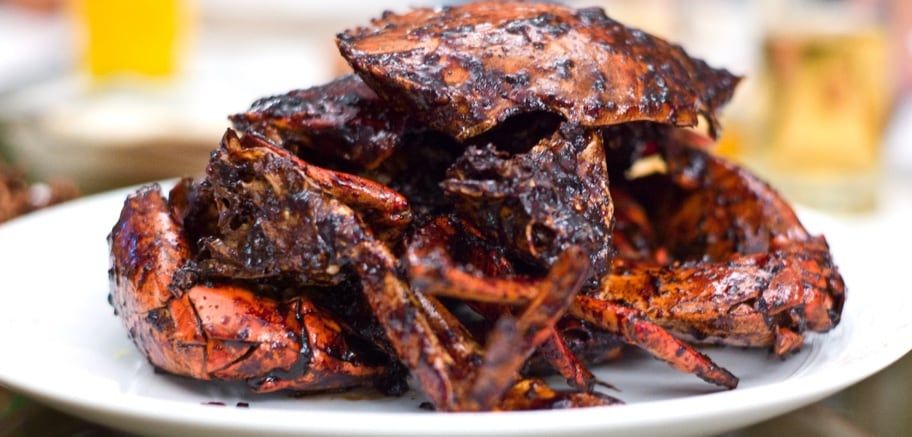 You'll find two popular crab recipes in Singapore, namely chili crab, and black pepper crab. The black pepper recipe uses hard-shell crabs to fry with black pepper. It's cooked to produce a dry consistency, in contrast to chili crab which is cooked in sauce.
Blogger – What To Cook Today, provides this step-by-step recipe on how to make black pepper crabs at home. Dungeness crabs are fried in a hot wok with butter, shallots, garlic, spring onions, and white and black pepper. To enhance its deliciously rich flavor, seasonings – soy sauce, sugar, and salt are added. When cooked, garnish with spring onions and serve immediately. This dish will impress and may tempt you to try the authentic dish in Singapore.
We've enjoyed taking you on a tour of Singapore's delightful culinary offerings, thanks for joining us! Did our roundup persuade you to add Singapore to your travel hit-list? We look forward to seeing you in our next food adventure, as we take a dive into the vibrant list of food in Malaysia.