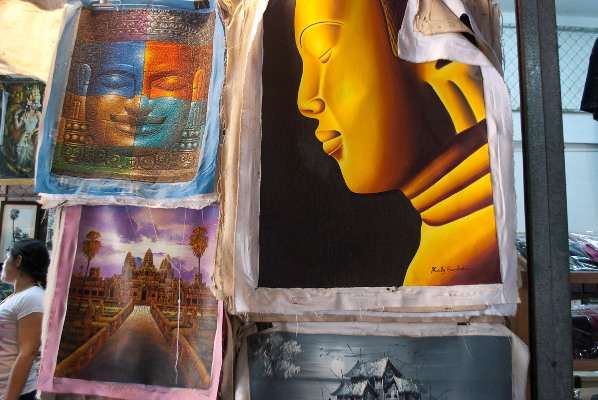 The arts of Southeast Asia are intimately tied with the local religion and culture. Each country draws from the region's abundant natural riches – gold, precious metals, natural pigments and clay – to create cultural treasures without compare. While some cultures share some artistic ties based on their common religious roots, each country's art is uniquely its own.
Cambodia has a long tradition of artisans, dating back to the height of the Khmer Empire under Jayavarman II in the 800s AD. Not even the political turmoil of the 1970s could extinguish Cambodia's community of artists, who now do brisk business in Phnom Penh, Siem Reap and Battambang.
In the present day, Cambodian artists and artisans produce work that is deeply rooted in traditional Khmer culture, but touched by outside influences as well. Casual art collectors and tourists can find plenty of affordable examples of Khmer art in Psah Chas (Old Market) and the Night Market.
Serious collectors, though, head to Battambang. This city has long been Cambodia's centre for arts and culture, and is presently undergoing an art renaissance with dozens of art galleries covering styles from traditional to avant-garde.
Thailand's capital Bangkok is a hotbed for contemporary Southeast Asian art. Without leaving the city, you'll find a wealth of art galleries, artisan shops and museums, ranging from the National Gallery's collection of traditional and modern Thai art; the artists' community at Thonburi's Khlong Bang Luang near the Bang Luang Market on the banks of the Chao Phraya River; and an assemblage of antique art galleries along Charoen Krung Road.
You'll also find a number of artisans' villages hidden along Bangkok's scruffier areas – visit to see centuries-old techniques kept alive by dedicated artisans. Baan Bat, for one, is famous for producing the alms bowls used by Buddhist monks; Baan Krua is home to Bangkok's best silk weavers; and Baan Bu produces magnificent bronze bowls and other metalworks worth taking home.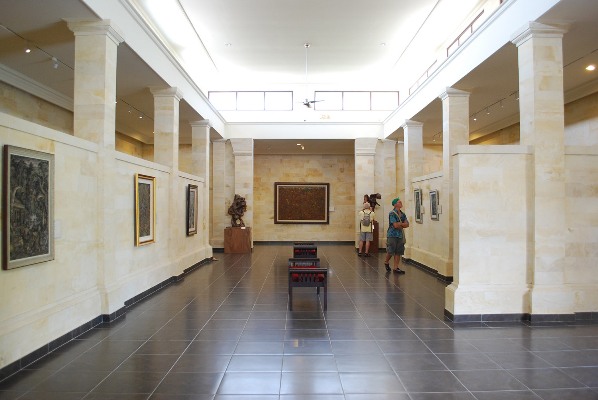 Indonesia. The Balinese town of Ubud is synonymous with art. The hereditary lords of Ubud have, over generations, extended their patronage to Bali's artists and artisans. Their livelihoods secure, the artists repaid the lords' generosity with a flowering of expression through sculpture, painting and dance.
Today, many of Ubud's arts can be found concentrated where Jalan Monkey Forest connects with Ubud Main Road; at this intersection stands the Royal Palace, where traditional Balinese dance performances take place in the evenings; and the Art Market, where tourists go to find affordable artwork to bring home.
You need not walk far from this intersection to find Ubud's more upscale museums and art galleries, which sell high-end artwork for discerning collectors. Start with a look at Ubud's rich art history: visit the Museum Puri Lukisan on the Main Road with its magnificent collection of Ubud modern art.
Singapore places its art out where the public can see them. Visitors can walk along suggested "art trails" in the Civic District, Orchard Road and Marina Bay, where examples of modern art stand in public view, created by some of the world's most renowned artists (Fernando Botero and Roy Lichtenstein ring a bell?).
The island-state's art galleries and museums also show collections worthy of a nation that invests in its culture as much as it does on its industry. Prominent galleries include the ArtScience Museum next to the Marina Bay Sands; the Singapore Art Museum and its collection of contemporary Singaporean art; the Singapore Pinacothéque de Paris, which showcases international fine art and offers a unique voice in the history and culture of the region's visual arts landscape; and the National Art Gallery, opening in late 2015 and soon to be Singapore's largest museum bar none.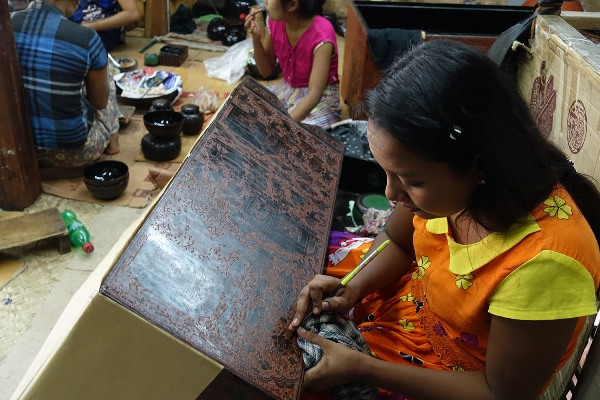 Myanmar calls its traditional arts the nation's "Ten Flowers", the ultimate expression of Myanmar's tradition and culture. Artifacts from these ten disciplines can be found in any city, particularly among the temples that dot the countryside: bronzeworks, goldsmiths, ironworks, stone sculpture, lacquerware and stucco decorate stupas and temples everywhere you look.
The workshops for all these crafts are generally located far from tourists' prying eyes, with the exception of lacquerware. Visit Myinkapar Village near Bagan and you'll find lacquerware shops side by side along the road, each selling traditional lacquer bowls, plates and boxes of exceedingly high quality. Most of the better shops are glad to show you how their wares are made on the spot.