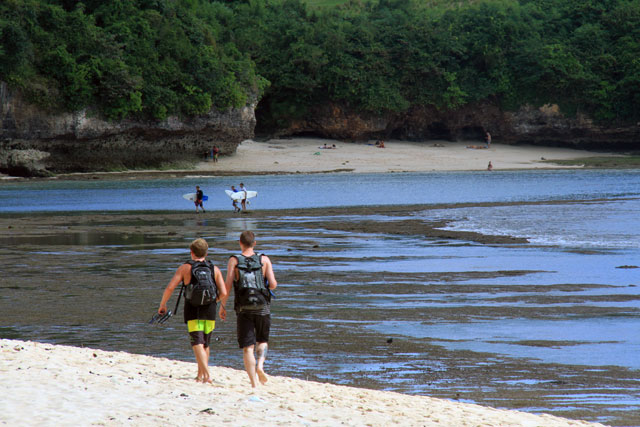 Those planning to travel to the fabled island of Bali towards the end of March, please note that the entire island will come to a complete standstill for the Balinese New Year of Nyepi which this year falls on Monday, 31st March 2014. To allow all to follow the prescribed rituals, all traffic all over Bali will come to a complete halt. No planes will be allowed to land or take off for 24 hours. All shops are closed and no one is allowed on the beach or on the streets.
Governor of Bali, Made Mangku Pastika, has sent an official announcement letter to four related ministries (Ministry of Transportation, Ministry of Foreign Affair, Ministry of Domestic Affair, and Ministry of Communication) regarding the temporary closure of Ngurah Rai International Airport on the respected day. "The letter has been sent early (dated 30th December 2013) with the expectation that it can be distributed to all related parties, both nationally and the international world" said the Head of the Public Relations Bureau of the Provincial Government of Bali, I Ketut Teneng on Denpasar, Tuesday 25th February as reported by bisniswisata.co.
With the announcement, it is expected that both domestic and international airlines will not schedule flights during that day. However, although this is a public holiday for the whole of Indonesia, outside the island of Bali, all air, land and sea traffic as well as other activities continue as normal.
Nyepi is the ritual of the Hindus of Bali to welcome the New Year based on the traditional Saka Calendar. For, contrary to other cultures that celebrate New Year with vivacious festivities, the pinnacle of Balinese New Year is a day of complete Silence. Hence the name Nyepi, meaning "to keep silent" in the local language, which falls on the day following the dark moon of the spring equinox. Nyepi is a day fully dedicated to connect oneself more closely with God (Hyang Widi Wasa) through prayers and at the same time as a day of self introspection to decide on values, such as humanity, love, patience, kindness, and others, that should be kept forever.
As a day reserved for self-reflection anything that may interfere with that purpose is strictly prohibited. Nyepi mandates a day of absolute quiet, based on the four precepts of Catur Brata:
Amati Geni: Prohibiting the lighting of fires, the use of lighting or satisfying pleasurable human appetites.
Amati Karya: Prohibiting all forms of physical work other than those dedicated to spiritual cleansing and renewal.
Amati Lelungan: Prohibiting movement or travel; requiring people to stay within their homes.
Amati Lelangunan: Prohibiting all forms of entertainment, recreations or general merrymaking.
The sudden silence comes after the eve of noisy festivities on the beaches of Kuta, Sanur, Nusa Dua, Seminyak and others with parades of giant puppets called "ogoh-ogoh" accompanied by clanging gongs and other percussion instruments. At the end of the festival the ogoh-ogoh are torched and are totally engulfed in flames.
Although Nyepi is primarily a Hindu holiday, non-Hindu residents of Bali observe the day of silence as well, out of respect for their fellow citizens. Even tourists are not exempt; although free to do as they wish inside their hotels, no one is allowed on the beaches or streets, and the airport remains closed for the entire day. The only exceptions granted are for emergency vehicles carrying those with life-threatening conditions and women about to give birth. There will be local watchmen known as pecalang to ascertain that this rule is obeyed. At night, all lights will have to be turned off. Hotels will close all curtains that no ray of light shines to the outside. All sound and music indoors should be held to its lowest volume.
Photo Courtesy ANTARA/M Agung Rajasa