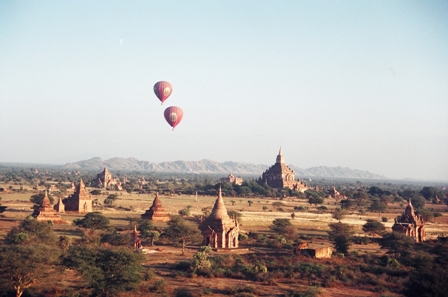 Myanmar Bagan Balloon
Hot air balloons are taking to the clouds over Southeast Asia, with a growing list of operators offering sky-bound tours and countries presenting ballooning events. Tourists can float over Myanmar's temples, Viet Nam's Nha Trang historic city, and four distinct areas of Thailand. Balloons take passengers over Cambodia's famed Angkor Wat, Laos' mountainous Vang Vieng, and Malaysia's Kenyir area's roof tops and higher into the skies. Indonesian weather is perfect for flights, or for those preferring to stay on the ground can visit The Philippines annual Balloon Festival.
Brunei Darussalam: Hot air balloons have yet to soar over the skies of Brunei.
Cambodia: For those seeking a new vantage point of Angkor Wat, try a hot air balloon ride over the UNESCO World Heritage site in a hot air balloon. Not only do you avoid the packs of tourists inspecting the ruins, but you'll get a 200-meter-high view of the temple complex and get a rare perspective on the massive size of the ancient Khmer capital. Source: Southeast Asia Travel
Indonesia: Indonesia presents exciting hot air ballooning experiences, from soaring over Sentul near Jakarta with Awan Balloons, to an annual event that attracts dozens of flashy hot air balloons and professional pilots from around the world, to mass marriages soaring above the skies. High altitude buffs can embark on the VIP balloon ride, which can reach heights of up to five kilometers, depending on the winds. As with many hot air balloon rides, soaring among the clouds takes place in the early morning and evening due to temperatures, and Indonesia offers some of the best conditions in Southeast Asia. As one pilot said, "The world's hot air balloon community considers the weather in Indonesia to be the most suitable for hot air ballooning." Source: The Jakarta Globe
Laos: With Vang Vieng continuing to grow into a safer adventure destination with an incredible landscape, hot air ballooning was bound to take off, and now hosts Laos' only balloon rides, which pride themselves on safety and professionalism that meet international standards. The 40-minute "Balloons over Vang Vieng" flights take the sky-bound high above the area's limestone karsts, the Nam Song River and the town, while providing great photo opportunities you'll find no place else. Source: Balloons over Vang Vieng
Malaysia: Malaysia is becoming known for its annual Festival Kenyir, during which the skies are filled with colorful hot air balloons over Southeast Asia's largest man-made lake, covering more than 340 islands. For those wishing to take to the clouds, Balloon Adventure offers impressive adventures that monitors metrological information to pinpoint the exact starting and landing times days in advance so passengers on tight schedules feel confident when making a booking. Rides heights range from gliding just over rooftops to climbing 3,000 meters, and special attention is paid to low speeds to guarantee a pleasant flight. Source: Hot Air Balloons in Malaysia
Myanmar: Balloons over Bagan has dominated Myanmar's skies for well over a decade and continues coming up with new options that meet the highest standards. The Premium Balloon Flight features eight-12 passenger baskets with individual compartments for couples to receive a more intimate and luxurious experience. The pilots provide interactive guided tours and a special parting gift for a lasting memory. The Classic Balloon Flight launches from areas surrounded by ancient temples after tea, coffee, refreshments and safety briefing. Gentle winds of around 30 kph give passengers a perfect view of the temples as you glide by, and after a soft landing, guests are greeted with fruit, pastries and a glass or two of celebratory champagne. Source: Eastern Safaris
Philippines: Every year the Philippines hosts the Balloon Fiesta, which offers flights to interested aviation buffs, though on a first-come-first-serve basis, though children must be at least 10 years of age to ride. Held at the Omni Aviation Complex, inside Clark Special Economic Zone in Pampanga, the event aims to train pilots to boost ballooning for visiting tourists. Source: Philippines Balloon Festival
Singapore: Singapore Ducktours once operated the DHL balloon, owned by the international freight carrier, but as the country grew, takeoff and landing areas disappeared, and the activity has yet to restart. Source: Wikipedia
Thailand: Balloon Adventure Thailand takes people to the skies in four areas of Thailand: Chiang Mai, Pattaya, Khao Yai, and Hua Hin. Chiang Mai flights take off from the Horizon Village and Resort's airfield about 10 km from town. Flying times and landing-takeoff may vary, depending on directions from the weather bureau and Chiang Mai International Airport tower. Pattaya air ventures operate from November to February, with a flight that lifts off at 06:45 Hrs and lands at 08:30 Hrs, while those wishing to soar over Khao Yai National Park need to contact the Kirimaya Resort. Hua Hin flights can reach some 3,000 meters and operate from December to March, with the hour and 15-minute flight over fantastic scenery takes off at 07.00 Hrs after coffee or tea served by the crew. Upon landing, guests dine on a breakfast served with fruit juice and coffee, or tea, followed by a champagne celebration before receiving a flight certificate signed by the pilot.
In December of every year, the Thailand International Balloon Festival is also being held. The event gathers around 300,000 spectators to witness a colorful showcase of hot air balloons from all over the world. For more information, visit www.thailandballoonfestival.com. Source: Balloon Adventure Thailand
www.thailandballoonfestival.com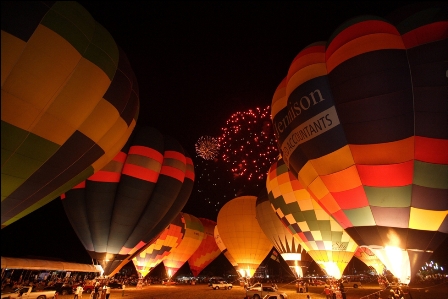 Source: TAT, Thailand Balloon Festival 2013, Chiang Mai
Viet Nam: Nha Trang recently began offering hot air balloon flights over the historic city and bay. The sizeable balloon can carry up to 30 passengers for the 20-minute flight. Source: Viet Nga Tourism