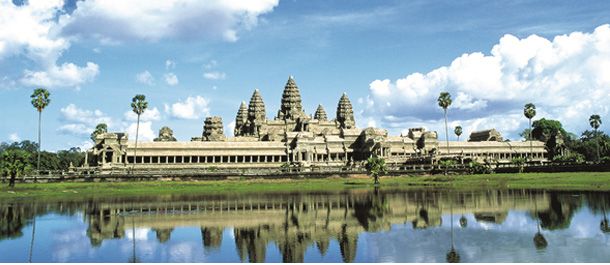 As one of the fastest growing tourism destinations in Southeast Asia, Cambodia's rich heritage, culture and natural resources offer a full range of culture and eco-tourism sites that are both dynamic and sustainable. Highlights include Phnom Penh, the Angkor Wat and the Mekong River Dolphins, just to name a few.

The Kingdom's capital is a dynamic city where visitors are in the mood for shopping, dining, sight-seeing and more. As Cambodia hub for commerce, politics and tourism, Phnom Penh is also home to many important institutions and monuments such as Wat Phnom, the Royal Palace and the National Museum. Rural Cambodia is highlighted by the magnificent Angkor Wat, Heritage of Humanity and World Wonder- arguably the most exotic tourist destination in the world, (Cambodia Bays (were inaugurated into The Most Beautiful Bays in the World Club), the Tonle Sap Biodiversity area, natural attraction zones, the coastal zone, and ecotourism zones in the northeast and southwest part of Cambodia as well as very rare Mekong River Dolphins.

Tourism plays an increasingly important role in Cambodia's national, economical and social development. It is the country's top priority to build and develop the necessary tourism infrastructure to help drive this industry forward. We have sensibly invested in pro-poor, sustainable and responsible community-based tourism development projects in northeastern provinces in partnership with international organizations and development partners such as ADB, UNWTO and SNV. It will create positive results analogous to global and regional tourism development trends for the present and in the future.

With tourism's increasing important role in Cambodia's national, economic and social development, it is the country's priority to build and develop the necessary tourism infrastructure to help drive this industry forward. Cambodia has invested sensibly in pro-poor, sustainable and responsible community-based tourism development projects in northeastern provinces in partnership with international organizations and development partner such as the ADB, UNWTO and SNV as a means of securing current and future global and regional tourism development viability.

Cambodia's tourism development will be focused on cultural and heritage sites, building on customs, traditions, hospitality, and variety of beautiful natural views in Cambodia with further marketing campaigns to promote the nation internationally. A focus will also be emphasized on the improvement on the value chain in the tourism sector by strengthening links between farmers, local producer and private sector hotels, guesthouses, restaurants and tour operators. It is important that this partnership remains particularly, transparent, un-exploitative and mutually beneficial.

A Memorandum of Understanding (MOU) on Tourism Bilateral Cooperation was signed on 4 September 2012 in Dubai, United Arab Emirates between the Ministry of Tourism, Kingdom of Cambodia represented by HE Dr. THONG Khon, Minister of Tourism and the Department of Tourism and Commerce Marketing, the Government of Dubai represented by HE Mr Khalid Ahmed Bin Sulayem, Director-General. The MOU focuses agreement upon the following: 1) to strengthen bilateral cooperation in the tourism sector; 2) to encourage and facilitate development (investment) of tourism infrastructure and facilities; 3) to participate in tourism marketing and promotion; 4) to exchange official visits and tourism professional experience on natural, cultural and historical tourism development management and to collaborate with each other in building professional capacity by encouraging attendance at workshops, seminars and conference including tourism events organized by both parties; 5) to encourage and promote air-linkages and national airlines and to organize familiarization trips (FAM trips) and to promote cruise tourism and tour packaging between the two countries.

It is clear that tourism will continue playing a major role as the central-pillar of long-term national economic growth. In addition, the Ministry of Tourism has established a National Tourism Development Strategy 2012-2020 aimed at ensuring that Cambodia becomes a tourism destination with highest quality and warmth hospitality for tourists (in line with the spirit of ASEAN Tourism Strategic Plan 2011-2015) and strengthening the role of tourism sector in supporting national economic growth. In the means time, with the cooperation and support of UNWTO to the Ministry of Tourism of Cambodia, Cambodia will organize a regional conference in 2013 in Siem Reap and hope to host the UNWTO General Assembly 2015 in Cambodia.

The policy and strategy of the Royal Government of Cambodia is to ensure the country to full peace, safety and security. The Open Sky Policy adopted by the Government allows foreign airline companies to fly directly to Siem Reap and the Angkor Temples, offering greater accessibility to a broader spectrum of visitors. The emergence of low-cost carriers in the region also makes traveling to Cambodia much more convenient and affordable. Recently, low cost carriers such as Air Asia launched direct flights to Phnom Penh and Siem Reap, as well as Tiger Airways launched direct flight from Singapore to Phnom Penh. This signal is a potential increase in the number of visitors flying into Cambodia's main tourist destinations.

visa on arrival/border pass, e-visa
visa exemptions (For various countries in ASEAN)
open up border checkpoints (land, water) with neighboring countries
transportation, infrastructure network

Recent arrivals figures represent positive results with the country gaining 2.8 million international tourists, (a 15% increase) last year, accounting for USD 1,912 million in tourism revenue at the participatory rate of 12% of GDP. Additionally, in the first ten months from January to October 2012, Cambodia received 2,868,500 international tourists at the increased rate of 24%, compared to the same period of 2011.