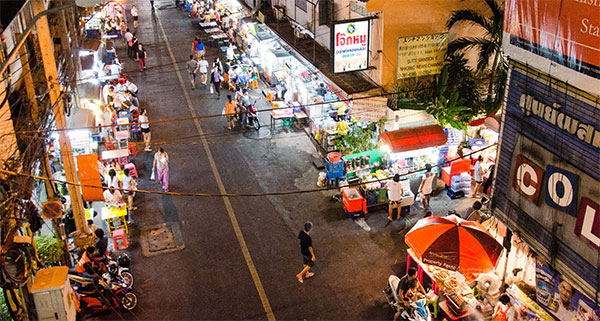 Have you ever woken up in a foreign country with jetlag in the middle of the night – famished? In many countries, you would need to wait until morning to satisfy your appetite, but not in Thailand, and especially not in Bangkok.
In most parts of the metropolis, it is almost impossible to walk more than five or ten minutes in any direction without bumping into a food stall, usually smack dab in the middle of the sidewalk. Just follow the smells, and look for groups of people waiting for food – a sure sign you've stumbled across a popular, and tasty, roadside attraction.
Night-time meals are particularly interesting as you become accustomed to seeing locals eating boiled rice with condiments in their pajamas. You realize this is one laid-back country whose citizens love their food. And for one red hundred baht note – about 3 USD – you can usually eat your fill.
Food stalls are indeed everywhere, but you'll quickly learn where your favorites are, what special dishes they serve, and where to seek out new oases of vendors; rule of thumb: look outside office and government buildings, hospitals, schools and universities, and of course in all of the many fresh markets sprinkled throughout the metropolis.
We would need a book to list all the popular roadside and open-air eateries; unfortunately, we can only give you a taste here of the most popular areas around Bangkok to seek out some amazing, incredibly inexpensive yet delicious "street food". Here are our Top 10 favorites, a good place to start.
1. Victory Monument
Victory Monument is one of the biggest and most popular areas for street food. Located where four main roads form a circle around an obelisk, you'll find an amazing variety of delicious, inexpensive food all around this area.
An especially noteworthy stop is the famous Sud Yod Guey Tiaow Reua (Best Boat Noodles), just northeast of the monument at the end of Ratchawithi Soi 10 and across a small bridge. The biggest concentration of food, however, lies on the southern side of the traffic circle, where food is served late into the night to a cross-section of Bangkok's youth.
For a wide selection of food, head south down Phaya Thai Road to Soi Rang Nam, chockablock with restaurants, street stalls and pubs, with a strong Isan country flavor. The perfect spot for some nam tok moo (spicy pork salad) and grilled chicken with sticky rice.
2. Tha Phra Chan (Outside Thammasat University)
Following our rule above about where to find the best, lowest cost, street food, head down to the river just outside Thammasat University. Students love to eat and are often on limited budgets, so this is a great place to drop by for some eating, shopping, and sight-seeing. We recommend sampling some of the lunchtime noodle dishes here, chased with a watermelon or pineapple shake.
On the off-chance you're still hungry, walk down Maharat Road past the amulet market to Tha Chang Pier, another riverside area loaded with a plethora of food and dessert carts.
3. Khao San Road
The famous backpacker haven is home to an amazing variety of roadside cuisine, from banana pancakes to falafels to ginger soup and khao kha moo (rice with stewed pork). Serving the needs of the frugal youth contingent, most every ethnic food you can imagine can be found here, including Indian, Arab, Italian, Mexican, Israeli, and even American. Of course, the Thai food here is economical and tasty as well – a good place to pick up some satay, spring rolls, or som tum (papaya salad. Definitely worth a visit and a spot in our Top 10.
4. Charoen Krung Road (All around Saphan Taksin)
In virtually every direction, and at all hours, this area is humming and bustling with pedestrian gourmets. Start at the base of State Tower at the foot of Silom Road and head towards the BTS station. Your senses will be assaulted by the most fragrant and aromatic of temptations. The signature northern Thai dish Khao Soi Gai can be found here, as well as roasted duck, steamed noodles, freshly sliced fruit, and the most decadent roti you'll probably ever have the pleasure to savor.
5. Yaowarat (Bangkok Chinatown)
Of course Yaowarat is a good place to grab some Chinese food, but the sois along the road are teeming with excellent Thai, Thai-Chinese, and Isan (northeastern) country goodies. Given the intense competition here, only the strong and delicious survive.
For something different, head over to Yaowarat's neighbor Pahurat (Little India) – it's one of the only places to get Indian street food in Bangkok.
6. Bang Khun Non
Bang Khun Non consists of a community of Thai food vendors and restaurants where you can find some of Bangkok's highest quality of street food. Among these traditional stalls you can enjoy Isan food without leaving Bangkok, and sample some of the best Yen Ta Fo around, a special dish derived from China made with wide, silky rice noodles, fish balls, sliced fried tofu, squid, and morning glory, noted for its pink color.
Bang Khun Non is located in the Bangkok Noi area, and if you have the time to check out this area, it's well worth a visit.
7. Dao Khanong
For the young and restless, make your way to Dao Khanong any night, and pick a seat at one of the many food stalls. This area will give you a real taste of Thailand and Thai food, especially such items as jim jum (hot pot), spicy larb, waterfall beef, and many, many other Thai dishes. Again, follow the crowds and try what they're having – they know what they're doing.
If you're having trouble ordering, just point to the dish you want, and hold up as many fingers as the number of dishes you want. DK is a good vantage point to see what Bangkok's youth get up to most nights.
8. Talat Phlu
Talat Phlu is another interesting place for street food, straddling the train track coming from Wong Wian Yai. The vendors seem to take special pride in their products here and you'll find more delectable dishes to sample than you can possibly handle.
The district is known for and could well offer the best sticky rice and durian in Bangkok. Like most markets, the fish is wonderful, especially the steamed sea bass in lime sauce. Tempura shrimp and vegetables with either a spicy or a sweet sauce makes the perfect finger food to complement whatever drinks you may be having.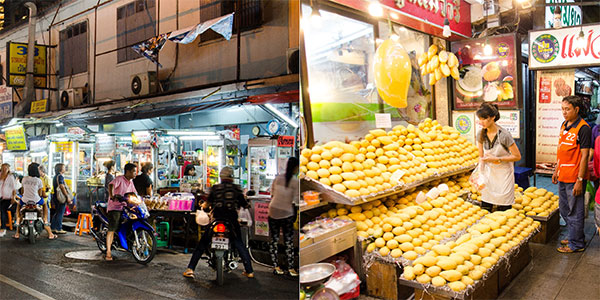 9. Soi Ari
Soi Ari is undergoing some mighty changes these days as far as development goes; but fortunately its street food scene continues to reign supreme, especially on weekends. A small maze of sois around the Ari BTS station remains a quirky food oasis with an unusually diverse selection on offer.
Phahonyothin Road Soi 7 is the main thoroughfare, and is open until late evening. There are also several lovely garden restaurants in the area. Check out the Thai-style curry, seafood, and stir-fried dishes here, and don't miss the striped clams in spicy chili sauce, or the fried duck eggs with a sweet tamarind sauce. Then there's dessert: mango with sticky rice anyone?
10. Lumpini Park
Step off the asphalt for a bit and into the green lung of Bangkok, Lumpini Park, for a relaxing time in the early morning or evening, and take your appetite. Amidst the many strange sites, you can't miss the line-up of fresh market stalls selling fruit juices, seafood, pad thai, jim joom, deep-fried turnips and vegetable patties.
There seems to be an emphasis on health here in the park, and the weekend market is worth visiting to explore the full variety of what Bangkok has to offer the curious and hungry. Fortunately, there are many types of exercise possible in the park to work off your gorge, from Tai Chi in the morning, to paddling on the lake, to basketball, or just chasing your kids as they burn off some energy on the grass. Lumpini is a must-visit food and rest stop in the heart of the great city.