Welcome to another feature in Wellness in ASEAN, where we discover the best wellness spots to abandon hectic lifestyles and venture into total tranquility. From luscious green jungles to palm-fringed beaches, Southeast Asia provides a nurturing backdrop to revive the mind, body, and spirit.
We continue our health-focused exploration this time in the bountiful countries of Thailand and Viet Nam, where fresh air and long sunshine-days are guaranteed to melt away your stresses. Join us as we share our picks of health-focused retreats to help boost your well-being and nourish your soul.
Thailand
Boasting an abundance of natural beauty, delectable food, and a strong cultural focus on health, Thailand's appeal draws in thousands of wellness-seekers each year. The consistently warm-weather, stunning beaches, and luscious green landscapes are just a few of the highlights in the 'land of smiles', to help boost your overall well-being.
The month of April is seen as one of the most important holidays in Thailand known locally and internationally. More specifically, the month celebrates the Thai New Year, Songkran. The holiday celebrated for three days from April 13-15, heralding the passage of the new year, while rejuvenating and releasing negativity for the new one. Rituals and visits to temples throughout the country are commonplace. Still, the holiday is best known for three endless days of celebration where locals and travelers take to the roadside in thousands to participate in huge, friendly water fights.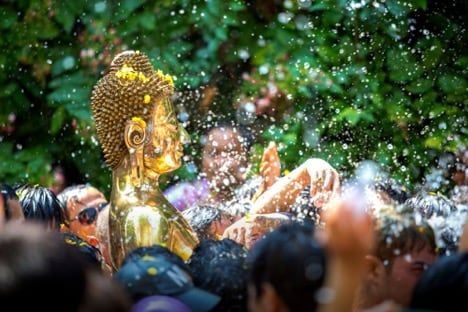 Kamalaya, Koh Samui
If lush tropical surroundings, swaying hammocks and gold-glittered sunsets are your idea of relaxation, then Koh Samui is the island for you. The second largest island in Thailand, Koh Samui is home to the luxury health-haven – Kamalaya. Adopting a holistic approach to wellness, Kamalaya integrates the perfect blend between eastern and western approaches, offering guests the best of both worlds. Enjoy a range of stress-relieving wellness programs, spa treatments, then round-off the day with a complimentary fitness class. Not only can you choose a tailor-made program to suit your needs, there are also pre-designed wellness packages focusing on stress and burnout, emotional balance, and healthy lifestyle.
Phuket Cleanse, Phuket
Set amongst the wondrous rainforests and mountainous terrain in the southern island of Phuket, is social fitness retreat – Phuket Cleanse. The passionate team and supportive community atmosphere at this health resort, provides a unique blend of fitness, food, and wellness in equal parts. Combining fitness, yoga, plant-based nutrition and mindfulness, this is an inside-out cleansing experience like no other. Guaranteed to provide results, Phuket Cleanse is ideal for those who are serious about detoxing all aspects of mind and body.
Chiva Som, Hua Hin
For those looking to splash a little extra on high-end luxury and wellness, Chiva Som is the place to stay. Set in Hua Hin (three hours south of Bangkok), this multiple award-winning retreat delivers top-of-the-range treatments and holds itself to a high standard in sustainable practices. Offering a unique blend of eastern and western therapies, Chiva Som treats guests to an unforgettably luxurious pampering experience. The spa menu offers unconventional treatments including quantum massage, dry skin brushing, and gyrokinesis. Ideal for wellness-enthusiasts seeking something a little different.
Viet Nam
From the island beaches of Halong Bay to the incredibly charming Hoi An, Viet Nam has plenty to offer health-seekers outside of the lively cities of Hanoi and Ho Chi Minh City. The diverse natural landscape, pleasing temperatures, and rich-cultural heritage creates the ideal environment to seek rejuvenation. There's much to discover in Viet Nam, with a wide range of spa and wellness resorts to revive your senses.
Viet Nam also hosts important holidays in April, attracting millions to Phu Tho Province, which is located in the north, near Ha Noi. From the 9th to the 11th days of the third lunar month, The King Hung Temple Festival celebrates the first king of Viet Nam, King Hung, at Nghia Linh Mountain, commemorates a time for Vietnamese citizens to pay respect to their history.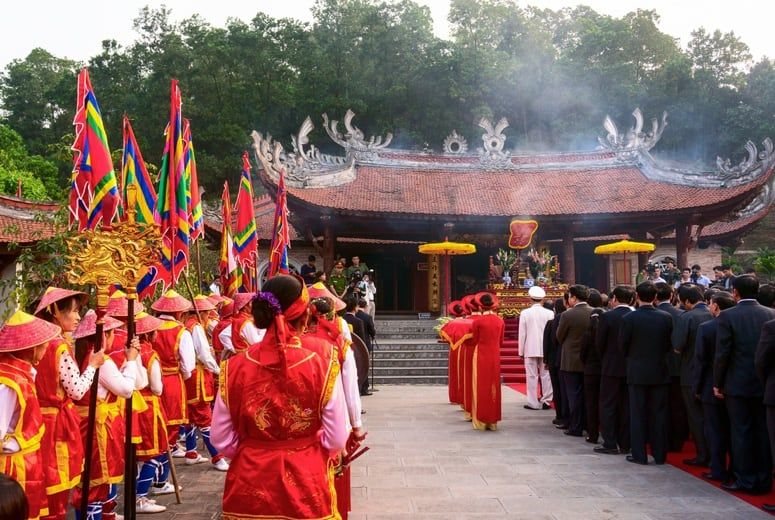 Processions are bountiful, exploring varieties of food found throughout the country and ceremonial activities. Still, even outside of this time, the region is a deep, thoughtful historical experience worth exploring on any visit.
Fusion Maia, Da Nang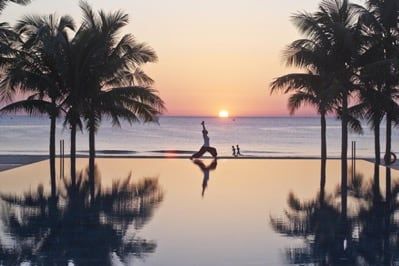 Located in the gorgeous beach-town of Da Nang in Central Viet Nam, Fusion Maia delivers a range of health-enriching services to rebalance the body and mind. Comprising of peaceful villas with private plunge-pools and access to nearby My Khe beach, this resort is the perfect sanctuary to unwind. Fusion Maia redefines the Spa experience by integrating Natural Living Program with guided lifestyle practices into guests' daily activity for optimum well-being. Each guest is guaranteed minimum two treatments per person per day included in the room rate, offering from holistic Reiki energy healings, traditional therapeutic treatments, aromatherapy to homemade scrubs and wraps. A range of complimentary yoga, meditation and tai chi classes is also available, allowing guests the freedom to relax and rejuvenate at their leisure and bringing profound healing effects to their body, mind, and spirit.
Alba Wellness Valley, Hue
Located near the historic city of Hue, Alba Wellness Valley– managed by Fusionoffers choices of accommodation, dining, wellness activities including natural hot springs baths and outdoor experiences to become the first ever wellbeing destination in Viet Nam. Offering an immersive back-to-nature style retreat, this place is for water and nature lovers. Set amongst the immense natural beauty of its surrounding lands, Alba Wellness Resort at the valley has 2,000m2 in-door and outdoor Onsen & Spa centre, Deluxe rooms and Bungalows, restaurants and bars, fitness and yoga, swimming pool and rock garden, kid club. Choose from a range of yoga lessons, body wraps, and Ayurvedic treatments to enjoy the full Alba Wellness experience.
I-Resort Nha Trang
Famous for its beaches, diving sites, natural mud, and hot springs, the coastal city of Nha Trang exudes the perfect ambience to reinvigorate your health. I-Resort Nha Trang, specializes in various mud-bath experiences, giving guests a chance to benefit from the therapeutic properties found in mud. Sessions in warm, liquid mud lasts for 20 minutes in total and is a popular treatment for regenerating skin and soothing sunburn. Conclude a day of sunbathing and mud-baths from a choice of mineral hot springs, located within the resort.
Have we inspired you to visit Thailand or Viet Nam for your next wellness break? Join us in the next feature as we take our blissful journey further into southeast Asia to share all the best wellness spots in Cambodia and the Philippines.